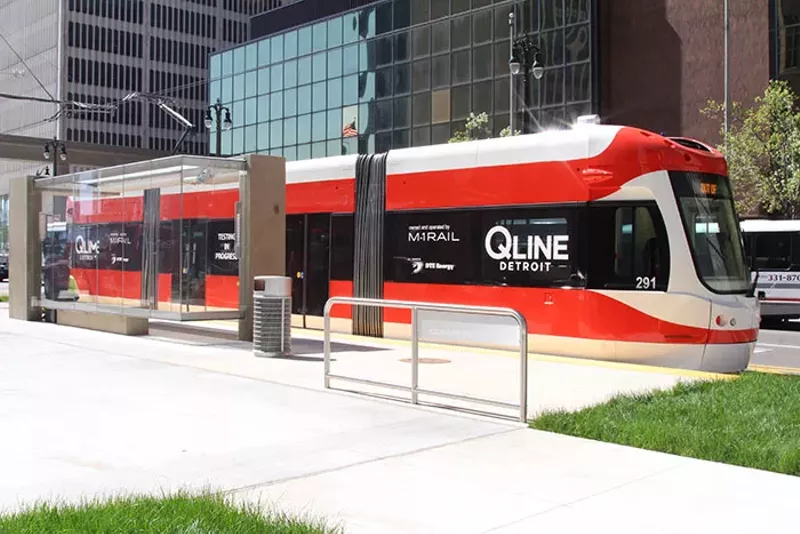 After months of testing, Detroit's new QLine streetcars will finally open to the public on Friday, May 12.
To celebrate, organizers are throwing "The QLine Detroit Festival" from 6 p.m. to 10 p.m. Events are planned at all of the route's stops, and shops located near the route will offer discounts and other promotions. Additionally, QLine rides will be free all weekend long. View the entire schedule of events
here
.
Not everyone is thrilled about the new project, however.
The Motor City Freedom Riders
, an organization of regional bus advocates, is planning a series of rallies Friday morning to protest what they say is an unmet need for real transit improvements in the city and region.
"We can't let the region's political elite celebrate their streetcar without reminding them (and the media) of the continuing transit crisis in our region, a crisis they have a moral responsibility to address by putting a transit plan back on the ballot in 2018," reads a post on the group's website, a reference to last year's Regional Transit Authority millage that
narrowly failed
at the polls. There will be three rallies: from 8 a.m. to 10 a.m. at
Detroit's Grand Circus Park
, from 8 a.m. to 10 a.m. in
downtown Ann Arbor
, and from 5 p.m. to 7 p.m. in
downtown Ferndale
.
The QLine cars are 66 feet long and can carry about 125 passengers. They travel around 35 m.p.h. and are compliant with the Americans with Disabilities Act. The 3.3-mile route extends from Grand Boulevard in the North End to Congress Street downtown.
The cars will run from 6 a.m. to 11 p.m. Monday through Thursday, 6 a.m. to midnight on Friday, 8 a.m. to midnight on Saturday, and from 8 a.m. to 8 p.m. on Sunday.
Read more about the QLine
here
.