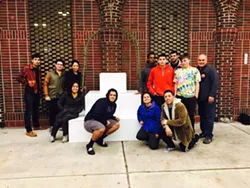 Mexicantown will be celebrating Dia de los Muertos this Sunday with an inaugural event at Clark Park. The First Annual Dia de los Muertos Procession and Community Altar will feature a traditional procession after which ofrendas will be placed on a DIA-sponsored community altar that was built by local artists.
The event is free, family-friendly, and open to the community. There will be other Dia de los Muertos activities as well. Attendees are encouraged to bring photos of deceased family members and friends, but are asked to not bring candles or food. Traditional costumes are welcomed, but not mandatory.
The event runs from noon to 4 p.m.
For more info reach out to
[email protected]