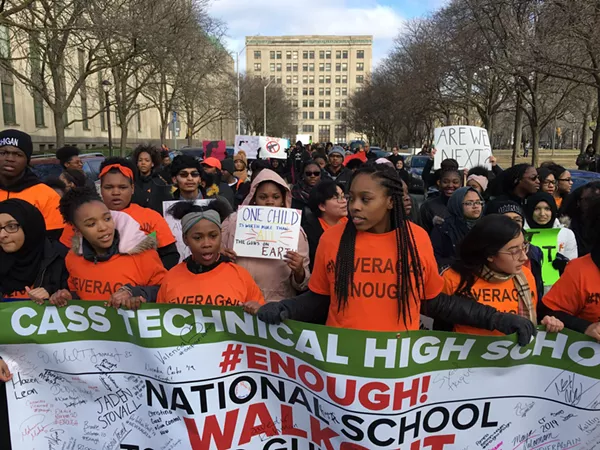 Cold winter winds and a shoddy sound system didn't deter students at Detroit's Cass Technical High School from walking out of class in order to stage a protest as part of National School Walkout Day.
At 10 a.m. on Wednesday, March 14, over 2,400 Cass Tech students exited the school and marched in protest of gun violence issues in light of the Parkland, Fla. shooting at Marjory Stoneman Douglas High School on Feb. 14.
Students waved hand-crafted signs with messages like "Are We Next?" and "Thoughts and Prayers Don't Save Our Lives, Gun Control Will" as they marched around a park off Temple Street toward the Masonic Temple.

Students-led chants included, "What do we want? Gun Control. When do we want it? Now!" and "We can. We Will. We must."
After the march, students gathered on the steps of the school's south entrance for a rally, during which 17 black balloons were released in honor of the students killed in the Parkland massacre.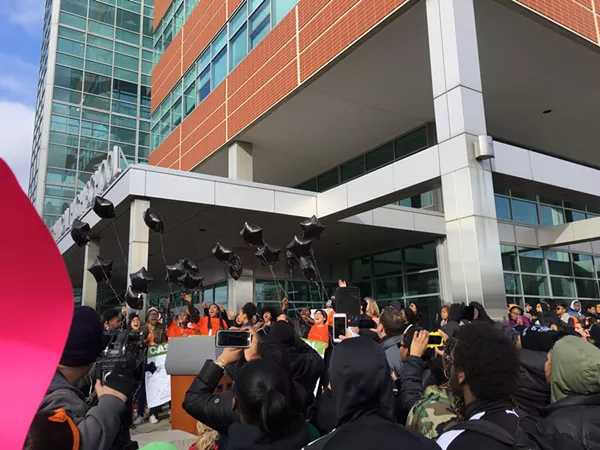 As students, faculty, and media members listened, a small group of student organizers took to the microphone, voicing their concerns over gun violence in schools as well as their communities. Many of their speeches were directed toward local, state, and national politicians, including President Donald Trump.
Democratic gubernatorial candidate Abdul El-Sayed was in attendance, speaking with students about their desire for stricter gun control laws.
"This is about doing what's right — listening to our kids as they show us what real leadership looks like on an issue that uniquely affects their generation. Our kids have watched as their peers have been gunned down by weapons of war that have no place in Michigan or in America. We must listen to them — and that means banning weapons of war, closing background check loopholes, stopping domestic abusers from getting a gun, and disarming people who should not have a gun, regulating the concealed carry permit process, and prohibiting 'open carry' on public property," El-Sayed said in a statement released following the protest.
Other metro Detroit schools protested including three high schools in Dearborn, Crestwood in Dearborn Heights, the College for Creative Studies, and Southgate Anderson High School.

More student walkouts are planned for March 24, when students are asked to leave class to participate in a nationwide network of protests called March for our Lives.
Anthony Spak is an editorial intern with the Metro Times and a recent graduate of Oakland University's journalism program.

Miriam Marini is an editorial intern with the Metro Times. She is a sophomore at Wayne State University studying journalism and women's studies.

Stay on top of Detroit news and views. Sign up for our weekly issue newsletter delivered each Wednesday.