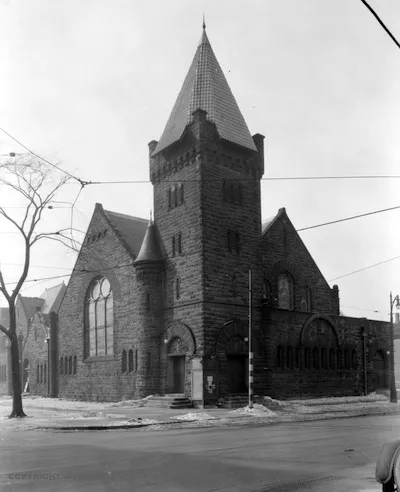 A birthday, of sorts, today: It turns out that the chapel portion of the Cass Avenue United Methodist Episcopal Church was dedicated 131 years ago today.
Well, technically. The dedication is only for the chapel portion of the building, which was completed in 1883. The larger part of the building, including the 86-foot-tall tower, was built in the 1890s.
And it's an imposing structure: It's done in a Richardsonian Romanesque style, built from rock faced Grafton stone, trimmed with Ionia sandstone. The church's Johnson-Tracker organ is considered the largest 19th-century pipe organ in Michigan.
Such riches were imperiled as the neighborhood changed over the years. The church still operates as a Methodist house of worship, under the charismatic Rev. Faith Fowler, ministering to inner-city residents, with a special eye to services for low-income worshippers. When you consider how many churches have picked up stakes, left monumental architecture behind, and moved on, it's good reason to praise the work of what is now known as the Cass Community United Methodist Church. Happy birthday, guys!