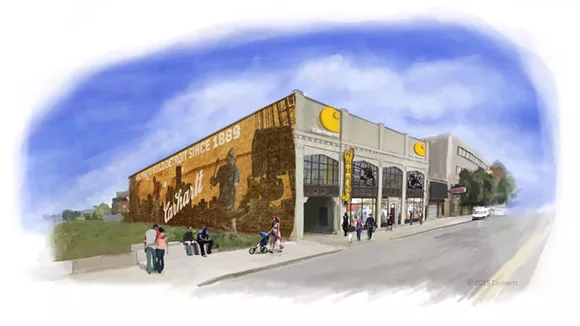 The
Freep
's Tom Walsh
reported this morning
that Dearborn-based Carhartt will officially return to Detroit this summer, with plans to open a retail store in a three-story building on Cass Avenue in Midtown.
The site is just south of I-94 and will include a parking garage with 75 spaces. The 51,000-square-foot building was first constructed in 1928, and later found a spot in the National Register of Historic Places in the 1980s, Walsh says. The first floor will be a dedicated retail space, while the other two have no purpose just yet.
Carhartt was first launched inside Detroit city limits.
Walsh, a fifty-something who takes great pains to mention the apparent "authentic" appeal to hipsters of Midtown, says Carhartt has 16 retail locations nationwide. The Detroit shop has a slated opening date of late May to early June.