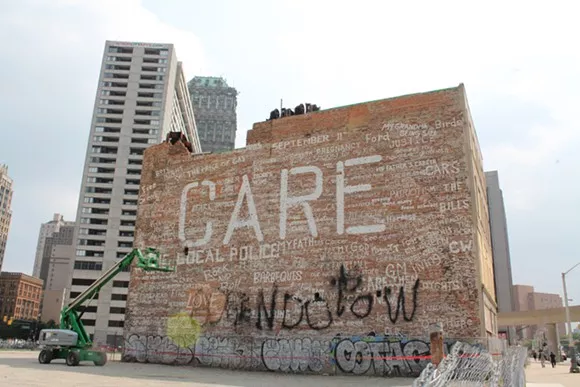 Two weeks after a judge agreed with the City of Detroit that the former home of AAA of Michigan should be torn down, most of the building has been demolished,
according to The Detroit News
.
As
Metro Times
previously
reported
, the five-story, 5,800-square-foot building was the subject of a heated lawsuit that quietly played out last month in Wayne County Circuit Court. Judge Robert Colombo said the structure at 139 Bagley Ave., which was featured in a Kid Rock music video, has deteriorated to the point "a high wind can easily knock the east wall down ... and injure of kill members of the public."
The owner, Triple-A Venture, immediately filed an appeal with the Michigan Court of Appeals and requested a stay of Colombo's order, which was denied last Friday. Hugh "Buck" Davis, Triple-A's attorney, tells
Metro Times
his client still plans to follow through with the appeal, but doesn't expect a decision to be handed down until next summer.
In a counter-complaint, Triple-A's part-owner and decision maker, Anthony Pieroni, accused Detroit officials of engaging in civil conspiracy to coerce him into selling the property for at a lower price to
a developer with plans to redevelop the adjoining Statler Hotel site
, which was demolished in 2005. That counter-complaint was voluntarily withdrawn to allow Triple-A to file the appeal to Colombo's ruling.
Davis says today that, once a decision on the appeal has been made, Pieroni plans to file the counter-claim in federal court.