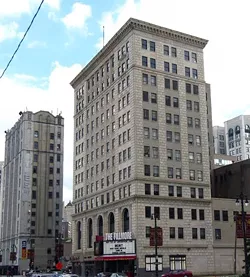 Detroit may be bankrupt, but don't tell that to the Fillmore. The downtown venue is in the midst of a historic year, having sold out 11 shows in 2013, the most it has in any one season. And it isn't a fluke.
Ticket sales for non-sellouts have exceeded expectations as well, helping the Fillmore earn a spot on Billboard Magazine's list of the 25 hottest clubs in North America. And there are still five months left in the year.
While uncertainty looms over the city with the recent Chapter 9 filing, as our editor Bryan Gottlieb pointed out a few weeks ago, things are actually looking up for Michigan. The Fillmore's current success could be seen as a sign to that effect.
"Metro Detroiters are actively choosing entertainment again," says Amanda Snook, Detroit marketing manager for Live Nation. "People are spending on non-essentials across the board and we should all breathe a collective sigh of relief to that."
Success isn't being felt just on the corner of Woodward and Elizabeth, but by a variety of venues across metro Detroit. Sales for St. Andrew's Hall and the Shelter (which, like the Fillmore, are owned and operated by Live Nation) are up in 2013. The Crofoot in Pontiac, too, is having a phenomenal year, says co-owner Dan McGowan, exceeding expectations — including more sellouts in the first quarter of 2013 than the club had in all of 2010.
There are several factors to the recent live music boom. One of the most notable is the sheer number of options available. Nearly any given night in metro Detroit, one can wander to a club or listening room and catch a show. There are the established venues, such as the Fillmore and DTE Energy Music Theatre, which bring big names and are driven by worldwide promotion companies like Live Nation and AEG, but also helping live music thrive in Detroit is a large group of small, independent settings.
"There's a very healthy group of independent buyers at the Majestic and Magic Stick, the Loving Touch, the Lager House, Small's, and other Detroit-area rooms, that do a really nice job of programming down there," says Nate Dorough, co-owner of Fusion Shows, an independent promotion company based in Lansing. "All of us are driving each other's prices up by competing to get shows, which means that Detroit has kind of become a bit of a payday market for artists."
A payday market, indeed; the Fillmore's sellouts included shows from Vampire Weekend, the xx and Grizzly Bear, Imagine Dragons, Fun and more.
Choosing what bands to bring is a huge factor for promotion companies, it's the basket they place their eggs in. So how do they know what band is right for Detroit?
"At the most basic level, we're asking 'How sellable is an act?' 'Do they get radio play?' 'Is there a large online following?' etc.," Snook says. "It seems obvious, but Detroit isn't L.A. It isn't Chicago, Lansing or Grand Rapids. Something that sells out in seconds there may not here and vice versa. Talent buying is 99 percent experience and research, and 1 percent gut instinct."
So far in 2013, Detroit talent buyers' instincts have been spot-on. With five months left in the year, the Fillmore could build on its record of 11 sellouts, and other venues could continue their top-notch seasons. Though Snook wouldn't put a number out there, she thinks the Fillmore could get a few more sold-out shows, while Dorough warns not to put expectations too high.
"The Fillmore did have a great run over the first half of the year, but in this business, they might go another four months without a single sellout," he says. "That's just how it goes. We [at Fusion Shows] have sold out five shows in one weekend in the past, and then didn't sell out another show for two months."
Concert promotion can be a fickle business, but the fact remains that metro Detroiters are flocking to live shows in 2013, and Snook, for one, sees it as a sign of what's to come, which could mean big things for the city.
"The economic impact of people coming to downtown Detroit and making an evening or a weekend of their visit affects so much," she says. "When you watch a movie, come for a ball game, see a concert, or stay at a hotel, you usually think about that initial cost. It's easy to forget that night out generates tax revenue, keeps people employed, supports local business and even encourages entrepreneurism."
Eric Walters is an editorial intern at the Metro Times. Send comments to [email protected]