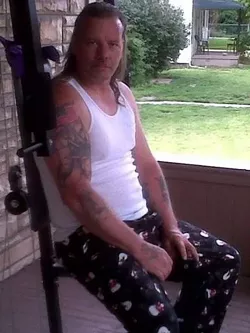 49-year-old Jack Bishop, a Canadian resident and registered sex offender with a rap sheet a mile long, has been arrested in Detroit for illegally entering the U.S. — again.
Last year, Bishop was detained after crossing the international border via inflatable kayak and stopping to — uh — relieve himself in the Detroit River, the
Detroit News
reports. "Agents arrested Bishop and learned he was under investigation for illegally crossing into the U.S. months earlier. They also discovered Bishop's extensive criminal record dating to 1982. He's been charged with assault 13 times and is a registered sex offender," Robert Snell of the Detroit News reports.
Now, just over a year later, Bishop is back at it and was recently discovered living in a pay-by-the-hour motel on Woodward Avenue.
Snell reports:
The latest charge could finally land Bishop in a U.S. prison for an extended period of time — up to two years.

Bishop returned to the U.S. some time after December, according to court records.

On Aug. 19, Troy Police received a complaint involving Bishop for "suspicious circumstances." Troy Police notified a federal border enforcement task force, which began hunting for Bishop.

Investigators learned he was driving a white work van with Canadian plates and living at the Fontaine Motel on Woodward, south of Seven Mile.

On Aug. 20, task force officers spotted the white work van outside the pink-and-red motel, known for its distinctive neon sign. When agents arrived, Bishop was atop a ladder, painting the motel, where rooms cost $12.50 an hour, or $45 a night.

A motel employee declined comment Friday.

On Friday, eight days after his arrest, Bishop appeared to be dressed in the same work clothes while being arraigned in federal court.
Bishop is currently being held without bond.