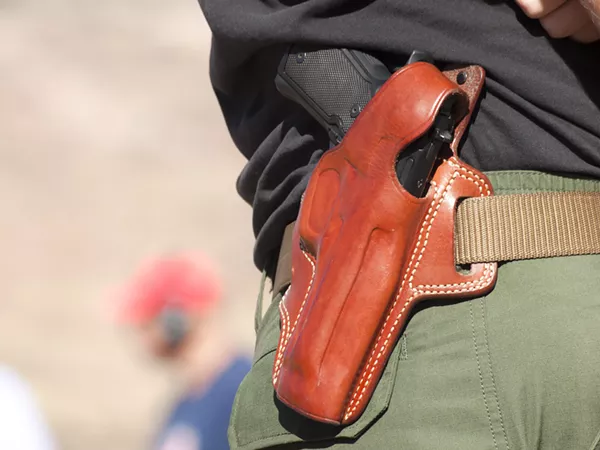 The Michigan Supreme Court will this week hear arguments in cases that could decide whether school districts can implement gun restrictions that are more stringent than those approved by the state legislature.
The oral arguments, set for Wednesday, stem from two instances in which people with concealed carry permits walked onto the grounds of Michigan school districts while openly carrying firearms. Though it's not legal for people to carry a concealed weapon inside school zones in Michigan, the law does not stop a person who has a concealed pistol license from carrying an openly-holstered weapon inside a school zone. Critics have called the discrepancy an open carry "loophole," while supporters say the legislature did not regulate the activity for a reason.
The gun rights groups behind the lawsuits charge that the Ann Arbor and Clio school districts overstepped their authority in banning all guns from school grounds. Ann Arbor implemented such a policy in 2015, after a man with a gun on his hip legally walked onto the grounds of one of the district's high schools for a concert. The Clio lawsuit involves a parent who on more than one occasion was not allowed into his child's school while openly carrying.
The gun groups, Michigan Gun Owners Inc. and Michigan Open Carry Inc., have argued that state law preempts a local unit of government from regulating the possession of firearms, and that the school districts constitute local units of government. The districts counter that Michigan gives public schools the right to enact policies that address the safety and welfare of students and prevent disruption to the educational environment.
A three-judge panel at the Michigan Court of Appeals unanimously sided with the districts in 2016, pointing to more than two dozen state laws that refer to "weapon-free school zones."
"These four words telegraph an unmistakable objective regarding guns and schools; indeed, we find it hard to imagine a more straightforward expression of legislative will. The Legislature contemplated that this repeatedly invoked phrase would be interpreted to mean exactly what it says — no weapons are allowed in schools."
(How the currently seated state legislature would interpret the meaning of that phrase likely isn't a comfort for school districts trying to protect their kids — in November, the Michigan Senate approved
letting people carry concealed guns
in schools, churches, and other places.)
According to the
Detroit News
, as of late last year, the Michigan Supreme Court had not said whether it would weigh in on the merits of either case.
Stay on top of Detroit news and views. Sign up for our weekly issue newsletter delivered each Wednesday.