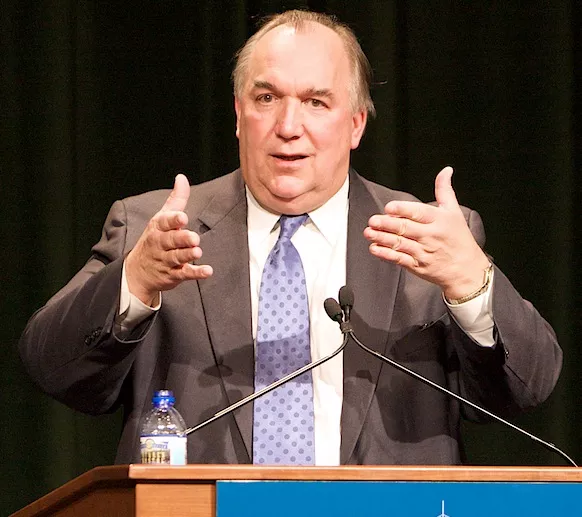 More and more people are calling for Michigan State University Interim President John Engler to step down in the wake of insensitive comments about the victims of the Larry Nassar scandal.
That includes state leaders on the left and right, and two MSU trustees — Brian Mosallam and Diane Byrum, who made their positions public on Friday morning.
"It has become abundantly clear to me that this crisis will not truly settle until John Engler steps down as interim president," Mosallam said in a statement emailed to the media. "Unfortunately, and with great regret, John Engler's tenure as interim president has continued the bleeding rather than stem it.
"I no longer believe that John Engler's presence on this campus will allow Michigan State University to move forward. We need leadership that sets a tone of empathy and compassion towards our courageous survivors, and re-embraces them as important members of our Spartan community. John Engler simply can no longer do that. And for these reasons, John Engler should step down immediately as this university's interim president."
The calls are part of the ongoing fallout from the revelation that 250 women and girls were sexually abused by MSU sports doctor Nassar. They come after emails publicized by the
Detroit Free Press
earlier this week showed Engler asserting that Rachael Denhollander — the first person to publicly accuse Nassar of sexual assault — was getting kickbacks from trial attorneys involved in lawsuits against MSU.
Emails between Engler's top aide — Carol Viventi — also criticized Mossallam for failing to protect Engler.
Despite the calls, Engler said he's not going anywhere in a statement issued late Friday morning.
Of course, it's odd that Engler was ever selected for the position in the first place, and MSU's trustees deserve some blame for bringing him aboard.
As we reported in February
, while serving as Michigan's governor in the 1990s, Engler tried to derail legal action stemming from a massive prison sex abuse and rape scandal that involved 500 female inmates.
The United Nations eventually got involved in the situation, which resulted in multiple criminal cases and lawsuits, including one filed by U.S. Justice Department that led to a $100 million settlement in 1999.
So should anyone be surprised that this isn't working out?
"The despicable and disparaging comments made about survivors by Interim President John Engler are completely unacceptable," Byrum said in a statement. "Yesterday I called upon the interim president to apologize for these hurtful remarks, he failed to do so, and therefore I have concluded he is no longer the right person to lead Michigan State University during this difficult period."
They join Republican state senators Margaret O'Brien and Rick Jones, who called for Engler to step aside on Thursday.
"Once again, John Engler has embarrassed Michigan State University," Jones told the
Free Press
. "He was hired to try to heal the university, to end the culture of silence and to make sure people are reported so we don't have another Larry Nassar situation. And instead, he is constantly belittling victims. It absolutely is embarrassing to the university. He has not improved the image of MSU, he is actually hurting the image of MSU, and I am hearing that loud and clear from my constituents."
Democrat Sen. Curtis Hertel, whop represents the district that contains the university, also
called on Engler to resign
, as did Democratic Minority Leader Sen. Jim Ananich.
"I am very disappointed in his comments about the sister survivors. Not only are they completely off-base, they're coming from someone who is supposed to be reforming a culture of victim blaming and secrecy. This is a clear indicator that his time at MSU needs to come to an end," Ananich told
MLive
.
Stay on top of Detroit news and views. Sign up for our weekly issue newsletter delivered each Wednesday.