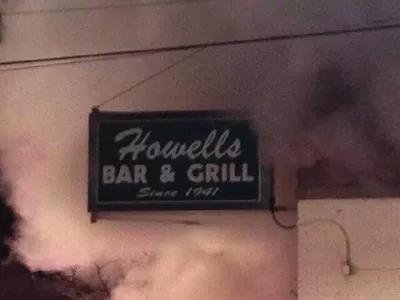 Well, as we approach the end of another year, we start hungering for what we've lost. There wasn't a whole lot of sadness this year, but some of the losses we felt keenly. Maybe not so much the Church's on Woodward Avenue, though.
Among bars, there is none we'll miss more this year than the Comet Bar, down on Henry Street, in an area soon to be the site of You-Paid-For-It Stadium. The generous triple-shot pours of whiskey, the illicit smoking, the wonderful characters you'd rub elbows with, and our favorite dive bartender, Dan. The bar right across the street from "Murder Mart" was the coolest place to go because you felt connected to the authentic people of the neighborhood — that and it would make a squeaky-clean yuppie shit blood.
Also, about a year ago, we lost Kow Loon in Dearborn. Yeah, the place wasn't what it used to be, but it still had whispers left of the old Kow Loon, which was razed to make way for the ambitious "superblock" which had little charm but plenty of parking in front. (On historic Michigan Avenue? What were they thinking back in the 1980s?) Back then, it was a place where you'd saunter out the back and carve your name in the decaying brick on the wall with a nickel. We still dropped in from time to time to have the almond boneless chicken we remember from our youth, with heavy, breaded breast expertly fried, with sweet brown sauce wilting the iceberg lettuce below into something wonderful. Too bad the old location was razed … it might have been rediscovered and revamped, as so many old-time places are these days.
One place that
did
get re-evaluated, and in Dearborn too, was Howell's Bar, lost to fire last year. It had a terrific burger, almost as good as other burger joints of old. (Think the old burger at the old Third Street Saloon, the burger heaped with grilled onions at Lindell A.C., or the gorgeous creations at the long-lost Ramp Room, over by the southbound entrance to the Lodge by Henry Ford Hospital.) Howell's may be no more, but we have a tip for those who loved those burgers: Jimmy, the cook at Howell's, is grilling again. You can drop in at O'Kelly's Lounge (23663 Park St., Dearborn; 313-278-5600) Wednesday through Sunday. Wednesday's menus are up in the air right now (they were doing corned beef until prices made it impractical; now they're trying fish). On Thursdays Jimmy's cooking chicken dinners, on Fridays it's perch and cod, perhaps occasionally a burger. But on Saturdays and Sundays, with a break during quiet times between 2 and 4 p.m., Jimmy cooks burgers just like he did at Howell's, and maybe even a chicken dinner if he has a bird ready. We hear it's sort of like it was a Howell's — meaning there can be a wait of 15 or 20 minutes while Jimmy grills them — but for those seeking a taste of the past, isn't it worth it? See the
Facebook page for O'Kelly's Lounge
for updates on Jimmy's doings.
See? We had some good news after all.