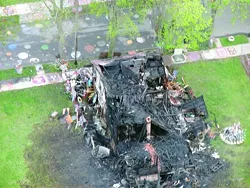 I approached Mulenga Harangua from behind as he stood in the lot next to the charred hulk of the "Obstruction of Justice House" at Detroit's Heidelberg Project. He raised his hands to his face and I heard a blues riff slash out from his harmonica. The sound was like a spear zipping through the air and piercing the charred wood on the back half of the place.
"Heidelberg, Heidelberg," he sang. Then he kind of moaned into the harmonica a bit, bending a single note up and down from its true voicing. "Why they want to take you down?" Then he moaned some more, played another riff. "Heidelberg, Heidelberg, seem like some folks ain't happy till everything is down on the ground."
I clapped along as he moaned and riffed, coughed and choked like the devil himself trying to hock up a chunk of burnt wood. "Burn, burn, burn, destruction everywhere," he chanted and danced in place.
It seemed like Mulenga was conjuring up the spirit of John Lee Hooker with a deep blues meditation. His body bent to the side like something was trying to pop out of him. (I was hoping it wasn't an alien.) Then he straightened up and gave a screaming wail before he hit the turnaround and came to a rest.
"Whew," he said, mopping his dripping brow.
"Mulenga, you're getting pretty good on that thing," I said.
"Thanks, man."
"I'm surprised to see you here. Based on the time of year and the great weather we're having, I figured you'd be getting your crop in, not out here playing the blues."
"I just had to come over here and look at the damage myself," he replied. "I felt like I was drawn here."
"Me, too," I replied.
I gazed across the street where a house was covered with vinyl record albums, a re-enactment of the big round spots that defined the earliest Heidelberg efforts.
"Sometimes it seems like you and me have the same mind in two different bodies," I said. "I'm not sure what that implies, but we do seem to show up in the same place a lot. Anyhow, this fire was a wake-up call for me. I hadn't been over here in a while. You know you get kind of complacent knowing that it's here and you think it's always going to be there for you. But it could be gone just like that." I snapped my fingers. "You don't miss your water 'til your well runs dry."
We stood and watched Tyree Guyton talk with a guy who was clearing debris from the back of the burned edifice. Various visitors wandered around examining the artworks and taking pictures.
"So this was done by some kid who was mad at Tyree?" Mulenga gestured at the carnage.
"Yep, it seems that Tyree had intervened in the young man's illegal activity and this was some kind of retaliation. The good part is that the Heidelberg Project has worked to help pull some of this community together. Somebody came forward and fingered the culprit. People around here know each other; they don't want to see the random destruction anymore. How many times do you see that in other neighborhoods when a house burns down? I don't know, but I doubt it's a common event."
"Whoever did this sure doesn't know who he is up against," Mulenga said. "He thought he could do what Coleman Young and Dennis Archer and their bulldozers couldn't do? Overcoming the destruction is what the Heidelberg Project is all about. This is just like adding a new color to his palette. I'm not a visual artist but I know that Tyree can see his way through this. He'll look at this and come up with some crazy shit. I'm gonna love it."
We started walking along the block with Mulenga blowing random honks and rasps from his harp. There was a gift shop that wasn't there on my previous visit. We passed a fire hydrant that probably helped quell the fire, and then got to the street corner where a tree is growing out the top of a SUV planted there.
A car pulled over to the curb and two women got out. They took pictures of each other in front of the SUV and then drove off. Kitty corner from that was a neighbor's house with a big garden on the side.
"They ought to establish a Heidelberg Community Garden and make that kid work on it every day for a year," said Mulenga. "Get him involved in life and growth. Let him watch people who come from all around the world to see this. Let him think about what he did."
"Let him take a few art lessons too," I added. "Make him a creator rather than a destroyer."
We crossed the street and walked along the other side of the block, past where Tim Burke's installation resides. A number of burned boards there stand on end, like a group of tall elders gathered around a fire or something. I guess there will be more burnt art on Heidelberg Street.
"Our emergency manager ought to come and take a look at this stuff as he makes decisions about Detroit development," I said. "This place is just the kind of thing the city needs to get behind — big time. Maybe Kevyn Orr will. So far all he's done is tell us that we're broke — like we didn't know that."
"A good look around here would have told you that," Mulenga offered. "I wonder how many millions of dollars have been spent to tell us just exactly how broke we are." Mulenga then blew into his harp again. He sang, "No hay dinero. No hay nada."
"So now you're singing in Spanish," I asked.
Mulenga grinned, "I call it world blues, got to look out for that cross-cultural audience," he explained.
We were near Tyree. He looked at us and said, "I'm glad you came by here today. Thanks."
"We just had to check it out," Mulenga said, pointing at the burned house. "It's a damned shame."
"I don't want to dwell on that," said Tyree, although you could see some pain in his expression. "I'm going to turn this into something great."
"I know that's the truth, brother," Mulenga said. "You got the vision. That's what you do; turn sow's ears into silk purses."
Tyree went back to work. Mulenga and I walked over to Mt. Elliot where I was parked. "Can I give you a ride somewhere?"
"No, I feel like walking today," he waved as he turned back toward the artworks, and then stopped. "Hey, they're having a March against Monsanto down at Eastern Market this weekend."
"I know. I'll see you there." As I pulled off, Mulenga was blowing into his harmonica, seemingly oblivious to his surroundings. At the same time, it seemed like everything that surrounded him was coming out beautifully in his music.
Larry Gabriel is a writer, musician and former editor of Metro Times. Send comments to [email protected]