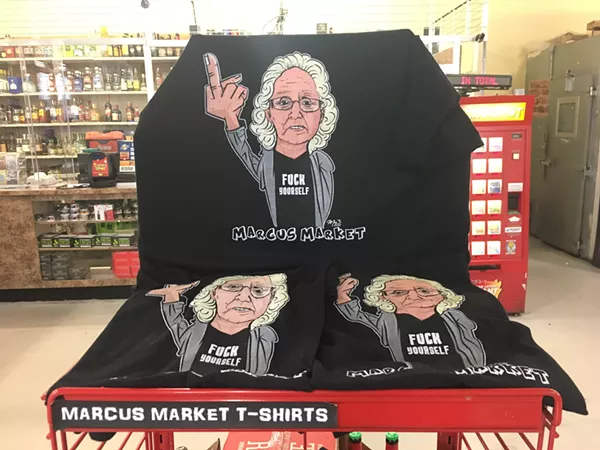 There's a piece of old Midtown lore about what may well have been Miley Cyrus' first visit to the area. It was 2010, and the then-only
Hannah Montana-
famous actress and singer wandered into a bar and, in her signature southern twang, ordered a "fresh-squeezed O.J." The bartender responded in her own drawl, and asked — "Where the fuck do you think you're at, honey?"
That bar was the Bronx, and the story goes that the bartender was Charleen Dexter.
Charleen's take-no-shit attitude has helped make her a fixture in Detroit over the 40 years she's been working at the Bronx. Now, her vibe is encapsulated in a T-shirt, giving you the chance to channel Charleen for the small price of $15.
The shirt features an illustration of Charleen giving the finger, clad in her own T-shirt that says FUCK YOURSELF. The shirts are available next door to the Bronx at Marcus Market.
An employee at Marcus says the shirts were illustrated by a co-worker and have been available for a couple of weeks now. She says Charleen "loves them."
We popped by the Bronx to see what Charleen had to say, but it was her day off. You can catch her IRL at the bar Monday through Wednesday in the daytime. Or, you can get to know her from a distance, via one of the
local feature stories
that have been
written about her.
Stay on top of Detroit news and views. Sign up for our weekly issue newsletter delivered each Wednesday.