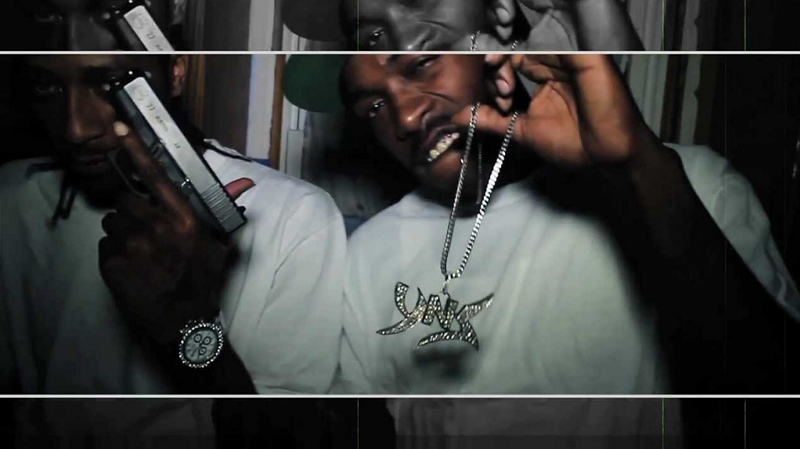 A grand jury has indicted five members of Brightmoor's Young and Skantless street gang on a range of charges following a decade of purportedly wild-ass behavior by the crew. The racketeering indictment unsealed in federal court Friday describes the group as dominating Brightmoor by developing a reputation for ruthless violence. Over the years, feds say members of the YNS crew have posted "numerous intimidating photographs and
videos
to social media" and scared neighborhood residents out of talking to the cops about their gang activity. Crew members have also allegedly tried to kill rival drug dealers.
At least two of those indicted appear to be members of the YNS Da Mob rap crew affiliated with Chief Keef. The group produces music under the label "Scantless Life Records" and is behind hits like "Crack House".
Corey Toney, AKA "Green Eyes," or "B-Mo"; Edward Tavorn, AKA "Chico," or "Cheeks"; Andre Chattam AKA "Big Man"; Kevin Pearson AKA "BMG Kev"; and Sontez Wells AKA "Skittles" were investigated as part of the Detroit One initiative, a law enforcement and community partnership designed to cut down on violent crime in the city.
Here are a series of more specific alleged offenses outlined in the 21-page indictment:
- In 2010, a YNS member sprayed carburetor cleaner on some merchandise at the Marathon on Fenkell near Lahser then set the stuff on fire.
- In 2013, YNS Toney was gambling with some other people in Brightmoor and ran off when the cops came up, slapping an officer upside the head along the way. (The indictment doesn't quite say this, but refers to Toney as striking "an officer in the head with his hand".)
- Also in 2013, three members of the crew killed someone they were trying to rob at a 7 mile gas station on the west side.
- That same year, a YNS member was on a Facebook group chat with someone called "Strawberry Nutty" and sent a pic of himself and others holding guns. BMG Kev unleashed a stream of invective on the "scary hoe", saying: "I dont give a fuck bitch dats the same pic homicide got and im still out here bitch im not scared of no snitch or no police ... i got yall address sogo head n snitch bitch it wont stop nothing at all" and "Lol i want em to see cause dey in it too then and i bet one of yall get popped first cause u kno what im bout you dumb bitch n i wish yall would snitch my brothas no where da fuck yall at". (The feds appear to have capped this rant with a period, putting one in brackets like so: [.])
- In the summer of 2015, multiple members of the crew talked about having killed someone on July 4 at the notoriously seedy
Victory Inn
on the city's west side. They discussed the matter from a jail phone.
- Last year, YNS Cheeks appeared in a YouTube video describing the existence of the crew and its hold on places like the Brightmoor Marathon. He held up a bunch of weapons in the vid.
We couldn't find that video, but we did want to take the opportunity to showcase some of Cheeks and the crew's best work. Let us not forget that while the feds call the five YNS boys criminals, some of them are artists as well:
If you want a further glimpse into the alleged lifestyle of some members of Da Mob, you can read the full indictment
here
.