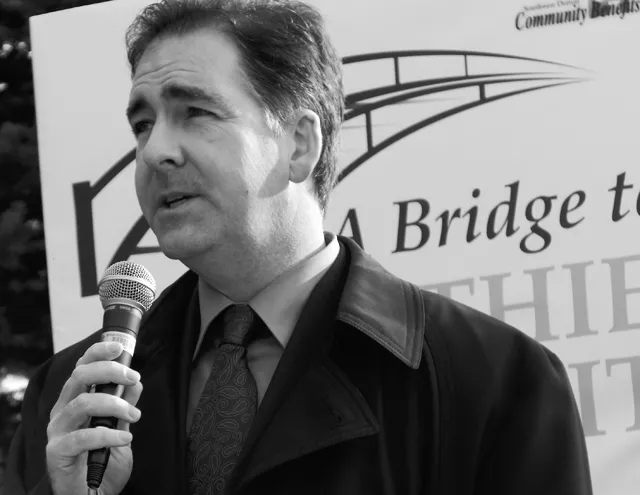 Some of the leading proponents of the Detroit International River Crossing held a press conference last week in an attempt to prompt Michigan Senate Majority Leader Mike Bishop to keep his pervious promise and allow a vote on a proposal to build a new publicly owned span in the Delray area.
Bishop had promised several months ago to allow a vote on the proposal, but reneged after Republicans in November took firm control of both houses in the Legislature and the governor's office.
Among those speaking at the press conference held outside Ste. Anne's Church in southwest Detroit was Brian Masse, a member of the Canadian Parliament who represents part of Windsor.
Masse called Bishop's flip-flop an "international betrayal."
"I ask [Bishop] to live up to his word," Masse told those at the sparsely attended event. "In Canada, when you shake hands on something, it means something."
Matt Marsden, press secretary for Bishop, says that the senator's promise of an up-or-down vote was contingent upon receiving a traffic study from the Michigan Department of Transportation, but that study was never delivered. Marsden also says questions remain about how much control Canada would have over the new span.
Given the changes in the Legislature and the governor's office, Marsden says it is now appropriate to wait until next year to bring the issue to a vote.
DRIC supporters, however, say that other than the significant lobby clout of billionaire Ambassador Bridge owner Manuel "Matty" Moroun, there seems to be little reason not to bring the issue to a vote. Canada has offered to contribute Michigan's share of the project — about $550 million — and recoup the money in coming years from tolls.
The proposed DRIC would be publicly owned but, as a part of a compromise intended to help win over conservatives, privately operated.
Moroun, all agree, doesn't want any competition downriver, no matter who owns or operates it. Instead, he wants to build a new span adjacent to the aging Ambassador.
However, unlike the DRIC — which state Rep. Rashida Tlaib described as "shovel ready" — a new Ambassador Bridge faces a host of hurdles. There's a tie-up involving approval on the Canadian side, where there is much opposition to seeing a twin span of the Ambassador. On the American side, the U.S. Coast Guard — which is in charge of the permitting process here — has put a hold on the application until the company obtains all the land necessary to build a new bridge. That means the company would have to acquire a piece of Riverside Park in southwest Detroit to make that happen. So far, the city of Detroit has shown no interest in making the property available. In fact, it has been fighting in court for more than two years to get the bridge company to vacate a piece of parkland the city claims is being illegally occupied.
Tlaib, a Democrat who represents southwest Detroit, is a fierce opponent of a new Ambassador Bridge. Like Masse, she used the press conference to try to put pressure on Bishop to allow the DRIC issue to come up for a vote.
"Senate Majority leader Mike Bishop promised an 'up or down' vote on this plan, and his refusal to act is an insult to our workers, our economy and Michigan families," she said. "DRIC will help create tens of thousands of new jobs, strengthen our most important U.S. border crossing, boost our economy and create sustainable local investment.
"Unfortunately, the Senate has been pandering to rich special interest groups and refusing to act for months in order to kill our plan. It is time for Senate leaders to stop playing politics, do what's right for our workers, or state and our community. ..."
What makes this whole debate particularly fascinating is that it's not really a right vs. left kind of issue. Typically conservative forces such as the Detroit Regional Chamber of Commerce, the Michigan Manufacturers Association and Republican Oakland County Executive L. Brooks Patterson are just a few of the many DRIC supporters.
It's really an issue of Matty vs. the world. And at this point, it looks like Matty just might prevail.