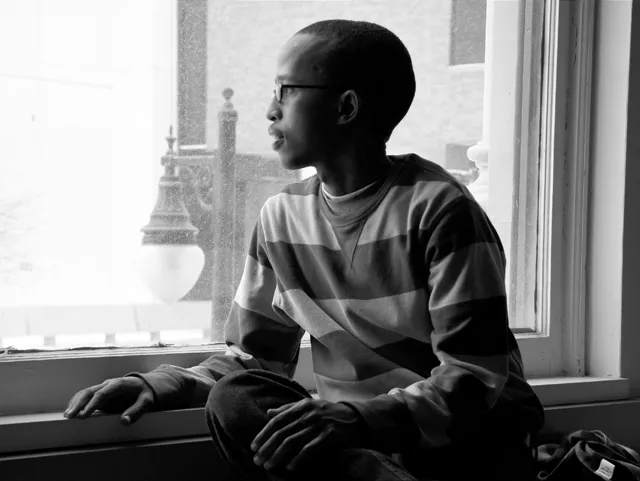 Working in East Africa and writing critically about the armed fundamentalist militias that control parts of Somalia, the threats Abdulkarim Jimale faced were all too real. So many of his journalist colleagues had been intimidated or killed that he and other reporters lived in a compound in Kenya for self-protection.
He didn't expect that when he came to the United States at the invitation of the Department of State last year that he'd be threatened from afar, spend two months behind bars, and wind up arguing before an immigration judge that his life would be in danger if he returned.
But the 22-year-old Somali journalist now has earned asylum in a case that his attorney says "shows the immigration system works," but also has major flaws.
"If an asylum officer had the authority to grant him asylum, we could have avoided the costs of a prolonged detention and allowed the Immigration Court to be used for more controversial cases," says David Koelsch, the director of the immigration law clinic at the University of Detroit Mercy School of Law who handled Jimale's case. "He could prove who he is, what he does, that he is not a terrorist, and that he had a credible fear of returning to Somalia. It was a waste of time and money to make him also present his claim to an immigration judge — his time and the taxpayers' money."
Jimale is a soft-spoken, thoughtful, slightly built young man who wanted to be a writer as long as he can remember. He started working in high school, and after graduation went on to the East African School of Media Studies in Nairobi, Kenya. Attending classes there and traveling home, he wrote and reported for several newspapers, online sites and radio stations. His reporting was sometimes critical of the lawlessness, the rigid Islamic principles and the violence perpetuated by well-armed, fundamentalist, rebel groups.
One of those groups was al-Shabaab, also known as the Mujahedeen Youth Movement, a Somali-based group that the U.S. government designates as a terrorist organization and believes is affiliated with the al-Qaeda network.
Somalia, located on the horn of Africa, has not had a stable, central government since 1991. Less than 40 percent of the population of roughly 9 million is literate, according to the Council on Foreign Relations. Today the country is largely run by militant Islamist groups and is often labeled as a sanctuary for al-Qaeda.
"The insurgents in Somalia have led a campaign of terror against the media," says Mohamed Keita, the Africa advocacy coordinator at the Committee to Protect Journalists. "Somalia remains the deadliest, most dangerous country for the press in Africa because of the murders of journalists."
Jimale's writing often described the terror al-Shabaab perpetuated against citizens in his homeland, and he was getting more work. In the last six months of 2010 he filed more than a dozen pieces for the Free Speech Radio News network, which is based in Madison, Wis., and sends programming to 114 stations around the country. It also broadcasts worldwide on short wave radio.
Jimale also worked for the Somali National Post newspaper and Islamonline.net, where one of his pieces involved interviews with Somali pirates. He also worked for an independent radio station, Shabelle Media Network. Five of its journalists have been murdered since 2006, according to the Committee to Protect Journalists. Last summer, Shabelle aired a BBC broadcast of news and music in direct violation of al-Shabaab's orders in the areas of the country the group controls.
"A Somali journalist's life is short anyway," Jimale told the New York-based Committee to Protect Journalists when a correspondent interviewed him about the broadcasts. "We just made the decision not to be intimidated by these groups."
Jimale applied for and was accepted to last fall's International Visitors Leadership Program sponsored by the U.S. Department of State. One correspondent from each of roughly 150 countries was chosen. The group traveled to Washington D.C., New York, Florida and Seattle, meeting with local officials and attending journalism classes.
Jimale says the reality of the United States is not what he had been led to believe at home: Americans are friendly, do not hate all Muslims, and did not discriminate against him. The country, he says, is not the militaristic state he previously thought it to be.
Impressed with the United States, the freedoms he observed and how the reality of life here clashed with the perception he and other Somalis had, Jimale participated in a BBC interview about his experience in the United States to help clear up misconceptions, he says.
"I was thinking I would be discriminated [against] because of being Muslim, but all of the things I have expected did not happen," he told the BBC interviewer.
"America is much better and safer (than Somalia). ... In Somalia there are youth who are not thinking and fighting. In America, the youth are organizing, building organizations, and working toward peace, and this was one of the most fascinating things I have ever seen here. Our youth in Somalia are working toward and distributing the destruction of an already destroyed country."
The interview was broadcast overseas and enemies of the free press heard it. The threat came in an e-mail, and the journalist feared his life would be in legitimate danger if he returned home at the end of the State Department program.
"We know that you became an spy for the Americans and that was the reason they took you to America, but you need to wonder where you will be coming back to. We are waiting to see you when you get back," the e-mail read. It was signed by "The movement of Young Mujahideen," one of al-Shabaab's names. A voice mail threatened his life as well.
Not knowing what to do, Jimale went to see a relative in Milwaukee. He decided to try for asylum in Canada and took a bus to Detroit, where he crossed through the tunnel.
When Canada rejected him, he returned to Detroit and was detained at first at a federal holding facility and then at the Calhoun County jail, which contracts to hold people with immigration cases being adjudicated.
Because his visa, though valid for his presence in the United States, did not allow him to leave the country and return, he was jailed. Just crossing through the tunnel counted as leaving, even though he was not admitted to Canada.
"Why was I with the real criminals?" Jimale asks. "Why was I treated the same way as people who committed violent crimes?"
He connected with Koelsch, an assistant professor at University of Detroit Mercy School of Law who runs the immigration legal clinic.
"I don't know how he came up with it, but he thought that because he was sponsored by the U.S. government to come here, that if he applied for asylum, the U.S. government would reject him," Koelsch says. "One of the restrictions that he came on was that he leaves the United States when it's all over. He thought he'd be ungrateful by asking for asylum."
Koelsch verified Jimale's identity through a variety of sources. He gathered his writings, e-mailed editors here and in Africa to confirm his record, and matched information and photos on Jimale's Facebook page with what the young journalist had told his attorney.
"There was an overwhelming volume of evidence in his case, and he was highly credible," Koelsch says. "The evidence was not only about his identity but also that he is brave enough to stand up to al-Shabaab."
After two months of imprisonment and three hearings, a judge granted his asylum application, and he was released Jan. 21. One of his first calls was to one of his editors. "She told me to start writing my story," Jimale says.
He is living in Milwaukee with a relative and plans to enroll in journalism school, spending at least a few years in the United States before returning home, where he'd like to work to counter the terror groups' commitment of young people.
"The problem in my country is the youth," he says. "If they don't get the youth, they can't do anything."