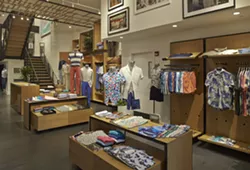 Nike, Warby Parker, Moosejaw, John Varvatos, and Kit and Ace — they're all on a list of national retailers who've opened up in downtown Detroit. And now a Bonobos "guideshop" is poised to join them.
Bonobos, an e-commerce men's clothing company, has laid claim to 1417 Woodward Avenue,
according to a Detroit News article
, and plans to open sometime this year.
The store will be unique in that patrons will not be able to buy clothing and leave the store with it. Instead, they can try on different styles of pants and shirts and, if they like what they find, can order and have them delivered to their home up to five business days later, which makes it more like shopping for glasses than pants.
The company is hyper-focused on making sure customers get the right fit. Their website reads, in part, "Our company is built around finding the perfect fit; we started the company after we couldn't find an acceptable fit for ourselves."
Bonobos shirts start at $98 (although they have some clearance items for as little as $58), and chinos start at $88 (again, a few clearance pairs are available online for $58, $68, and $78). The company also sells $750-$1,125 suits, plus outerwear, golf attire, neckties, bowties, pocket squares, belts, shoes, hats, and scarves.
The company has 30 guideshops in the States — the Detroit location will make 31 — but this will be Bonobos' first Michigan store. Head of PR Erin Grant says the idea of opening guideshops happened organically and in spite of the fact that they never planned on opening retail stores.
She says customers would stop by their headquarters, hoping to see, feel, and try on clothing before purchasing something on their website.
"The point of the guideshop is that there is comfort in knowing it's going to fit and look good," Grant says.
When asked if the whole experience of shopping and leaving a brick-and-mortar store empty-handed was anti-climactic, Grant says that's simply not the case. "We take the hassle out of the traditional retail experience," she says.
The company will lease the shop from Bedrock Real Estate Service, a company owned by
Dan Gilbert
.
Additionally, the store is, in fact, named after the great ape.