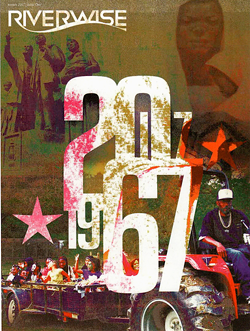 Detroit has a long history of little magazines and small press publishing, from the heyday of the underground press, with Broadside Press and Detroit Artists Workshop, into the 1980s with some spunky rag called
Metro Times
, and even to contemporary times, with zines, and little magazines. They come and go, but they punch above their weight, living on in memory. The ones with the longest lives tend to cover politics as well as culture, and include
Critical Moment
,
Labor Notes
, and some other alt-weekly that's on the tip of our tongue.
But there's been a void of sorts
ever since the Michigan Citizen stopped publishing at the end of 2014
. That void would be political and news coverage in the city of Detroit by black activists.
That's why we greet the news that
Riverwise
, a new magazine from the James and Grace Lee Boggs Center. Shea Howell, a talented blogger in her own right, tells us that "the majority of writers are African-American." The lead article is by regular MT columnist Larry Gabriel, and there are pieces by former
Citizen
writer Eric Campbell, photographs from Piper Carter and Adrienne Maree Brown, editor of the recently published
Octavia's Brood
. (Clearly,
TBD
magazine this is not.)
The goal is "to give voice to grassroots efforts to tackle Detroit's challenges head-on with a sense of hope" and to explore "how people are developing community, values of care and self-reliance while keeping in mind Detroit's distinctive contributions to national and international activism and culture."
Despite the event being keyed to the magazine's debut, Riverwise has actually been widely distributed in neighborhoods, barbershops, cafes and churches. Managing editor Eric Campbell says, "We are already into our second printing of the first issue. We can't keep it on the shelves."
It's also a handsome little volume, to which Howell says, "We tried really hard to create a distinctive look and feel."
The launch Party will take place 5-8 p.m. on Friday, Feb. 24, at Le Petit Zinc, 1055 Trumbull St., Detroit; donations accepted.

The magazine will also host a series of conversations starting at 5 p.m. Saturday, Feb. 25 at the Source Bookstore, 4240 Cass Ave. #105, Detroit; 313-832-1155.