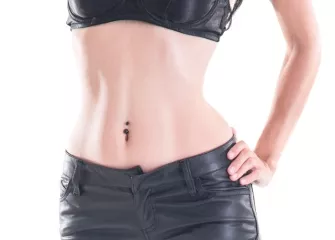 Body piercing has come a long way since Tiffany Diamond began her apprenticeship back in the mid-1990s. With 18 years in the art, Diamond, who was voted by Metro Times readers as the best body piercer back when she was working out of Lady Luck Tattoo in 2010, has just opened her own piercing shop this month, out in Commerce Township. She's proud of her art, justifiably so, and comes with a shining recommendation from Elayne Angel, the president of the Association of Professional Piercers and the author of The Piercing Bible.
For Diamond, it began with her love of jewelry. "My first love for piercing came from my love for jewelry and adornment.
"I self-pierced my own ear when I was 12, and it was an empowering experience to make a change to my own body. So when I was given the opportunity to learn how to pierce, I jumped at what was then a rare offer, because, although it started getting a little bit more exposure in the '80s, it really boomed in mid-1990s."
She elaborates, saying, "I think a lot of people do it because they really love the jewelry — I just loved the idea of having another spot where I could put a diamond or gem. The first time saw a tongue piercing, I was like, 'You can put jewelry in your mouth?' Until then I had only seen a gold tooth or a gem in the tooth.
"I just thought it looked really pretty. That's really what first got my attention. I think a lot of girls like that. You ask them, 'Why are you getting your nose pierced?' and they say, 'Because it's cute!'" she adds with a laugh.
And not all piercing jewelry is created equal. Diamond offers warnings about some of the stuff on sale at, say, a kiosk at the mall. She explains, "My studio carries only high quality, American-made, nickel-free jewelry, with genuine gemstones and diamonds. Much of the stuff that comes from Asia contains lead and other carcinogens, or something else that will cause a lot of irritation to the piercing. Another thing to note is that when jewelry comes over from Asia, it's coming right off factory floor. It's not being washed or sanitized, let alone sterilized. Not only is the actual material not implant-grade or high-quality, the design is often wrong. Instead of a barbell having a nice smooth bend, it might be in a tight bend like a boomerang, which causes discomfort.
"Even worse, it's being sold at [a]mall for three for $10. The price for a good piece of jewelry could be triple what you see at the mall, and plenty of studios that don't have a knowledgeable piercer on staff are going to go the cheap route. To stock jewelry in my store, I might only be able to stock three pieces instead of 100. But I'm one of a few stores in Michigan that does not carry any lower-end stuff.
"When you get higher quality product, you get something that's going to last longer. On the cheap stuff, the coating flakes off, the gems fall off during your first shower. I mean, if you have to buy five of them to replace them, you could have just bought one good one. And you can tell the difference just by looking at them. Put a $100 piece of jewelry next to a three-for-$10 piece and every single time [the] girl will pick [the] $100 one. It just shows."
The sort of piercings Diamond offers wouldn't work so well if the jewelry hadn't evolved with the times. Though punks in the 1980s might have sported a safety pin in the ear, contemporary designs are softer and sexier, more evocative than provocative.
"Piercing jewelry has come a long way," Diamond says. "They've come up with a lot of different things you can do. Thirty years ago, it was hard to find ornate piercing jewelry with diamonds and gold. These days, I sell gold and diamonds every day. It's not just putting spiky stuff in people's ears anymore. It's more attractive to a wider range of people because there are so many different styles available."
What helped change those styles? Diamond can't thank Christina Aguilera enough. "Thanks to her and other stars, the boom in nostril piercing came out after she wore that flowered piece on her nose — for months and even years after. It really contributed to the popularity teenage girls getting their nostrils pierced."
Diamond admits that not everybody will sport a show-stopping piece like Aguilera's. But, much like couture will inspire off-the-rack fashions, it emboldens people to take that first step.
"It's easier to see somebody break out and do something outrageous, and then you can do a smaller version of that," Diamond says.
Of course, much of Diamond's work isn't visible day to day, as she does a lot of work below the neckline, as well as below the belt. Thanks to professional referrals, she draws in customers from the entire Great Lakes region for her expert nipple and genital piercings, especially for female clients. And it's not always just to increase sexual pleasure, though that is a factor.
"A lot of times, it's a couple, a husband and wife, more often than not. But I do it for a lot of women. They're definitely hoping it increases sexual sensation, but also I see a lot of people reclaiming their bodies. A lot of times women will have gotten a divorce, and it's something they always wanted to get done, but maybe the husband had objected. So once the divorce is final, they're like, 'Now this is mine again and I'm going to do this from now on.'"
Piercing as rite of passage and individual empowerment? Diamond explains it masterfully.
"It's to feel better about themselves. For instance, I do inverted nipples. Piercing nipples in the right way can correct that issue. I've had girls that don't feel comfortable taking [their] top off, and I've seen how piercing can change how women feel about [their] body. Sometimes, while I'm marking them, they can barely relax. But the next time they come in, they're totally comfortable taking their shirt off and standing up straighter and happier with their body."
Diamond clarifies, adding, "I'm not always fixing something that's wrong. But, for many people, piercings do increase sexual function, and if it makes you stand up straight and feel more comfortable and sexier, then it's working."
But Diamond is most pleased of all by the way American society is finally embracing piercings in a way it hadn't.
"It makes me very happy that it's finally part of American culture. Other cultures have used body modification to bring children to adulthood, and that was something it just didn't seem like it was part of American culture until recently. Now we have gotten to the point where it's not wild or crazy for your daughter to get her nostril pierced when she's 16. It's everyday business for me. We have a lot of schoolteachers and doctors and other professionals that are allowed to wear them at work because it's just not as taboo as it was even 10 years ago."
Diamond makes her point well. "We as Americans practice a lot of different forms of body modification," she says. "We have tanning or working out or bleaching teeth or plastic surgery. We do many different things to change the way we look, and this is just one of them. And it's important to let people do what they want with their bodies. As long as it makes them happy."
Tiffany Diamond's shop, DV8 Body Art, is at 1531 Union Lake Rd., Commerce Twp.; 248-363-8882; dv8bodyart.com