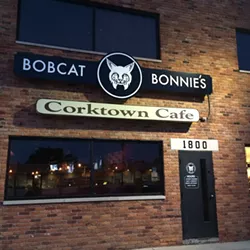 Bobcat Bonnie
's owner Matthew Buskard announced to his family and friends on Facebook last night that he'd be opening a second location in Wyandotte.
Buskard told
MT
he worked with the owners of Bourbons Brews & Bayou, who approached him in hope he'd bring his Corktown concept downriver.
Buskard says the Bourbons space, located at 118 Sycamore Street, will close to make way for Bobcat Bonnies. The interior will undergo some small renovations, mostly paint, new light fixtures, a new layout, and "some of our signature items like our large party tables, and our wallpaper and some trinkets and such."
He says he plans to bring Corktown's menu to Wyandotte in stages, starting with dinner, followed by lunch and brunch.
The Wyandotte location might also get some special menu items thanks to some kitchen equipment, there may be some special dishes unique to this location.
"They have a gorgeous pizza oven, that I would love to work with," Buskard says.
With nothing more than a little interior work to do, Buskard says Bobcat Bonnie's Wyandotte location could open as soon as mid-February.