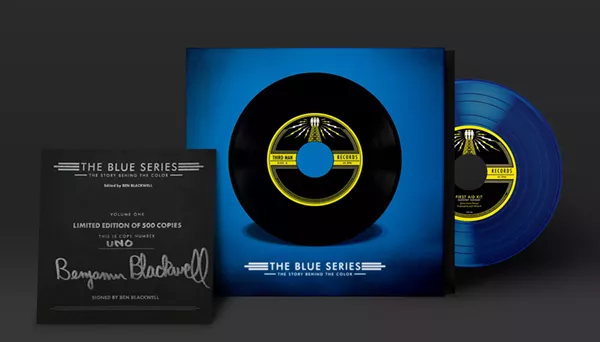 When Jack White launched his Third Man Records in 2009, among the label's first releases were experimental, one-off collaborative singles known as the "Blue Series." Nearly a decade later and 40 singles later, Third Man is taking a look back at the series with
a hardcover book
in time for Record Store Day.
The Blue Series: The Story Behind The Color, Volume One
is chiefly a 282-page visual archive, containing all of the series' album artwork and photography. But most interestingly, it also contains interviews conducted by Third Man's Ben Blackwell, which sheds light on how some of these collaborations came to be.
The premise of the Blue Series was simple — White would record quickly created collaborations with artists both widely known (Wanda Jackson, Beck, Insane Clown Posse ... Stephen Colbert?) and widely unknown (Duane, We Are Hex, Seasick Steve). The results spanned the gamut of genres from rock to country to hip-hop, and the whole thing was united only by White's production work, and the spartan branding of the series' minimal blue sleeves.
As an early TMR collector, I found the series fun. But there was also an inherent oddness to it: Why take these one-off collaborations and immortalize them as precious vinyl? At the same time, each record was a mystery that as a fan I wanted to solve. How did Jack White wind up recording an Amy Winehouse cover with Wanda Jackson? Is White really best buds with ICP? One of the joys of collecting Third Man are finding the Easter Eggs, like the cryptic messages and jokes written by Blackwell in the run-out grooves. Despite the simple presentation, there's always more than meets the eye.
As the book tells is, one of the first artists White approached with the pitch to do a Blue Series record was a pre-fame Adele. Certainly, kicking the series off with a collaboration with what would soon become the biggest singer in the world would have changed things dramatically from Third Man, for better or worse.
Other things we learn in the book: It was actually Wanda Jackson actually approached Jack White after learning he was a fan. White approached ICP with the full knowledge that it would piss off many of his rock nerd fans.
Metro Times
is even name-checked here, having scooped the news on TMR's collaboration with Detroit's Duane before it was officially announced.
Take these tales with a grain of salt, however. White has always had a penchant for self-mythologizing. The official record here insists Mildred (of early Blue Series release Mildred and the Mice) was an outsider artist who lived in Mammoth Cave and approached White at hardware store. Of course, "Mildred" is actually White's ex-wife Karen Elson. (Then again, this is the same guy who used to insist he and Meg were brother and sister.) Also, not every artist was interviewed. Notably omitted is Dan Sartain, who reportedly wasn't happy with the collaboration.
In true Third Man fashion, the book comes with a 7-inch featuring session outtakes. The Record Store Day version comes with a blue colored vinyl and is signed by Blackwell. A standard edition (black vinyl) version will be available on June 6.
The target audience here is not the casual Third Man collector — this is for the die-hard obsessive who already owns every Blue Series record already and can't get enough, and wants to get further lost in White's color-coded universe.