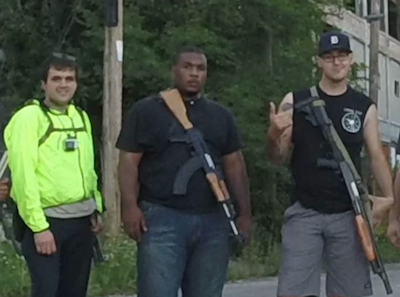 Sources say that an interracial open-carry group is leading a protest this weekend to pressure authorities over the illegal arrest of one of its members.
The group, Hell's Saints, is one of many groups trying to raise consciousness about open-carry laws by carrying their legal firearms in public places and educating the public — and often the police — about the law. Naturally, those on the side of tighter gun controls find this sort of activism provocative. And given the way gun control is often framed as a "left-wing" issue in the United States, open-carry activists tend to be dismissed in the mainstream media as a bunch of defiant right-wing nutballs.
But here's something that may cause some people to rethink their positions on the issue: Hell's Saints, the Michigan-based open-carry group, generally seem like a bunch of cool guys. Their members are white and black, and the videos show them risking the wrath of ill-informed police to spread a message of freedom to the general public. The group's recent tour of Detroit, in which they walked more than five miles, discussing their form of protest with curious residents, shows that these aren't a bunch of prejudiced, city-hating regressives at all.
They do get hassled by the police, who, in many cases do not know that carrying a legally owned firearm is not against the law. Say what you will, but in these days of militarized police, it takes some real guts to risk arrest or worst in an effort to clarify the rights of the people.
And, providing our case in point, is the arrest of Hell's Saint Elijah Woody, who the group says was arrested while open-carrying his handgun in Detroit. (Of course it's going to be the black, guy, right?) A post yesterday declared he was being held in lockup, charged with Felony Carrying a Concealed Weapon. The group has a protest planned for Sunday, to meet at 2 p.m. at Family Dollar at Outer Drive East and Mound Road, and will march a mile-and-a-half to the Detroit Police station on Nevada. It should be a great opportunity to meet some open-carry advocates, and maybe even challenge some deeply held political convictions.