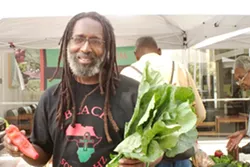 Malik Yakini, director of the Detroit Black Community Food Security Network (DBCFSN), often tries to deflect attention away from himself and toward the many people he works with as a food activist. His congenial sharing of the spotlight will become more difficult after Oct. 17, when he will be one of five 2012 James Beard Foundation Leadership Award recipients.
The prestigious national award will give Yakini (pronounced ee-uh-KEY-knee) an even higher profile as he will be feted at Hearst Tower in New York City during the foundation's annual food conference, titled "A Crisis in Confidence: Creating a Better, More Sustainable Food World We Can Trust." And just to make things a little more unusual for the bespectacled, dreadlocked Yakini, who favors dashiki shirts, the conference is co-hosted by Good Housekeeping magazine.
"I've been an activist all of my adult life, with concerns about freedom and justice and a high quality of human life in general, and specifically in the African-American community," Yakini says.
There is a quiet charisma about Yakini. He doesn't bluster and pose, yet he directly addresses racial issues that have polarized people in and around the city for decades. People seem attracted to him, and he is indeed a leader. He is a reggae musician who takes the consciousness espoused by the music seriously. In 1989, he founded the Nsoroma Institute, an African-centered private school that is now a Detroit charter school. He led the school until last year, when he left it to focus more on food security. The DBCFSN, which works the seven-acre D-Town Farms in River Rouge Park, is an outgrowth of gardening activities and food issues he became involved with at Nsoroma. Yakini also owned the Black Star Bookstore for teachers on Livernois Avenue near Seven Mile Road for several years before it closed. He was also one of the principal activists who worked with the Detroit City Council to establish the Detroit Food Policy Council in 2009. Yakini is a past chair of the DFPC.
"Malik is very important because he has done several things," says Dr. Kami Pothukuchi, a Wayne State University professor and a nationally recognized food policy expert. "He has not only made a case for why the African-American community needs to take leadership on community food justice issues, but also why movement activists in Detroit need to think critically about race in the food system. ... His leadership that led to the founding of the DFPC is a very important manifestation. He's not just someone who has said a lot of words; he went and showed how it should be done. He tells the truth without being off-putting. He has done important, critical thinking about relationships in Detroit. He is thoughtful, listens and is fair. All those things make him a very attractive leader and someone people want to listen to and follow."
Yakini is an unwavering black activist who seems to be able to tell white people where to get off and make them like it because he speaks from an informed and caring position rather than anger.
"White food activists are well intentioned, but haven't done a thorough process of divesting themselves of white supremacist thinking," Yakini says. "They have a paternalistic or missionary style with black people."
And he walks the walk. Although his activism takes him around the country to forums and seminars, when he is in town he gets his hands dirty at the farm and drives produce to market. He can talk about soil science, medicinal herbs, composting, crop rotation and more, all the while trying to balance his time with individuals, organizations and media vying for his attention. D-Town has created a relationship with the groundbreaking Growing Power, founded by Will Allen in Milwaukee. Allen, who received a MacArthur "genius" grant in 2008, nominated Yakini for the Beard award — another indication that what Yakini and others have been quietly doing in Detroit has gained attention in broader environs.
"We're hopeful that this will elevate our work in the public consciousness and bring greater resources to our cause," Yakini says. "I am less concerned about my recognition as an individual and more concerned about collective work in Detroit. Nothing that I do is done individually, elevating individuals can be counterproductive. I'm part of a team. I couldn't create D-Town by myself; this is collective work."
To a certain extent, working in the food system is visionary. The United Nations' prediction for the world population in 2050 is 9.2 billion — up from a little more than 7 billion this year. Feeding all those people is going to take a major effort, especially as climate change and pollution stress food production capabilities worldwide. This year, droughts in the United States have reduced expected harvests and driven up the cost of food. Costs have also been driven up by the high price of petroleum, which is used in everything from fertilizers to fuel for farm machinery and trucks delivering food to markets.
In addition, the prevalence of highly processed foods laden with fats and sugars are driving an obesity epidemic that is raising the incidence of high blood pressure and diabetes — which lead to heart and kidney disease. Urban African-Americans and Hispanics suffer disproportionately from these ailments, and are more likely to encounter complications and death from these causes than non-Hispanic whites.
"Food impacts every aspect of society," Yakini says. "It's a great uniter. Everyone needs high-quality food regardless of race, gender, sexual orientation, class or religion. It can be the basis of a broad consensus on improving our lives. ... Food is one of the basic building blocks of life. Any communities or nations seeking to be prosperous have to develop a food system that provides high-quality, nutritious food for their people."
Local food and urban agriculture activists are intent on creating a system in Detroit that provides fresh, healthy food in a system where Detroiters also reap the financial rewards of ownership from food production, processing and sales. They're literally building it from the ground up.
I got a call from City Councilman Ken Cockrel to gently pull my coat about my last column regarding land sales in Detroit. He pointed out that the city sale of some 1,900 lots to Hantz Farms is not a done deal. I suspect there is a bit of politicking on his part here, but he says that City Council is advocating that the deal with Hantz be done with a development agreement that will give the city some say in what happens on that property. John Hantz says that he wants to farm high-value hardwoods on the land. However, if the land is sold without a development agreement, Hantz could "flip the script" and do anything he wants on the property. Cockrel sits on council's planning and economic development standing committee that is chaired by Saunteel Jenkins. Marcell Todd, director of the City Planning Commission, expects to hold public information sessions on the drafting of ordinance language on urban agriculture and land sales. Wednesday, Sept. 19, at St. Maron Hall (11466 Kercheval St.), Monday, Sept. 24 at Tabernacle Missionary Baptist Church (2080 W. Grand Blvd.) and Tuesday, Sept. 25 at Greater Grace Temple (23500 W. Seven Mile Rd.). After those meetings, all of which are at 6 p.m., the commission will draft ordinance language to present to City Council.
Larry Gabriel is a writer, musician and former editor of Metro Times. Send comments to [email protected].