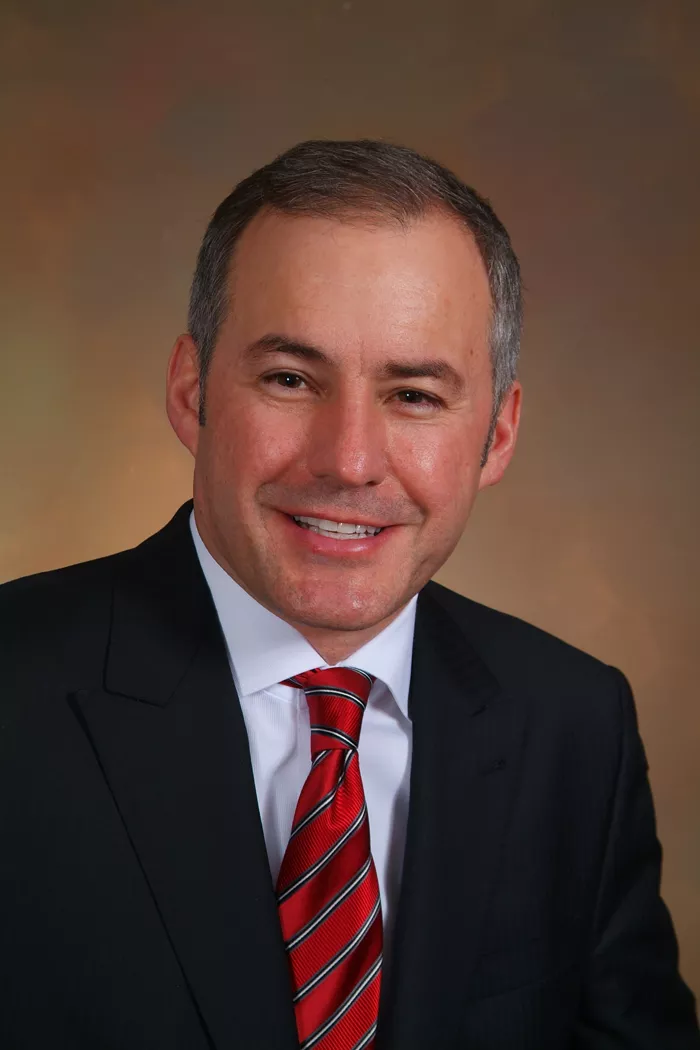 Now in his seventh year as the mayor of Westland, Wild, 46, owns the Wayne-based auto recycling business, Scrapbusters. He's a graduate of Westland Public Schools, studied business at the University of Michigan-Dearborn. He's lived in Westland most of his life with his wife, Sherri, a 6th grade science teacher and member of the Michigan Education Association, and three children.
Metro Times: Why are you interested in running for Wayne County Executive?
Bill Wild: We deserve a better government than we've been getting in Wayne County. We've got great people, the Great Lakes, and a great manufacturing infrastructure. We should be leading the way in job creation, quality of life and recreation opportunities. Instead, we're stuck with scandals, corruption and huge budget deficits.
I've lived here all my life and I want to see Wayne County thrive. To make it happen, we all need to work together. I've got experience, as Mayor, balancing budgets, making tough decisions, and reaching across borders to bring communities together. I think I can make a real contribution – that's why I'm running.
MT: The county has an accumulated $175 million budget deficit. Is there a way to address that and avoid the risk of insolvency?
BW: Yes. Building on my experience in Westland, where we turned a $50 million deficit into a $5 million surplus, I will:
• Bring together employees, their unions and the 43 communities that are part of Wayne County.
• Be fully transparent, so everyone sees the long-term need to match expenses to revenues.
• Cut from the top. In Westland, we cut the mayor's appointees by one-third, saving taxpayers $1 million a year. Every contribution we asked employees to make for their health care and pensions, I made them first and all the mayor's department heads were asked to do the same. No one takes a conversation about budget-cutting seriously if the person talking hasn't cut his or her own budget first.
• Collaborate with Mayor Duggan and other local leaders to consolidate and share services. In Westland, we combined our Fire Dept. with Wayne and we're saving taxpayers $250,000 a year just by having one chief instead of two. We just announced that the two communities will share a public works director – another $340,000 in savings. We've also done this with 911 dispatch and other services. Westland residents and taxpayers are saving millions, and still receiving top-quality services.county budget. We can also save money for the 43 cities, towns and townships that are part of the county, many of whom are also experiencing financial stress.
MT:Do you have any ideas as to how the city can cut costs or raise additional revenue?
BW: As a successful business owner and strong Mayor who has balanced multi-year budgets, it comes down to expenditures and revenues. We are going to analyze every expense in each department and dissect all of our revenue sources making sure that our fee structure is appropriate for our cost.
The areas I expect to find potential savings are appointees, professional services and long-standing contracts. There may also be savings available through better management of employee health benefits. In Westland we were offering 100 different health plans, some covering just one person. We were able to offer fewer plans and still provide quality health coverage for employees, with considerable savings for taxpayers.
Taking this approach on the county level can do more than help the After I took office in Westland, we found that in many cases, we were charging less in fees than it was costing us to operate certain services, like renting out our hockey arena. It could be there are some county services we want to subsidize with lower fees –but first, you need information so you can make an informed decision.
MT: Is there any aspect of the incumbent's record that you believe are commendable accomplishments?
BW: Bob Ficano has been a county office-holder for more than 30 years. I think many people would agree that he has done a commendable job of inclusion, reaching out to many different groups within Wayne County. Given the overall state of county government, however, a vast majority of voters agree it's time for a change. That's why we're in the unusual situation in this campaign, with a very well-known incumbent polling in the single digits. Inclusion
MT: Do you have any criticisms of the incumbent and how his administration has ran?
BW: Yes. Public corruption: Not once, not twice, not three times, but on four different occasions, Bob Ficano hired individuals who were later found to be stealing from Wayne County taxpayers. The convictions and/or guilty pleas for bribery, extortion and obstruction of justice are an embarrassment to every citizen.
I've heard Mr. Ficano state several times that he was the victim of "betrayal" by those he hired. Actually, it is we the taxpayers who were betrayed.This scandal goes beyond bad hiring decisions. Who supervised these corrupt officials? Who was watching to make sure they followed proper procedures, with checks and balances to prevent fraud and thievery? No issue is more important for a public official than operating with the highest possible ethical standards.
The incumbent failed to do his job as a leader. Budget deficit: Wayne County has a $175 million deficit today because the incumbent – and the County Commission, on which two other candidates have served or are serving – failed to respond quickly to the financial crisis that began in Michigan in 2007 and 2008.
In Westland, we had the same problems as the County – declining property values, lower tax revenues, and cuts in state revenue sharing. We tackled those problems head on in 2009, which is why we now have a three-year balanced budget and a $5.6 million surplus. In Wayne County, the Executive – and the County Commission – ignored the crisis. Of course, it didn't go away, it got worse. That's why we have such a large deficit today.
#JailFail: It's hard to imagine a worse example of mismanagement than a $175 million hole in the ground, sitting in the middle of the downtown business district. When taxpayers fund public works, they have a right to expect projects will be completed on time and on budget. That's how we do it in Westland. In Wayne County, the Executive failed to lead, the Commission failed to exercise oversight – and taxpayers are paying the price.
MT: If current plans with Bedrock Real Estate Services to redevelop the downtown Wayne County Jail site fall through, how would you address the failed project?
BW: Fixing this failed project will be one of the key issues facing the next County Executive.
• First, we have to know how much it has cost so far: Counting bond sales and interest, taxpayers are currently on the hook for $530 million for #FailJail. It's a huge cost and huge embarrassment to our county, which has been mismanaged in every possible way, including lack of oversight and failure to implement proper financial controls.
• Given how deep the hole we're already in, I question whether Wayne County taxpayers can afford a brand new jail at the Mound Road site. A brand new construction project on a different site is one of the proposals floated by the current administration as a way out of the mess they created. But no business in the world would take on another new project of the size and the debt required for the Mound Road site if – like Wayne County -- they were already facing more than $175 million in debt and a potential bankruptcy.
• Instead, I would look at selling the project site and perhaps other county-owned properties – at a realistic market value. Coupled with unspent bond proceeds, this could finance major improvements to both the existing jail and the 36th
Otherwise, moving forward on an entirely new construction project could jeopardize other county services and our pension obligations. I'm urging the County Commission to defer action until after the election. This is probably a more cost-effective way to go. Let the voters decide who should fix the County Jail. My guess they won't pick the same team that caused the problem in the first place.
MT: The incumbent has indicated the downriver wastewater treatment facilities could be sold to compensate for the budget deficit. Would you support the move?
BW: Not as currently proposed. The current administration's so-called deficit reduction plan – which hasn't been implemented yet and hasn't actually saved taxpayers any money yet – estimates a $120 million sale price for wastewater treatment facilities. But the downriver mayors and other community leaders I've talked to say that price is way too high because they've already bought and paid for the construction, maintenance, improvements and usage of the wastewater facilities. They estimate the value of the land that Wayne County contributed at about $2 million, and that's the price they're willing to pay.
That's a pretty huge gap between what the County is asking and what the communities are willing to pay. It shows the kind of poor planning, inadequate research, and failure to communicate that got the County in such bad financial shape in the first place.
If elected, I'll do what the current administration hasn't done, which is to sit down with elected officials and community leaders downriver, hear their concerns and work towards common goals.
MT: What have you done personally or professionally to help advance regional cooperation, or other significant causes?
BW: As noted above, regional cooperation has been one of the hallmarks of my tenure as Mayor of Westland. Working together with our neighboring communities, we have: built bridges with neighboring communities
• Combined the Westland and Wayne Fire Departments
• Combined the Westland and Wayne Parks and Recreation Departments
• Shared a Public Works Director with the city of Wayne
• Shared employees in the Water Department and Mapping Departments with Canton Township
• Shared 911 dispatch services with Wayne, Inkster and Garden City.
Through regional cooperation, we've saved our taxpayers money, provided high quality services and qualified for incentive aid from the state of Michigan. I think the same approach can work in Wayne County, by collaborating with Mayor Mike Duggan in Detroit and with communities across the county. Another cause that's important to me is Westland's Compassionate City Initiative. I learned about this global effort to involve local communities in charitable causes at a meeting of the U.S. Conference of Mayors, where I had a chance to meet the Dalai Lama. It's a missing piece for Westland, which supports Mission Green to reduce the community's carbon footprint and Passport to a Healthy City.
We're the first city in Michigan to commit to becoming a compassionate city. We're bringing the interfaith community, businesses, health organizations, individual volunteers, schools and civic organizations to create opportunities to get involved. By joining together, we're creating a foundation of compassion and that helps each of us, and our organizations, to accomplish more.
MT: Would you support the creation of a regional water authority to oversee the Detroit Water & Sewerage Department? If not, why?
BW: A strong Southeast Michigan begins with a strong city of Detroit. As Wayne County Executive, I look forward to working with Mayor Duggan in order to make Detroit our regional center for commerce and economic development. For that to become reality, Detroit needs a strong fiscal foundation that includes an ability to draw revenue from arguably its most treasured asset. I think the consternation about the Detroit Water and Sewer Department (DWSD) today stems from corruption and mismanagement, rather than service delivery. If we can all agree that service delivery has been reasonable, then we need to work towards shared information and decision-making so that every stakeholder feels vested in the outcome. I know how to accomplish this, and having instituted similar collaborative models in Westland.
I'm confident we can develop a partnership that keeps DWSD as a profitable Detroit asset, while incorporating input and decisions from our neighbors and partners.
MT: A number of communities in Wayne County have either faced the prospect of emergency management, or have seen Lansing appoint one to handle their finances. What are your thoughts about the current emergency manager law, PA 436?
BW: First of all, Wayne County doesn't need an emergency manager, we need a new CEO. I'm the only candidate in this race with executive experience in both the private sector and the public sector. I'm also the only candidate who has successfully executed a turnaround of a financially-challenged municipal government.
Second, I share many of the concerns that have been expressed about the current emergency manager law. When elected officials don't do their jobs properly – as has happened here in Wayne County – the best solution is to replace them by electing new officials.
The Emergency Manager system puts an appointed leader in place of democratically elected officials. I think it's a problem when somebody who nobody elected is making decisions that affect everybody. My priority as County Executive will be to get our fiscal house in order so we remain in control of our own destiny.
MT: What's your favorite book and movie about politics?
BW: I've read every John Grisham book and I love Brad Meltzer political thrillers. My favorite political movie is a toss up between Thirteen Days starring Kevin Costner) and City Hall (starring Al Pacino.) I'm also a huge fan of The West Wing and a new fan of House of Cards on Netflix.
MT: What's the best restaurant to dine at in Wayne County?
BW: Of course, I'm a fan of all the restaurants in our Shop and Dine district in Westland. If you like ribs, check out Alexander the Great in Westland; I think they've got the best ribs anywhere in Wayne County. I'm also a big fan of Crave in Dearborn and Sze-Chuan in Canton.
MT: What did we miss? Anything you'd like to touch on?
BW: Here's a partial list of the individuals and organizations who have endorsed my campaign:
Detroit News
Detroit Regional Chamber of Commerce
Bill Ford Jr., Chairman, Ford Motor Company
Greening Detroit, Inc.
AFPD PAC
Police Officers Association of Michigan
Westland Police Lieutenants and Sergeants Association
Western Wayne Professional Firefighters, IAFF Local 1279
Robert Kosowski, State Representative
Richard LeBlanc, Wayne County Commissioner
Leroy Burcroff, Mayor of the City of Romulus
Dan Dwyer, Mayor of the City of Plymouth
David Glaab, Supervisor of Huron Township
Hilliard Hampton, Mayor of the City of Inkster
Ted Kedzierski, Mayor of the City of Grosse Pointe Shores
Jack Kirksey, Mayor of the City of Livonia
Phi LaJoy, Supervisor of Canton Township
Patricia Odette, Mayor of the City of Woodhaven
Rick Sollars, Mayor of the City of Taylor
Randy Walker, Mayor of the City of Garden City

Click here to go back to the 2014 Wayne County executive election guide.