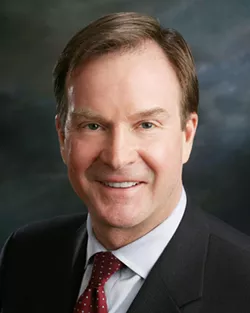 Bill Schuette has softened his position on government-subsidized healthcare as of late. In February, he did not join a federal lawsuit filed by 20 other states that argue the Affordable Care Act is unconstitutional. Yesterday, he told the
Associated Press
that Healthy Michigan, the Medicaid expansion program that came into existence because of the Affordable Care Act, was "not going anywhere."
But Schuette has long stood against the Affordable Care Act, falling in line behind Trump and Congressional Republicans' failed effort to "repeal and replace" the law, and more recently supporting
work requirements for hundreds of thousands of Medicaid recipients
. In April, the Schuette campaign went so far as to release an attack ad against Lieutenant Governor Brian Calley for supporting the ACA.
While some expanded Obamacare in MI and celebrate its 8th "anniversary" today, I didn't sit back and accept it. The Affordable Care Act violated the very first principle of medicine: Do no harm. When I'm governor we will work to repeal & replace Obamacare. https://t.co/Dhzp0TANv7

— Bill Schuette (@SchuetteOnDuty) March 23, 2018
In
2012
, as the law was first being implemented, Schuette described it as dealing "a body blow to the constitution."
"It deals a body blow to healthcare because it eliminates choice and individual decision-making and puts healthcare decisions all in the hands of one, big, huge federal government," he said in a video statement. "That's wrong."
Schuette also said that the ACA would be bad for the economy because it puts "tax upon tax upon tax" on Americans. Ultimately, as a Republican, he believes the free market should dictate healthcare spending.
So now, Michigan Democrats are calling bullshit on Schuette's subtle pivot to support Healthy Michigan. In a statement, the Michigan Democratic Party says it doesn't trust Schuette's promise to support covering for people with pre-existing conditions when, as attorney general, "he spent years filing lawsuits trying to rip healthcare away from people with pre-existing conditions."
Bridge Magazine
's Truth Squad deemed this criticism from Democrats as "fair."
But the publication also notes that Schuette isn't against every element of the ACA. He has supported children staying under their parents' plans until the age of 26, and has said since 2014 that he supports covering people with pre-existing conditions.
Generally speaking, however, the candidate has been singing the same tune as his fellow Republicans for a long time: the government is bad, it can't solve your problems, and will only waste your money through taxation. Schuette has followed suit with Trump and many Republicans who are trying to prevent spending increases on new policy programs meant to tackle complex social issues.
As former
Daily Show
host John Stewart so eloquently stated in a recent episode of a
podcast
by former Obama campaign strategist David Axelrod, the plan Schuette is following has worked well for Republicans. "The problem in this country is, you have one party in America whose sole purpose is to freeze the government, and to not fix any of the problems that are associated with it," Stewart explained. As a result, Republicans have been able to "point to their destruction as evidence of their thesis" that government doesn't work.
So why did the Republican candidate for governor slightly shift his priorities on healthcare? The most plausible explanation is that he needs the support, and many aspects of the Affordable Care Act are incredibly popular among the general public.
While it's true that most Michiganders supported replacing the ACA, a majority – 81 percent – also wanted to keep the things that the ACA has bolstered, like Healthy Michigan.
Sam Corey is a Metro Times fall editorial intern.

Stay on top of Detroit news and views. Sign up for our weekly issue newsletter delivered each Wednesday.