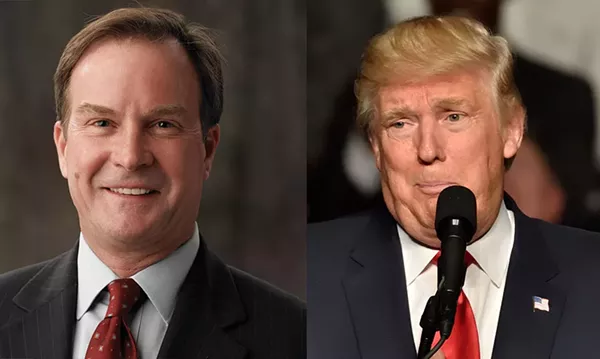 Michigan Attorney General and 2018 GOP gubernatorial hopeful Bill Schuette really, really, really wants everyone to know that he and President Donald Trump are best buds.
Whereas other major GOP players have kept Trump at arm's length amid the president's plummeting approval ratings, Schuette seemingly wants to shout it from the mountaintops: "I, Michigan gubernatorial hopeful William Duncan 'Bill' Schuette, love President Donald J. Trump."
This bad bromance goes back to the days of Trump's campaign, in which Schuette was a vocal supporter. In September, after Schuette officially declared his candidacy for governor, Trump returned the favor and issued a congratulatory tweet of endorsement (
and quickly deleted it
, having spelled Schuette's name wrong).
Schuette's campaign has been blowing up my inbox with press releases name-dropping Trump ever since.
A Sept. 17 email, subject line "President Trump noticed":
Lee,

We've had an incredible start to the campaign as we set our sights on making Michigan the nation's leader in jobs and paychecks.

Now, the President of the United States has noticed. This weekend, President Trump took our momentum to the next level:
Donate now to Make Michigan Win Again!

The president is right. He's laser-focused on bringing jobs back to America – and I'm going to bring those jobs right into Michigan. It's time for Michigan to win again, but that will only happen with your help.

With so much momentum on our side, we have a huge opportunity to get our message in front of voters before the liberal media and out-of-state donors start their typical smear attack. But our window to capitalize on this momentum is closing.

Join the team now with your donation of just $10 to ensure we can bypass the liberal media and get our message straight to Michiganians across the state.

We need to make sure we have the resources to get our message in front of as many voters as possible...as soon as possible. And to do that, we need your help immediately. A donation of just $10 will let us get our message in front of 1,000 voters.

Will you join President Trump & help Michigan win again?

Thank you,
Bill Schuette

A Sept. 20 email, with the subject line "Liberals in Michigan are scared":
Lee,

Bill's strong campaign launch and support from President Trump has liberals in Michigan scared. Democrat candidate Gretchen Whitmer sent a fundraising letter to her donors calling Bill her "most dangerous opponent." It's clear she's already planning an all out assault against us.

With all this attention coming our way, we need to make sure Bill has the resources to fight back. We can't rely on the liberal media to get our message out — so we're asking you. Can you chip in today to make sure Bill can fight back against liberal smears?

The Democrats are already taking action, so we can't afford to take any time before launching an aggressive campaign strategy. We've seen the smears they try to throw at anyone who supports our President, but if they come after Bill, we'll be ready.

With President Trump and our grassroots support we will fight back...

But we don't have much time before the attacks start, so we need to make sure our campaign starts strong. Donate today to help us fight liberals in Michigan.

Thank you,

Team Schuette


Yesterday, Schuette campaign sent out this one, with the subject line "[Trump] one year ago today, Michigan made history":
Lee,

One year ago today, Michigan made history when we tipped the election for Donald Trump.

Less than a year from today, on Election Day 2018, we'll have a chance to Win Again, Michigan.

When I'm elected Governor, I'll take President Trump's Make America Great Again agenda to Lansing, because we need a fighter with the guts and the vision to write our next chapter.

Do you want to Win Again for Michigan?

Michigan came through for America and delivered the presidency to Donald Trump – now, we need to overhaul state government the same way the president is Draining the Swamp in Washington.
It's a bold stance to be sure, given the fact that Trump barely scraped by in Michigan by just 10,000 votes or so — and his approval rating has steadily diminished ever since, currently hovering around 40 percent.
That Schuette is even a viable gubernatorial candidate is
seemingly confounding
, given the attorney general's many unpopular moves — that he stubbornly opposed the landmark 2014
DeBoer v. Snyder
same-sex Supreme court case, that the Flint water crisis happened on his watch, that he is basically the very sort of establishment career politician Trump vowed to "drain the swamp" of.
Whether to embrace Trump or not
is a question
that GOP candidates across the nation have been forced to grapple with. It may be that candidates are forced to embrace Trump, despite his general unpopularity — or else lose their core voters.
Some candidates, like GOP Virginia gubernatorial candidate Ed Gillespie, tried to keep Trump at arm's length during the campaign. But this, analysts say, only served to alienate his GOP base, and he ultimately lost to his Democrat rival.