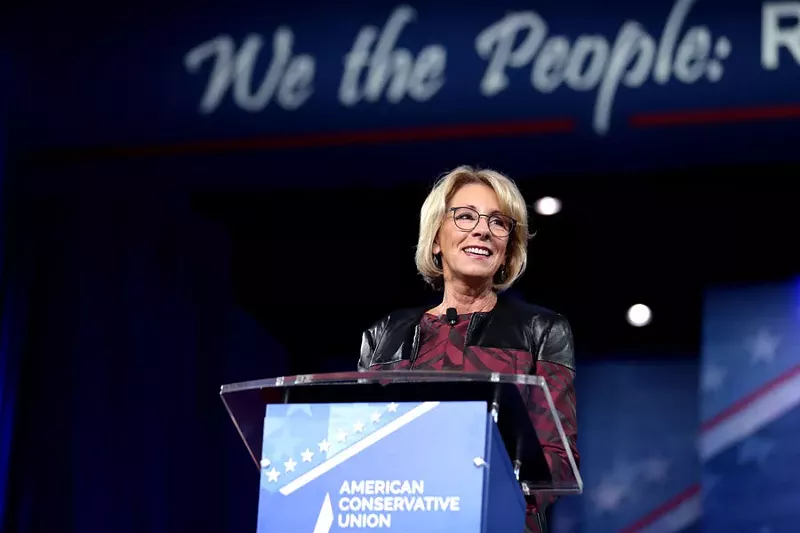 Michigan's most ignorant daughter, Betsy DeVos, is once again
pissing off
a good chunk the country.
This time Trump's Education Secretary
told a lawmaker
on Tuesday that schools can choose to call U.S. Immigration and Customs Enforcement on potentially undocumented students.
"I think that's a school decision, it's a local community decision," DeVos told the House Education and the Workforce Committee. "I refer to the fact that we have laws and we also are compassionate. I urge this body to do its job and address and clarify where there is confusion around this."
This is, of course, batshit crazy on many levels, not the least of which critics say is a legal one. They
point
to the 1982
Plyler v. Doe
case in which the Supreme Court ruled that schools cannot deny a free education to kids based on education status.
"The Court determined in 1982 that the Constitution requires all public schools to provide a free public education, from Kindergarten to 12th grade, to every child, regardless of immigration status," Thomas A. Saenz, president and general counsel of the Mexican American Legal Defense and Educational Fund, said. "Any public school or school district that denies an education to any undocumented child – whether by refusing to enroll, by limiting access to the programs and benefits provided to other students, or by reporting a child to ICE – has violated the United States Constitution."
The ACLU also highlighted that point.
"Let's be clear: Any school that reports a child to ICE would violate the Constitution. The Supreme Court has made clear that every child in America has a right to a basic education, regardless of immigration status. Secretary DeVos is once again wrong," Lorella Praeli, director of immigration policy and campaigns at the American Civil Liberties Union, said in a statement.
Adam Fernandez, a legislative staff attorney at MALDEF, told
AZCentral
that directing schools to do so is "awful legal policy."
"It's the job of the Department of Education to enforce civil rights laws in education," Fernandez says. "It's also the job of the department to give good legal advice to schools across the country.
"What DeVos did in such a public forum will create a lot of fear and could impact kids' ability to go to school, and is bad legal advice for schools," he said.
Others pointed out that immigration law is actually federal law, so it's not up to local jurisdictions to interpret.
Few local outlets reported on her comments, but
Progress Michigan
Director Lonnie Scott issued a statement in which he expressed his deep disappointment with DeVos.
"From her dangerous comments regarding ICE detaining kids in our schools to her ending civil rights investigations, it seems like Betsy DeVos is hellbent on making classrooms an unwelcoming place for any student who isn't straight and white," he tells
Metro Times
. "Schools should be safe, nurturing environments for all students regardless of the color of their skin, religion they practice or the amount of money in their parents' bank account."
In response to the criticism, Elizabeth Hill, press secretary for the U.S. Department of Education, provided
HuffPost
with a clarification of DeVos' remarks on Wednesday.
"Her position is that schools must comply with Plyler and all other applicable and relevant law," she says.
Stay on top of Detroit news and views. Sign up for our weekly issue newsletter delivered each Wednesday.