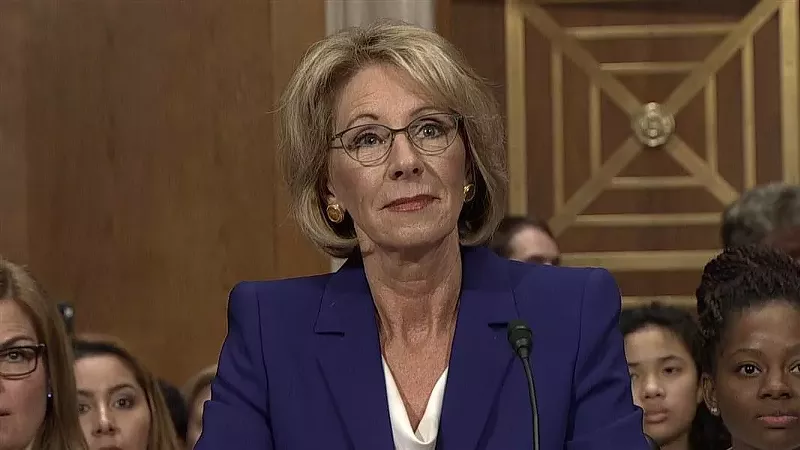 On Monday, a day before National Teacher Day, Education Secretary Betsy DeVos said teachers should protest their pay and school conditions on "adult time," so as not to hurt children.

The irony of DeVos saying teachers (and not DeVos' own education policies) are what's hurting children aside, phrasing it as "adult time" is patronizing. All of their time is adult time. They are adults working at their profession, and they should be able to strike just as people do in other lines of work. As the labor movement ramps up for educators across the U.S., her statement undermines teachers' right to protest for better working conditions in an impactful way. It also blames the very people trying to educate students in spite of DeVos' recent proposal to cut $200 million for literacy efforts across the country — so who is really the one hurting students?

DeVos went on to claim that the media uses her name as "clickbait," and further said she doesn't like being in the media spotlight.

"I don't enjoy the publicity that comes with my position," the billionaire told a room full of journalists at the National Education Writers Association conference in Baltimore. "I don't love being up on stage or on any kind of platform."

Something that Michigan's public school students likely don't love is the privatizing of their public education by a person who has no experience with curriculum, with school governance, or as an educator. Meanwhile, DeVos' budget proposal pushes to increase federal grants to charter schools by $60 million, according to The Atlantic.

The secretary of education, i.e. the person responsible for advising the federal government on U.S. education programs, went on to say that "education is not about Betsy DeVos nor any other individual."

What DeVos, a Michigan native, seems to gloss over in her statements is that the decisions she makes in her roles have direct ramifications. Prior to her current position as education secretary, DeVos served as a Republican Party chairwoman in Michigan, as well as chair of the pro-school-choice advocacy group American Federation for Children. The Michigan students learning in the charter schools she supported mostly tested below state averages for reading and math, according to The Washington Post. As such, the public's concern about her policies is to be expected.
As long as DeVos cares more about the billion-dollar charter school industry than about students' access to quality education overall, the more the issue is likely to draw criticism. If she doesn't want all the attention, a good look at her own policies is in order.

However, DeVos, one of the longest-serving members of the Trump administration, hinted that she may not continue to serve as the secretary of education should Trump be re-elected in 2020.

"I'm not sure my husband would be OK with that," DeVos said.
Stay on top of Detroit news and views. Sign up for our weekly issue newsletter delivered each Wednesday.