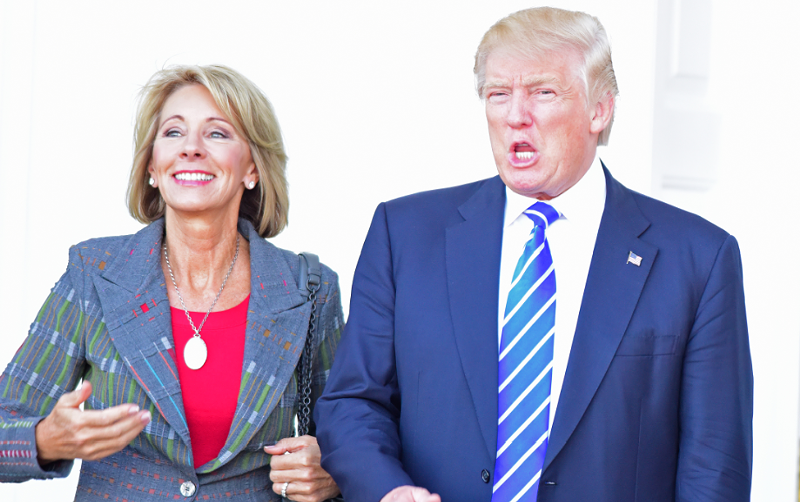 Education Secretary Besty DeVos has defended President Donald Trump's proposal to cut $9 billion in education spending, saying the budget request lays out a series of proposals that will "give parents more control over their child's education, a right that has been denied for too long."
DeVos spoke on the issue Tuesday at a Senate Appropriations Subcommittee hearing.
Trump's budget
would, if approved, cut $1 billion from before- and after-school programs and $2 billion from an effort to reduce class sizes and train teachers. It would also eliminate a loan forgiveness program for higher ed and and keep the federal government from subsidizing the interest on many student loans.
Those are among the 22 programs DeVos says the agency has targeted for elimination or phase-out, after finding them to be duplicative, ineffective, or "better supported through state, local or philanthropic efforts."
But while Trump's budget slashes overall education spending by 13.5 percent, it increases funding for DeVos' pet cause,
school choice
, which is what the education secretary was referring to when she on Tuesday touted the budget as giving "parents more power and students more opportunities."
The proposal aims to give a $1 billion infusion to school choice programs, which include voucher programs that let parents use state money to put kids in private schools. The managing director for K-12 education policy at the Center for American Progress says that under the plan, states and districts would essentially "
have to enact DeVos' preferred school choice polices
in order to recover some of the cuts to longstanding programs." (For the backstory on how DeVos and her husband, Dick, worked to create a voucher system in Michigan, you can check out this
Metro Times piece Curt Guyette penned when Dick DeVos
ran for governor.)
USA today reports the
proposal faces an uphill battle
in Congress. Subcommittee chair Sen. Roy Blunt (R-Mo.), on Tuesday called it difficult to defend, as deep cuts to programs like after-school would be "all but impossible" to get through committee. Sen. Patrick Leahy (D-Vt.) told the paper Trump's budget request "can be summed up in one word: abysmal."