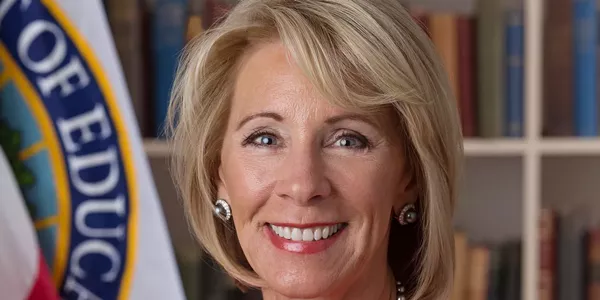 The U.S. Olympic team
fell short
of its expected medal count at the 2018 Winter Games in Pyeongchang, South Korea. And since international sports competitions are exactly like public education policy, U.S. Secretary of Education Betsy DeVos chimed in on Twitter to express her thoughts.
If 4th causes the @USOlympic to take a hard look at improving, shouldn't ranking globally 24th in reading, 25th in science and 40th in math spark some change? The time is now to empower parents and teachers to help students learn and grow. https://t.co/hQeiWjGHT7

— Betsy DeVos (@BetsyDeVosED) February 28, 2018
Teachers and others quickly began explaining to DeVos — who had no previous experience teaching or in public schooling before assuming her role — how this comparison is a bit misguided.
.@BetsyDeVosED I would agree, if the two were parallel. As it is, and as you should know, they're not. Olympics is national best against national best. International tests are often their upper tier against our entire range of students. #incompetencereigns #resign

— Jason Dagel (@TheDagel) February 28, 2018
Adjust your numbers for child poverty and get back to us. There have been numerous studies that you probably haven't read that do so. Do you think that our Olympians went to train hungry every day?

— Jim McClain (@TheJimMcClain) February 28, 2018
We've scored low on the PISA since mid 60s. Why? We educate EVERYONE. We test almost EVERYONE. Not all countries do. Our poverty rate is higher than most advanced nations. Yet, 90% of US kids go to public school & we're world's #1 economy.

— Jeannette Faber (@nettiefabes) February 28, 2018
DeVos has been controversial from the beginning, with many education groups opposing her nomination and appointment. Known as a champion of school choice, her quest to allow families private school vouchers is long documented and critiqued due to her affiliation and deep-pocketed support of the Christian Reform Church, anti-LGBTQ groups, and pro-choice organizations.
Her role in Michigan's education system has been equally controversial with many
reports
showing the
damage
free market policies have done across the state, most notably in
Detroit Public Schools
.
Stay on top of Detroit news and views. Sign up for our weekly issue newsletter delivered each Wednesday.