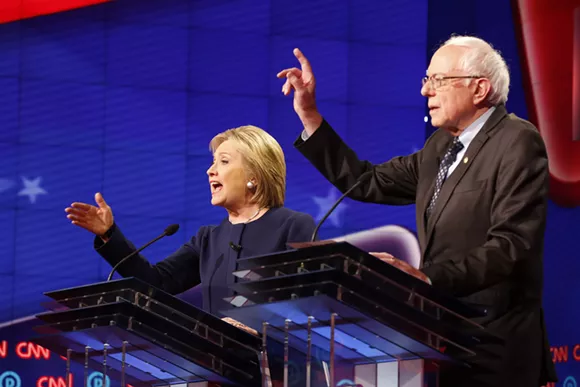 Democratic presidential contenders Hillary Clinton and Bernie Sanders disagreed sharply on the auto industry bailout, foreign trade and gun laws during a Sunday debate in Flint, but were unified in calling for the resignation of Gov. Rick Snyder after the poisoning of the city's water with lead.


The debate marked the first time Clinton joined Sanders in calling for Snyder to step down.


Sanders said he'd have every water system in the country tested and believes Flint residents should not have to pay for poisoned water, while Clinton called for a national lead removal initiative to eradicate the toxin within five years.


The governor — whose face appeared on protesters' signs Sunday with devil horns affixed — tweeted from his @onetoughnerd account as the debate was underway.


"This was never about money. This was a failure of government at all levels that could be described as a massive error of bureaucracy," Snyder tweeted.


Protesters who gathered on the University of Michigan-Flint campus before the debate called for clean water and a $15-an-hour minimum wage.


Protester Willie Williams, 59, said he wants Clinton and Sanders to spend a few days experiencing Flint's problems firsthand. Williams lives on the city's north side.


"I'd like for them to take a couple days and live at this wage and with the water conditions we're living in. Just for a few days or a week."


The lead poisoning crisis that drew Clinton and Sanders to Flint would not have occurred in a wealthier city, said protester Robbin Ried, 52, of Detroit.


"If it would have been in Grosse Pointe, it wouldn't have happened."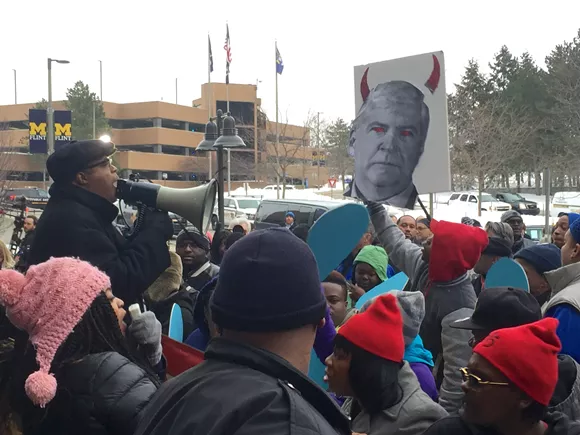 Flint's economic troubles and auto industry ties were another theme in Sunday's debate at The Whiting Auditorium. CNN's Anderson Cooper said 75 percent of Flint's manufacturing jobs disappeared within the last 25 years.


Clinton whacked Sanders for voting against the bailout of General Motors and Chrysler: "If everybody had voted the way he did, I believe the auto industry would have collapsed, taking 4 million jobs with it."


The Vermont senator said he would not vote to rescue banks with taxpayer funds, with the auto bailout having been part of the larger Troubled Asset Relief Program legislation that pumped billions into the financial sector.


"I will be damned if it was the working people of this country who had to bail out the crooks on Wall Street," Sanders said.

An hour before the debate, Sanders received the endorsement of former U.S. Sen Don Riegle, who represented Flint in both chambers of Congress.


"(Michigan officials) took steps in the name of austerity that poisoned our community water supply," the former senator said. "We damn well can rebuild Flint, Mich. and we're going to do exactly that."

With Clinton leading in the polls heading into Tuesday's Michigan presidential primary, Sanders was asked before the debate whether he thinks he can win the state. "I'll tell you Tuesday night. I'll give you a definitive answer," he cracked.


Policies from President Bill Clinton's two terms in office came up repeatedly, including the North American Free Trade Agreement, which took effect in 1994.


NAFTA "cost 800,000 jobs nationwide" and normalized trade relations with China cost millions more, Sanders said, pointing to trade policy as a major driver "in the shrinking of the American middle class" and decline in prosperity in cities such as Flint and Detroit.


Clinton said that "if we're going to talk about the 1990s, I think it's only fair to say" that Michigan's unemployment rate was 4.4 percent at the end of that decade.


The candidates were asked about Detroit's troubled public schools by parent Shoniqua Kemp, who said her 14-year-old daughter "can't wait eight more years" for good schools.


Clinton told Kemp that she'd reinstate federal funding for school repair and take legal action to return Detroit Public Schools to local control.


"The situation has only gotten worse with emergency managers who have put the system further in debt," Clinton said.


Sanders said tax breaks for the wealthy and corporations must be ended in order to pay for fixing schools in Detroit and other struggling districts. "We have got to change our national priorities: No more tax breaks for billionaires and large corporations."


One audience question Sunday came from Gene Knopf, whose 14-year-old daughter, Abigail, was shot in the head in Kalamazoo two weeks ago during a mass shooting that left six dead and two injured.


Kopf, whose daughter is recovering, asked the two candidates how they would address the country's mass shooting epidemic.


Clinton and Sanders agreed that improved background checks for gun buyers are needed, but got into a testy exchange over whether gun manufacturers and sellers should have immunity from lawsuits when guns are used in a crime.


"No other industry in America has absolute immunity," Clinton said, while Sanders said: "What you're really talking about is ending gun manufacturing in America."


The Democratic candidates meet again Monday in Detroit on the eve of Michigan's presidential primary election for a Fox News town hall at the Gem Theatre.