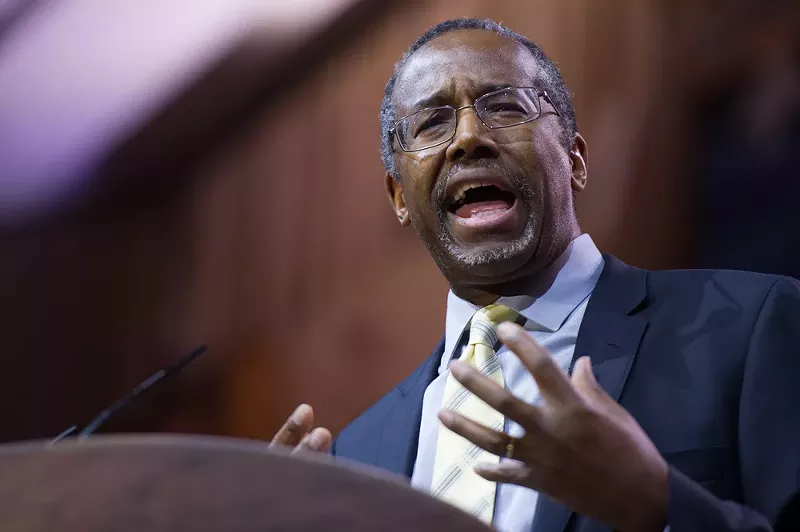 Ben Carson thought an REO was an Oreo.

The Housing and Urban Development secretary mistook the acronym meaning "real-estate owned" to be the popular sandwich cookie while questioned during the House Financial Services Committee hearing on Tuesday.

An REO refers to a property owned by a lender after the event of a foreclosure.

Rep. Katie Porter (D-Calif.) was asking Carson about the foreclosure of homes insured by the Federal Housing Authority — a government agency Carson oversees. She was seeking to have a conversation with him about the disparity in REO rates provided by the FHA.

Below is a snippet of their exchange.

Porter: "Do you know what an REO is?" Porter asked.

Carson: "Oreo?" a perplexed Carson answered.

Porter: "REO. No, not an Oreo. An R-E-O."

Carson: "Real estate?"

"That's what happens when a property goes to foreclosure," Porter then explained. "We call it an REO. And FHA loans have much higher REOs. That means they go to foreclosure — rather than loss-mitigation or to non-foreclosure alternatives such as short sales — than comparable loans at the GSEs."

Porter later tweeted about her conversation with Carson.
I asked @SecretaryCarson about REOs - a basic term related to foreclosure - at a hearing today. He thought I was referring to a chocolate sandwich cookie. No, really. pic.twitter.com/cYekJAkRag

— Rep. Katie Porter (@RepKatiePorter) May 21, 2019
Ben Carson tweeted a few hours later, attempting to make light of the situation.
OH, REO! Thanks, @RepKatiePorter. Enjoying a few post-hearing snacks. Sending some your way! pic.twitter.com/q4MMTBWVUI

— Ben Carson (@SecretaryCarson) May 21, 2019
Watch the full exchange here:
Stay on top of Detroit news and views. Sign up for our weekly issue newsletter delivered each Wednesday.