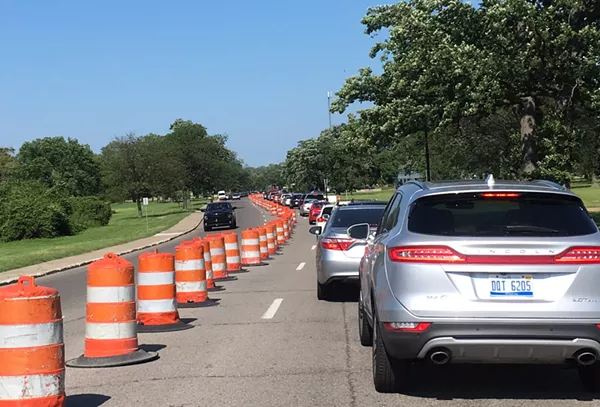 Belle Isle was in the news on Memorial Day because the Michigan State Police temporarily closed the public island park due to overcrowding.
But there's one thing that almost none of the local media mentioned — about a quarter of the island is already shut off from the public. Each spring, the construction of the Detroit Belle Isle Grand Prix restricts and eventually prohibits public access to the southwest part of the island.
That means there's a lot less real estate for public park users, and that's when you get problems like this. A Michigan State Police spokesman told
Metro Times
that the island was temporarily shut down because ambulances and emergency responders could no longer get through the traffic jams. He declined to comment on whether road closures and Grand Prix construction contributed to the mess. However,
traffic jams are a regular problem
during Grand Prix construction.
Would park users have been turned away had the entire island been open? Probably not, but it's impossible to say for certain.
68 days to set up and break down the Detroit Grand Prix
. That's one of the
longest construction projects
of any street race in the world. We verified that by checking with every other street circuit. Penske's team is claiming that the Grand Prix executes one of the quickest set up and breakdowns,
but we debunked that claim
.
Penske's team also claims that the closures are worth it because the race brings $58 million in spending. We spoke with several economists who explained
why that isn't true
or relevant. Its economic impact is likely
much, much lower than that
.
Stay on top of Detroit news and views. Sign up for our weekly issue newsletter delivered each Wednesday.