In the summer of 2014 — three years after Gov. Rick Snyder lifted Michigan's cap on charter schools — it appeared like some real changes were coming down the pipeline. In June the Detroit Free Press released a yearlong investigation into the state's lax charter laws. By August, then-State Superintendent Mike Flanagan announced that 11 charter authorizers had been placed on an "At-Risk-of Suspension" list. Come December, however, the urgency seen that summer was fading. Flanagan announced that month that he would not be going forward with his review of the authorizers; he wanted first to hear Snyder's plans for Detroit's schools.
Today the Michigan legislature is debating a number of bills largely informed by Snyder's January 2015 proposals. Charters, however, are but a small component.
One of the only charter-related measures that's been proposed is the Detroit Education Commission, an appointed board that would monitor future school openings and closings in the city, based on grades awarded to every school in the city each year.
There is a fear, however, that even this — which is still being largely protested by charter advocates — won't be enough. Under the state Senate Legislation that passed last month, the grades awarded by the DEC would based 80 percent on proficiency and growth measures and 20 percent on non-academic factors like year-to-year re-enrollment rates.
Poor school culture — environments created when families and teachers feel muted  — is not a part of the equation. While charter advocates would likely insert some free-market adage here ("Parents can vote with their feet"), pointing to the 20 percent of that grade that includes re-enrollement rates, the reality is this sentiment does not always translate.
While MT spoke with a number of teachers, parents, and students who were frustrated with Universal — so much so that they kept their kids home on Count Day to stop the school from receiving state aid funds — all of them said they would not leave the school. Located in a low-income, predominantly Arab neighborhood on the border of Detroit and Dearborn, Universal — despite its presumed failings — is still a community.
As one parent of three Universal students, Consuelo Ruiz, put it: "Hamadeh came to our community, she's getting money for our kids, she needs to educate those kids."
THE TEACHERS WERE fired on a Friday evening, between 9 and 10 p.m., on the first day of winter break.
"We were all just crying, everyone just started crying and checking their email," says Phil Leslie, a second-year math teacher, who was one of the eight fired teachers. He and six of his colleagues had gone up north to Petoskey for the three-day break and were baffled when they discovered, one after another, their termination letters. Of the seven people on the trip, four were fired. "We were just trying to figure out why. Nobody could figure it out. We had a hunch that maybe it was because of the board meeting," Leslie says.
News of the firings quickly spread to students and parents. The response was so overwhelming that Hamadeh called an meeting at the school two days later. While none of the teachers were told why they were terminated, it was explained to the parents that the mass firings were due to "safety" issues. Hamadeh would not expound on this at the meeting, saying personnel information couldn't be discussed.
Suzy Itayem and her daughter, Tekwa, a senior at Universal, were in attendance.
"We thought Hamadeh, since she's the CEO, would be responsible, not just accountable, that she'd feel for the parents and the kids," Itayem explained to MT at a small gathering of frustrated parents last month. She was baffled by the argument that the teachers — many of whom her daughter adored and respected — were "safety issues". Itayem says she asked what the issues were, but was told, once again, that personnel matters were private.
While she was livid with how the school handled the situation, telling MT that she lost it when Hamadeh told parents that Sunday that they were "either with us, the administration, or with the teachers" — she didn't expect the incident to affect her personally.
Two days after the meeting, administrators pulled Tekwa out of class and interrogated her about a "recording" taken at Sunday's event. According to the student, who's the senior class president, she was told that "witnesses" saw her take video at the public meeting. The school was demanding she turn it over, she says.
Tekwa says she was baffled, explaining that she didn't have a video and that she didn't understand why having a recording would be a problem. The meeting was public, after all.
After a back-and-forth with administrators, Tekwa says she left the room, at which point Principal Anjum grabbed her by the arm. Tekwa ran outside and called her mother, who says she called the police and filed a report. Tekwa was suspended for one day.
"The only thing all those teachers that were fired had in common was many were at board meetings, they all defended themselves, and it made sense to me after I got suspended," Tekwa says. "I defended myself, and this is what happened. So I think they're using us as an example — you try to stand up and this is what happens."
Tekwa's mother, Itayem, says she's pushing back against the teacher sackings and the school's treatment of its students.
"They messed with the wrong person, maybe it's a sign from God," Itayem shakes her head as she looks across the table at Etab's father Hakim, one of the other frustated parents who has gathered at a local grocery store to discuss the school. "God is telling us to fight for the community, and that's what I am going to do."
Before leaving the market, Itayem snaps pictures of all the documents Hakim has brought showing Etab's removal from the school. She hired a lawyer after Tekwa's incident and promises Hakim that she will fight for his daughter, as well.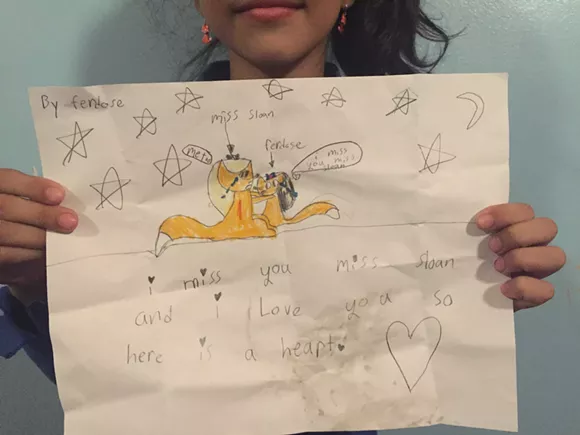 IN 1970, ECONOMIST Albert Hirschman published his seminal book Exit, Voice, and Loyalty, which examines how people react when a service they depend on deteriorates. According to Hirschman, people either stick around (loyalty), leave and seek out a different version of the service (exit), or they use their voice to demand changes where the service has gone awry (voice).
In a section on education, Hirschman famously, and prophetically, noted that alternative forms of education (charter schools didn't exist at the time) fall under the heading of "Exit."
While this may make sense to anyone paying attention to current charter buzz phrases (does "parents can vote with their feet" sound familiar?), the reality is early charter pioneers, like Albert Shanker, the late president of the American Federation of Teachers, took Hirschman's warning into account and aimed to avoid his worst case scenario. Rather than let exit strategies deplete schools of people "most motivated and determined to put a fight against the deterioration" these early supporters aimed to create innovative spaces where voice was valued. They were so adamant about charter schools being open grounds for dialogue that they stressed the importance of teachers being unionized so that they would feel comfortable speaking out and trying new ideas without fear of retaliation.
"Charters were supposed to be all three [exit, voice, and loyalty] but certainly they were supposed to represent voice, they were supposed to be locally run, public spaces for discourse," says Gary Miron, a National Education Policy Center researcher whose 2002 book What's Public About Charter Schools? details the genesis of school choice in Michigan. "That has changed. Today, many charter schools operate as private spaces."