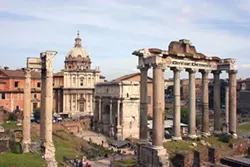 WELL, AS THE ANCIENT Romans used to say: The die have been cast — the judge has ruled. Bankruptcy is a go. The city of Detroit, which has been sort of a protectorate of the state for most of this year, anyway, is now officially in the process.
That means pretty much everything is on the table — including retired city workers' pensions. Remember that clause in the state constitutions that says pensions are a protected contractual obligation? Well, you can forget all that.
U.S. Bankruptcy Judge Steven Rhodes noted that federal law always trumps state law. The federal code says bankrupt cities can void contracts and so pensions "are not entitled to any heightened protection in bankruptcy."
However, he did say he wouldn't accept any restructuring plan that wasn't "fair and equitable" when it came to pensions.
Whatever that means.
Most of their benefits? A map showing the nearest workhouse? A potato and a stone? We don't really know. However, think about this:
Yes, it is truly awful that people who have counted on pension benefits all their lives may not get everything they counted as coming to them. But here's a devil's advocate point of view:
Despite the impression created by the media, most Detroiters are not retirees living on municipal pensions. In fact, all together there are roughly 23,500 of these.
Many no longer live in Detroit. Several weeks ago, one of the papers surveyed a number of these folks, some of whom had retired from clerical positions in their early 50s! Many today live in places like Keego Harbor or Livonia, or Florida.
Now, in a world of limited resources, does it make more sense that a healthy 55-year-old, living out of town, should be able to stay comfortably retired on a full pension … or that a little more money go to keeping the streets safe?
Most older Detroiters — people fighting for their lives every day among the collapsed services and the collapsed buildings — don't have municipal pensions. My guess is that many, maybe most, have no pension at all, except Social Security. Some don't even have that. They need to survive.
That is not an argument in favor of stiffing the retirees. I am fully aware that the judge's rulings, including his finding on bankruptcy itself, are all being appealed or are likely to be appealed to higher federal courts.
I also know, politically, there is virtually no chance of Rhodes' ruling ever being reversed, especially on anything major. We have to cope with the world we've got, not the one we want or, the one that, for far too long, Detroiters pretended they had.
If pension cuts have to be made, Kevyn Orr and whoever he listens to should push for a multi-tiered system.
People over some age — 70, say — should get their full pensions, no matter what. To cut the benefits of the extremely elderly would be a crime against humanity.
Common decency, which isn't very common, tells us we need to protect the neediest first. Let's hope that happens. Let's also hope the billionaires' club comes up with a plan to completely protect the Detroit Institute of Arts too.
Incidentally, I am not just saying that because I am one more white, elitist suburbanite who happens to like art.
I'm saying that because — as Mayor Coleman Young knew very well — a city has to keep its jewels in order to remain a city that attracts people to its central core for all kinds of reasons.
Having one of the nation's best art museums is essential if this city is ever going to be great again. Otherwise, a city shorn of culture becomes pretty much a cross between a refugee camp and a holding pen. Detroit, troubled as it is, poor as it is, dilapidated as some parts are, is still a considerable city.
We need to leave it the foundation to be great again.
Outrage to Women
IMAGINE THE REACTION of the Right if someone proposed a law saying that no company could automatically sell health insurance that would protect anyone attending a Tea Party meeting.
If these folks want to be covered then, well, they'd have to pay for a special rider that they could only buy beforehand. If they got sick while they were there, tough.
Well, what our state legislature is close to doing to women is even worse. Michigan Right to Life, the anti-abortion fanatics, doesn't want insurance policies to cover abortion — even in the case of rape, incest or if the mother's life is at risk.
They control much of the legislature, and last year they stuck that provision into the bill reorganizing Blue Cross. That was too much for even Gov. Rick Snyder, who vetoed it.
But now, Right to Life has collected enough signatures to put legislation on the ballot next year banning any insurance company from insuring abortion. That's not enough for them, however; they fear the public's right to choose in every way.
So RTL is trying to ram this initiative through the legislature. The Senate already has passed it. The House is debating. If they do pass it this time, it automatically becomes law without the governor's signature, thanks to the fact that an excess of signatures have been collected.
Apart from trampling on women's rights, this would be, in fact, one of the most antidemocratic laws ever enacted.
Can you imagine our good old free-market Republicans — in any other case — trying to tell insurance companies that they couldn't sell whatever polices they wanted to offer?
You know the answer. Why not just leave this on the ballot for the people to decide? That, in fact, might actually help Republicans in other races, by turning out the pro-life vote.
But no, legislators want to pander to the anti-abortion lobby in order to get campaign contributions next year. That, and avoid being challenged in the primary by even more strident anti-abortion activists. So, unless common decency prevails, that's exactly what they should do: let the voters decide in November.
If you disagree with the proposed law, you might let Speaker Jase Bolger and your local representative know, right away.
By the way, despite myths to the contrary, the number of abortions has been steadily dropping, and is now only about 23,000 a year, less than half of what it was in 1987.
How many of those led to insurance claims? Barely 3 percent. This is, our lawmakers should note, a classic case of a solution seeking a nonexistent problem.
But aren't you glad they are spending time on this issue instead of fixing our schools and roads?
'Brilliant' Media Move
FOR SOME REASON, the Gannett-owned Free Press often seems determined to sabotage itself by outraging its most loyal readers. Nearly five years ago, it tried to drive everybody to the online product by offering delivery only three days a week.
Now Gannett is dropping two iconic Freep comic strips, "Doonesbury," still read avidly by baby boomers, and "Blondie," which generations grew up with.
They were replaced by two strips: "Dogs of C Kennel" and "Wumo," the latter of which appears, on first reading, to be some kind of failed Soviet project to try to invent a joke. But if this flops, there's always a convenient Gannett solution: Lay off more people.