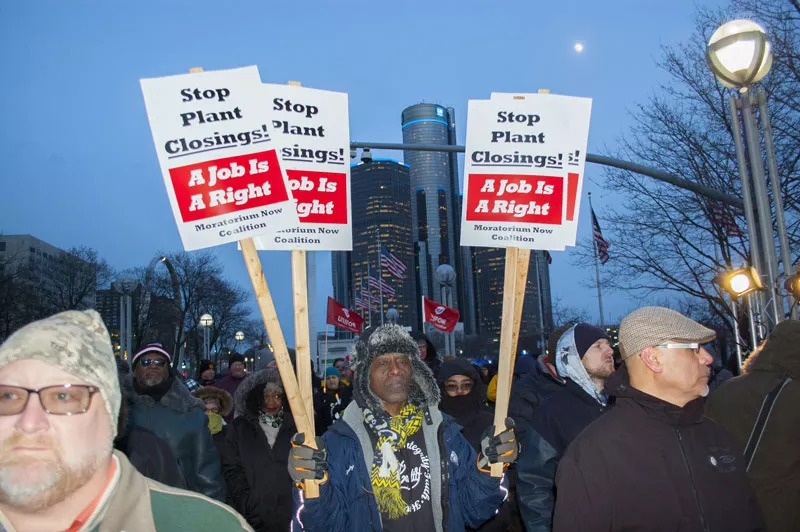 For thousands of General Motors autoworkers, there was little cheer to be felt this holiday season — which is why, on a Friday evening in early December, a small group of them braved the bitter cold to air their grievances in front of Detroit's United Auto Workers Solidarity House, not far from GM's Detroit headquarters.
Two days before Thanksgiving, the board of directors of the biggest U.S. automaker approved a massive plan to cut $6 billion in costs. That meant five plants would be closed — or "unallocated," to use the company's antiseptic parlance — by the end of 2019. Those included Detroit-Hamtramck Assembly, Lordstown Assembly in Ohio, and Oshawa Assembly near Toronto, as well as transmission plants in Warren and outside of Baltimore. Combined with 8,000 white-collar cuts, the plan called for a 15 percent reduction of the company's salaried workforce, or more than 14,000 workers.
The news especially hurt because it came less than a decade after the federal government spent $51 billion to keep the company afloat during its 2009 Chapter 11 bankruptcy. And that wasn't the first time the company convinced the government to lend a helping hand. In 1981, GM persuaded the city of Detroit to use eminent domain to seize and raze more than 1,000 houses, several Catholic churches, and more than 100 businesses in Detroit's largely Polish "Poletown" community on the border of Hamtramck to build Detroit-Hamtramck Assembly, displacing 4,000 people.
At the time, an opposition case made it all the way to the Michigan Supreme Court, which ruled in favor of General Motors, finding economic development to be a legitimate use of eminent domain. But now, less than 40 years after GM destroyed the community in the name of economic development, the plant was closing.
For some, GM's announcement wasn't a big surprise. After a decade of growth, the auto industry was expected to cool off last year. But then President Donald Trump, who has long criticized the Big Three for building cars in Mexico and China to export back to the U.S., issued tariffs on steel and aluminum. In October, Ford Motor Co. CEO Jim Hackett forecasted that the tariffs would cost the company $1 billion in profits. Honda North America vice president Rick Schostek echoed the sentiment, saying the tariffs were causing the prices of U.S. steel to go higher, resulting in "hundreds of millions of dollars" in additional annual costs.
GM CEO Mary Barra did not blame Trump's tariffs for the drastic cost-cutting measure, though she had long tried to stay on the president's good side, serving as a member on the president's Strategic and Policy Forum and a manufacturing advisory council. The relationship was certainly strained when GM publicly disagreed with the president's decision to leave the Paris climate treaty in 2017, an agreement among United Nations members to mitigate greenhouse gas emissions. Both councils were dissolved after a critical mass of CEOs resigned following Trump's defense of a deadly white supremacist protest in Charlottesville, Va., which resulted in the murder of a peaceful counterprotester.
Instead, the company quietly filed complaints with the Commerce Department, saying the new tariffs "[risked] undermining GM's competitiveness against foreign auto producers by erecting broad brush trade barriers that increase our global costs." In a statement, GM Chief Financial officer Chuck Stevens avoided naming Trump, saying instead the company's "operating performance was impacted by significant headwinds from commodity costs," and also cited forecasted profit losses of $1 billion.
Trump — who won the 2016 election thanks, in part, to his promising to bring back manufacturing jobs to states like Michigan and Ohio — was pissed. In 2017, he held a rally at Lordstown, and promised that factory jobs would return.
"Very disappointed with General Motors and their CEO, Mary Barra, for closing plants in Ohio, Michigan and Maryland," he wrote on Twitter. "Nothing being closed in Mexico & China. The U.S. saved General Motors, and this is the THANKS we get! We are now looking at cutting all @GM subsidies, including ... for electric cars."
The small group that braved the freezing temperatures to gather on Friday, Dec. 7 shared Trump's anger at GM and Barra. But they also blamed union leadership.
"I mean, it's a slap in the face," says Brian Keller of UAW Local 1248. Despite the fact that he works for Fiat-Chrysler, he says he was so disgusted with the UAW leadership that he led the demonstration outside of the Solidarity House that included members from all of Detroit's Big Three automakers. The group says they have stood out here every day since Monday. One woman says she had been here since 2 p.m. on Friday.
'This union was founded by blue-collar workers with blue-collar values, but they've lost their way.'

tweet this
"It's been years of corruption, collusion, and nepotism," Keller says, referring to a federal criminal probe into the union's dealings. "These companies have been making record profits on top of the corporate tax breaks." Last year, Keller and two other Fiat-Chrysler employees filed a lawsuit against the UAW, alleging that union leaders colluded with company officials to influence collective bargaining agreements.
A car drives by, exiting the Solidarity House parking lot. As the driver waits for the gate to open, he stoically looks ahead, doing his best to ignore the protesters.
"Take care of your membership!" the woman who has been standing out here for hours yells. "They take care of you!"
The car drives off without even a solidarity honk.
"This union was founded by blue-collar workers with blue-collar values, but they've lost their way," Keller says. "You know, we even had a guy that was here protesting earlier with us, an older gentleman. He's retired and he asked to use the restroom, and they wouldn't even let him use it. And this union Solidarity House belongs to the membership. They won't even let us pass the gate. That just shows you that they're a separate entity to the membership. They don't stand with the membership. They're not unified with the membership."


GM's layoffs were the latest headline in a string of bad news for the UAW, which is under investigation as part of an expanding federal corruption probe.
Initially, the investigation focused on auto executives, including the late Fiat-Chrysler CEO Sergio Marchionne, for funneling money, gifts and illegal benefits to UAW officials to keep them "fat, dumb, and happy," according to prosecutors.
As the UAW upped its membership dues in recent years, leadership was using funds to pay for extravagant trips and meals, according to court documents. The feds are looking into whether former UAW President Dennis Williams directed subordinates to funnel the funds from training centers for the Big Three. Prosecutors are also investigating nearly $1 million of membership dues spent on condos, liquor, food, and golf in Palm Springs, Calif., between 2014 and 2016, where Gary Jones held annual conferences before becoming president.
"In the desert oasis, UAW leaders used either membership dues contributed by blue-collar workers or money from Fiat-Chrysler, its adversary across the bargaining table, to pay for dinners, condominiums, golf fees, and $1,217 at a salon run by the Hollywood stylist from Mad Max: Fury Road," according to The Detroit News.
(In a statement to the News, UAW spokesman Brian Rothenberg defended the expenses as "entirely reasonable." "Over three years, more than 650 union attendees, from all over the western half of the country, attended all-day meetings during week-long conferences," he said. "Those are the facts, which stand in contrast to unattributed allegations.")
Still, the probe has ensnared some UAW officials. In July, Nancy Adams Johnson, the union's No. 2 official at Fiat-Chrysler, pleaded guilty to illegally receiving cash and valuable items from the company. In all, the court alleges she spent more than $33,000 on flights and shopping sprees, and she faces up to 18 months in federal prison. A vice president of Fiat-Chrysler Automobiles NV and the wife of a deceased UAW vice president have also pleaded guilty to charges in the alleged scheme. After getting linked to the federal investigation in late 2017, former UAW VP Joe Ashton suddenly resigned from GM's board with no explanation. (GM has said it has launched its own internal investigation, and that it is cooperating with federal investigators.)
To make matters worse, it was revealed in November that the UAW drew from the union's member-funded $721 million strike fund to use nonunion labor to build a lakeside retreat for Williams. The union defended the project, stating that it tries to use union labor whenever possible and that it was hard to find union contractors near Cheboygan. It also noted that the house belongs to the union, not Williams. But for the UAW's critics, there is perhaps no clearer evidence of how far the union has strayed from its values.
In 2014, union delegates voted to raise membership dues, the first time it had done so in 47 years. The union had 430,871 members as of 2017, and members pay $670 to $1,600 in dues annually, depending on their hourly wage. Then last year, union delegates voted to increase UAW leadership salaries by 31 percent.
For Keller, the taxpayer subsidies and the ruthless workforce slashing don't add up. Last year, the company reported North American pre-tax profits of $12.8 billion. Meanwhile, the aftermath of the bankruptcy forced concessions on lower-level workers, including the creation of a different tier of wages for newer workers, which have yet to be restored. Keller says he and other workers are sick of feeling the squeeze.
"We're told that we got to be viable and competitive with foreign labor markets like Mexico and China and Indonesia," he says. "But none of our CEOs are living up to that standard. They skim from the workers, not from themselves. And they're the ones that have failed the company." In 2017, Barra made $21.96 million — or about 295 times GM's median employee salary.
Keller believes the union's leadership has become too entwined with the company executives. As part of the 2010 bailout, the UAW agreed to exchange its retirees' health funds for stock in the Big Three, with 55 percent ownership in Chrysler, 18 percent stake in GM, and 11 percent in Ford. But Keller sees that as a huge conflict of interest: What's good for shareholders isn't necessarily good for workers.
"You can't negotiate wage increases if you're holding GM stock because you're afraid the stock is going to go down," Keller says. Indeed, the day GM announced the plant closures, its stock went up 4.8 percent.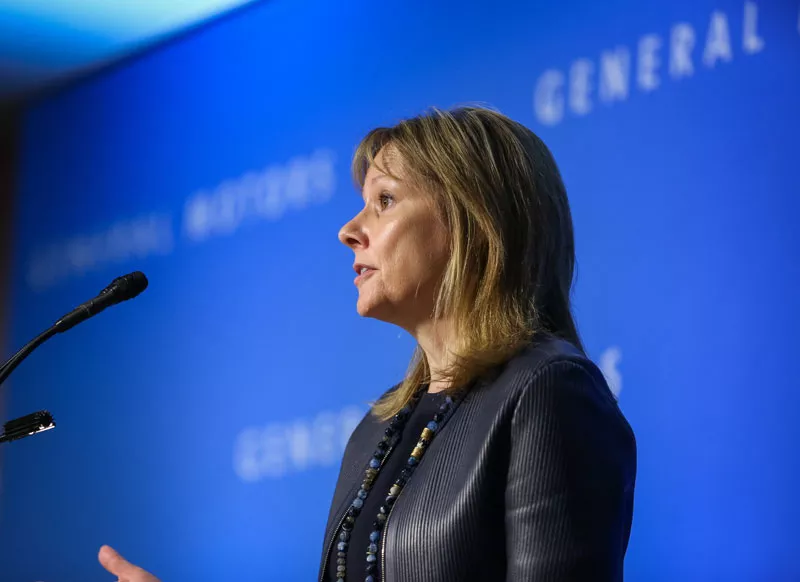 "As long as they're sitting on GM stock, they're not going to authorize a strike, which is our only tool to fight back," he says. "You can't ride the fence and be on management's side and then think you're going to represent us at the same time. Now it feels like they're colleagues with management and not representatives of labor."
Keller says he supports Trump's tariffs, which also include a proposed 30 percent tariff on vehicles built outside of the U.S. He concedes, however, that the tariffs have so far not stopped the Big Three from shipping jobs overseas.
"Me personally, I don't believe in the Democratic or Republican parties," he says. "I think they both let down the middle class, and there's no lesser than two evils. They both get their campaign dollars from the same lobbyists and special interest groups. They protect Wall Street and, at the end of the day, it's always labor that ends up suffering. They were elected to do a job and I feel neither party is doing what they should be doing."
Still, Keller thinks the tariffs are a start. "That's the only way anything's going to happen," he says, "because these companies are playing these countries' labor at markets against each other for the lowest bidder."
***
To Keller's point, backlash against GM has gone international in recent years. In 2011, 12 former GM employees set up camp outside the U.S. embassy in Bogota, Colombia, in protest of what they allege were unsafe working conditions and unfair practices at the company's Colmotores plant.
The men allege that GM illegally fired them after sustaining injuries on the job. The company denied they were fired because of the injuries, and successfully litigated most of the claims through the Colombian courts. But the workers allege the company tampered with their medical records, rendering them ineligible for compensation.
The case first caught Metro Times' attention in 2013, when some of the protesters, after having camped outside the embassy for more than 670 days, dramatically sewed their lips shut as part of a hunger strike. Frank Hammer, a metro Detroit-based retired UAW international representative, former local president, and longtime progressive activist, took an interest in the case, and traveled to Bogota to meet with the protesters. One of the injured workers, Jorge Parra, traveled to Detroit to share his plight with the Solidarity House. The UAW then sent representatives to inspect the Bogota plant. GM also sent representatives, on the condition the hunger strike end.
"GM set something up that they called the mediation, which for all intents and purposes wasn't," Hammer argues. "And GM and UAW came back home and pretty much wish they'd go away, and they haven't been there ever since."
But now, more than seven years later, Hammer says the former employees are still camped outside the embassy, demanding compensation, including medical costs, pensions, disability, and lost wages.
It hasn't been a total loss for the Colombian workers. Hammer says since the protests, workers successfully organized and formed an injured workers union, and that the company has fired fewer injured workers and improved conditions in the Colmotores factory. In 2016, a judge ordered GM to reinstate 24 injured workers who were fired that year, though it later fired 12 of them. The workers' attorney, Liliana Quemba, attributed the victory in part to the tent encampment. Additionally, the judge fined the company $200,000 and ordered the GM Colmotores president and general manager to spend three days in jail, though GM attorneys successfully rescinded both orders.
Still, it's a precarious time for labor in Colombia. A report from the British Trade Union Confederation's Justice for Colombia found that "violence against trade unionists has increased in 2018, with at least 161 so-called 'violations of life, liberty, and physical integrity' against trade unionists between the start of the year and 27 August," including 14 murders, six attempted murders, and 134 threats. Conditions have worsened under the recent election of right-wing, anti-labor President Ivan Duque.
Hammer fears the tent encampment could be in danger. "The implications for the encampment are unpredictable, but they certainly aren't favorable," he says.
He notes the UAW has been supportive, sending funds down to the encampment. However, in recent years, he says he has found that most UAW membership does not seem to be aware of the case. He has called on the union to publicize it, and has also called for UAW leadership to make another trip to Bogota to visit the tent encampment and to invite Parra back to Detroit's Solidarity House.
Another activist even purchased GM stock so Hammer could attend the company's annual shareholders meetings in June 2017 and 2018 to bring the issue to Barra. He says they were quickly escorted out by security after bringing up the issue, and the meeting was abruptly adjourned.
It's not the only organized opposition mounting against GM's business practices outside of the U.S.
Following the announcement of the Oshawa plant closure, which will eliminate some 3,000 jobs, Canadian auto worker union Unifor called for the boycott of GM's Mexican-built vehicles in a TV ad. In late December, the union also ran four full-page ads critical of GM in the Free Press and Detroit News.
"If it starts with 3, it's not for me," Unifor President Jerry Dias said at a news conference, referring to the Mexican-built cars' vehicle identification number, according to The Detroit Free Press.
"They are naive to believe that Canadians won't betray them for their blatant disloyalty," said Dias. "When they needed us, we were there. Mexico never gave them a dime."
In a statement, GM argued that Unifor's boycott would create "collateral damage across the wider Ontario economy, which has more than 60 Ontario-based auto parts companies supporting Mexico production."
Nevertheless, the pressure appears to be gaining traction. Workers at Canadian auto supplier Inteva Products, which supplies both Ishawa and Detroit-Hamtramck, walked off the job in solidarity with the laid-off workers. Dias is set to meet with UAW leadership in February to discuss a possible plan to join forces. A GM spokesman told the Free Press the company believed Dias was likely planning wildcat strikes at other suppliers to disrupt production.
"If GM has no intention of honoring the collective bargaining agreement, the million-dollar question is, 'Why should I?'" Dias said, according to the Free Press.
Meanwhile, last week, more than 70,000 workers from more than 40 factories, including some that supply GM, launched a wildcat strike in the U.S.-Mexican border town of Matamoros after plant owners refused union demands for a 20 percent pay hike and an annual bonus.

***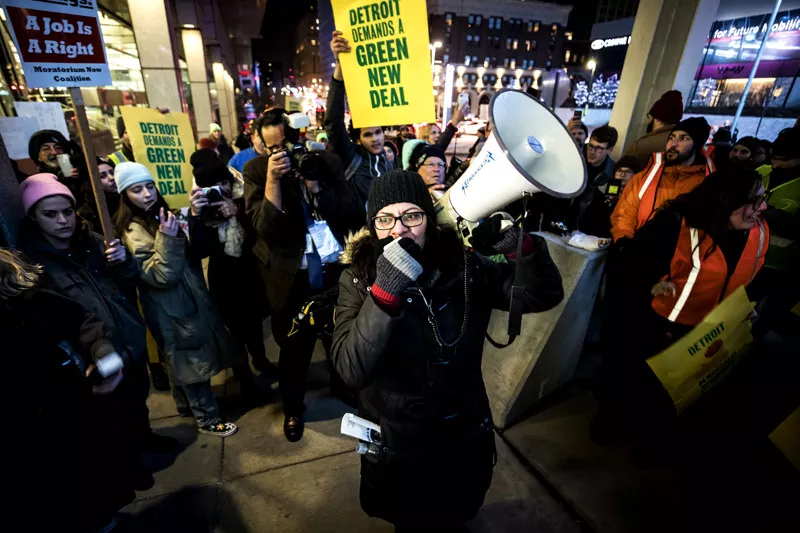 Weeks after Keller led the tiny protest in front of the Solidarity House, the UAW holds a demonstration near Detroit's Cobo Center to coincide with the North American International Auto Show's annual charity gala. As industry executives sip Champagne in formal attire, the UAW is holding a candlelight vigil near the foot of "Transcending," a giant arch that was built to commemorate the labor movement in the nearby Hart Plaza.
At the vigil, the mood is somber and low-energy. At one point, UAW chaplain Philip Jackson is brought forward to appeal to the almighty for help.
"We need a little help from above, God, today," he says, looking up at the icy January sky. "I need you to help my brothers and sisters. I need you to make a way out of no way. I need you to touch the hearts of all the leaders of these companies that are negotiating for us today. I need you to open doors that men have shut."
With that, the procession marches over to Cobo and then returns before dispersing.
Meanwhile, over at Cobo, there's a concurrent demonstration against GM, with an entirely different vibe. There, a coalition has gathered to call on GM and lawmakers to "make Detroit the engine of a Green New Deal," according to banners held by the protesters. Largely led by younger activists, the organizers have printed bold yellow and green screen-printed posters with messages like "Detroit is our city, not GM's" and "Justice for Poletown." The group is louder and livelier than the candlelight vigil, complete with a marching band. As the well-heeled gala attendees sheepishly scurry by, some protesters chant at them, "Make better life decisions!"
Just outside Cobo's windows, newly elected Detroit Congresswoman Rashida Tlaib takes to the megaphone in support of the demonstration.
"Let's not forget what happened to Poletown," she says. "Let's not forget every single person that gave up so much for that plant in Hamtramck to be built, and for them to walk away. So I'm telling you, I stand with our UAW leaders, but I am for accountability today. If you leave, I want our money back! If you leave, I want our plant back! I want every single thing we ever gave you back! Because that's what we deserve!"
The group carries on, marching in front of Cobo, dancing and chanting "Which side are you on?" After police gently break up the group, the yellow and green posters disappear into the night.
Days later, Hammer agrees that the energy was markedly different between the candlelight vigil and the Green New Deal demonstration, which he helped organize as part of his group Auto Workers Caravan.
"A candlelight vigil? What kind of message does that say?" he says. "It doesn't embody a fight."
He says he's alarmed that the UAW was not able to get more people to attend the vigil. "The UAW has to examine why it is that they were only able to turn out so few people for as critical of an issue as a plant closing," he says.
The Green New Deal demonstration was led by a coalition of a number of different groups, including the Detroit chapter of the Democratic Socialists of America, Sunrise Michigan, Detroit's Green Party, and the Michigan Coalition for Human Rights, among many others.
The name, of course, is a reference to the New Deal series of public work projects and financial reforms enacted by President Franklin D. Roosevelt during the Great Depression. As outlined in pamphlets co-signed by Tlaib, the Green New Deal coalition demands that GM keep its factories open. If they can't do that, the group believes the factories should be seized via public domain and be put to public use, in order to create federal union jobs to "[take] us on a path to rapid decarbonization of the economy." They also call for public hearings on the issue.
Nicholas Jansen, who helped coordinate the event as director for Sunrise Michigan, says it's up to a new generation to demand better of companies like GM.
"What we're seeing is a coalition of progressive groups around the country rethinking how our economy works," he says. "Young people did not create a lot of the problems we're seeing, especially in terms of climate change. A lot of young people feel such a personal stake in this fight, and so we need to show up in solidarity with laborers because those are the groups that have been facing a lot of these challenges so far. We're going to be the ones that have to help push for solutions so we can have a sustainable life."
The coalition also points out that GM's plans go against its own pledge to become environmentally friendly. In a statement posted to LinkedIn in late 2017, Barra wrote that "General Motors has committed itself to leading the way toward this future, guided by our vision of zero crashes, zero emissions, and zero congestion." The plant closures, apparently, were supposed to be necessary steps to retool GM for this greener future. But the coalition for a Green New Deal notes that GM does not appear to be making these greener moves just yet.
All of the products slashed in the November cost-cutting announcement were sedans, including the electric hybrid Volt. Its remaining products include gas-guzzling trucks and SUVs, which are more popular and have higher profit margins. Ford and Fiat-Chrysler have made similar changes to their product lines, favoring more popular trucks and SUVs at the expense of lower-selling and more fuel-efficient smaller cars.
But what the coalition is calling for, Jansen says, goes beyond just GM's dealings in Detroit. "The way we see it, these problems are larger than any one company or any one presidency," he says. "Our economy has been set up for decades to just benefit those at the top of it. CEOs are now making 100, 200 times more than the average worker, and that's just not in one place and only one state — that is all across the board. We're seeing workers everywhere being left behind."
Jansen believes the Green New Deal — an idea that has been around for at least a decade, but gained prominence after Congresswoman Alexandria Ocasio-Cortez staged a recent sit-in outside House Speaker Nancy Pelosi's office in support of it — will gain traction in the elections ahead.
'The way we see it, these problems are larger than any one company or any one presidency. Our economy has been set up for decades to just benefit those at the top of it.'

tweet this
"By the end of this year, any candidate running for office that wants to be taken seriously in 2020 needs to support a Green New Deal. Otherwise, they're not thinking about climate change seriously enough," he says, citing the latest report from the UN's Intergovernmental Panel on Climate Change, which estimates that we only have about 12 years to stop a climate change catastrophe.
Hammer says he's pleased to see the Green New Deal gaining traction. A decade ago, he says he incorporated elements of it as a new "Arsenal of Democracy" plan brought forth to Washington as part of the Auto Workers Caravan.
"I prefer 'Arsenal of Democracy,' because it was a way that the U.S. mobilized to counter the Nazi threat in Europe," he says, referring to the years 1942 through 1945, when U.S. auto plants were ordered by federal fiat to cease making new cars in order to make military weapons and vehicles instead. "We saw the government directing the auto companies to convert their plants to deal with the crisis of the moment, and I very much think that we're in a similar crisis now," he says. "The government has to step up its power to direct private companies to begin to convert to renewable energy."
He says the UAW has been slow to recognize the threat of climate change. "It needs to look at our situation and begin to educate the leadership and the rank and file about this issue and the role of the auto industry, and what we need to do to improve things for autoworkers and to improve things for the environment," he says. "I think it would behest the UAW to initiate rank and file Green New Deal committees."
He also reiterates that the issue is much bigger than the UAW.
"In a globalized economy and dealing with a company that is as globalized as GM is, the UAW needs to be globalized and have a global union," he says.
In the meantime, Keller says to expect future demonstrations.
He reiterates the urgency of the situation. In a global market, countries become intertwined economically. If the U.S. dollar collapses, it pulls everybody down. "Everybody's going to be a loser," he says. "You don't have to be an economics teacher to know this."
Until the union authorizes a strike, Keller is calling on union members to protest on their own time. There will be more marches outside of the Solidarity House, he says. He has also called on members to peacefully protest outside of GM dealerships.
"I know that the membership is listening to me when I go on Facebook Live, but I don't know what the participation is going to be until it gets warmer outside," he says. "Hopefully it will gain traction come early spring and we can get these people a couple hours prior to their shift or a couple hours after their shift. We need to put some kind of pressure on our leadership to negotiate a fair and just contract, to give some of the pie over to labor, because we're the ones that build those profits."
"All I'm saying is something's got to be done to stop General Motors from doing what they're doing now," he says. "You want us to buy American products and support American companies? Then American companies need to support good-paying American jobs. It can't be where they got this mindset to where they can just abuse us and have us build a product that they reap all the benefits from. Labor is the heart of the company. We are the heart of the union. Without us, nothing moves forward."
Another protest is planned at 2 p.m. on Saturday, Feb. 9 in front of GM's world headquarters on E. Jefferson Avenue between Randolph and Beaubien Streets in Detroit.
Stay on top of Detroit news and views. Sign up for our weekly issue newsletter delivered each Wednesday.