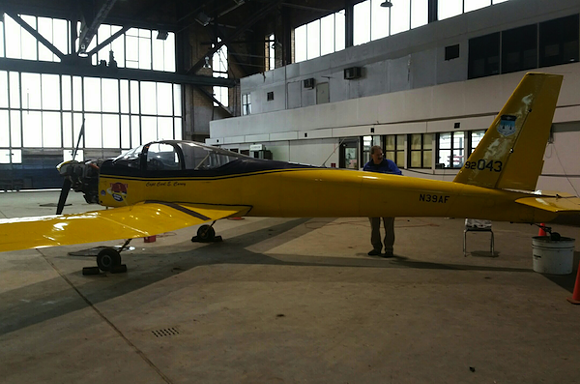 Anybody interested in what Detroit's aerospace high school has to offer has an excellent opportunity next month, with the Inaugural Detroit Fly-In, a daylong event taking place May 15.
You might never have known that Detroit Public Schools has a high school devoted to aviation, where students for careers as pilots, mechanics, and air traffic controllers. It's called Davis Aerospace Technical High School. It has a 100 percent graduation rate, higher than that of Cass Tech, and has a pedigree stretching back to the Second World War.
The school was founded in 1943, back when Detroit was the Arsenal of Democracy. Both adults and students studied there then, learning how to repair the warbirds Detroit was turning out. When the war ended, the school was retained as a high school for training aeromechanics, and it was later renamed for Gen. Benjamin O. Davis Jr., the first African-American four-star general in the U.S. Air Force.
The school used to have open houses every year, but since emergency manager-run DPS, in its infinite wisdom, moved the school off airport grounds to Golightly Career and Technical Center. (Now, when the students want hands-on training, they have to be transported more than three miles.)
But activities at the city airport continue for Davis' students. Every other Sunday, Detroiters between the ages of 8 and 17 get to go up in the air with volunteer general aviation pilots in Cessnas, Pipers, and gliders, so the aspiring fliers can gain an opportunity to try out their co-pilot skills.
Next month's event will have all that and more, although, on that busy day, families hoping to get their young ones in the air should arrive as early as possible. Tuskegee Airmen will be in attendance, and there will be military aircraft, choppers, and demonstrations of drone aircraft as well. We hear from the executive director of Friends of Detroit City Airport, Beverly Kindle-Walker, that there's even a chance Michelle Obama's baby-blue 737 could touch down to join the affair.
Those interested in attending, volunteering, or simply getting more information may contact Kindle-Walker at [email protected] or call 313-822-2237. It all happens 1-5 p.m. on Sunday, May 15, in the main terminal of the Coleman A. Young International Airport; 11499 Conner St., Detroit.