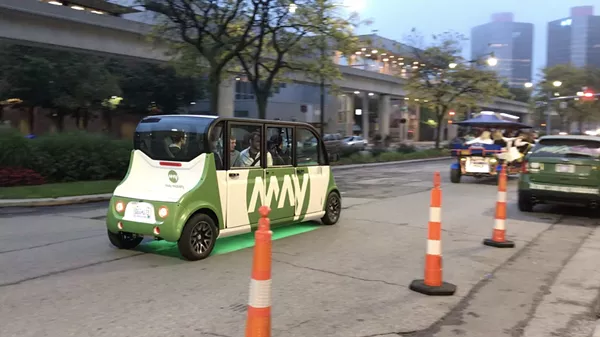 Driverless technology has arrived in the Motor City. This week, Ann Arbor-based May Mobility is testing a pair of autonomous vehicles that will shuttle employees from Dan Gilbert's Bedrock between Cadillac Square and the Bricktown Parking Garage.
The testing will occur between 7 p.m.-10 p.m. Monday through Friday this week. The six-seat electric shuttles are manufactured by Medina, Minn.-based Polaris Industries Inc.
"This is a 'live' pilot, carrying real passengers which we think is very exciting," says May Mobility founder and CEO Edwin Olson in an email. "It's not a science project, but a real transportation service helping riders get home from work."