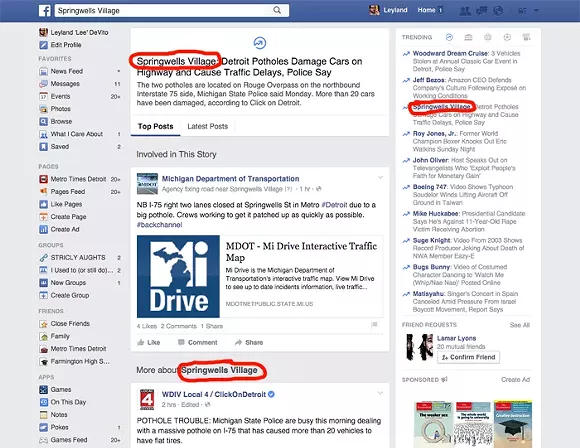 Updated 6:06 p.m., Aug. 18, 2015:
A spokeswoman from Facebook tells us that while trending topics are determined algorithmically, a team writes the description for each trending topic so "that it's clear and well-summarized, with the goal of helping people get an accurate summary of the news event quickly."
Originally posted on Aug. 17, 2015:
Back in January, we covered a nonprofit-lead rebranding effort to name a Southwest Detroit neighborhood
"Springwells Village"
— a name that most residents seemed to be unaware of. (In typical Detroit parlance, many residents refer to neighborhoods by their major intersection, in this case Springwells-Vernor.)
The term seems to have caught on — at least with with Facebook. Today, we noticed "Springwells Village" was one of the "trending" topics on Facebook's sidebar, regarding a news item about two large potholes on northbound I-75 that have damaged at least two dozen cars so far this morning. When you click on the headline, Facebook pulls up a list of posts about the topic. Curiously, though, none of the top returns referred to the area as "Springwells Village." So where'd the name come from?
According to this
Techcrunch article
, Facebook's "trending" feed is meant to help contextualize topics by adding a short descriptive headline. It's not clear, however, if the headlines are created by humans or computers (or both). As a Facebook rep told the
Techcrunch
author, "The description next to the topic is actually a headline that provides context around the topic and what is causing it to trend. We have rules in place that work to select concise, accurate, informative headlines."
In a weird way,
Metro Times
might actually be part of the issue here. According to the same
Techcrunch
article, "Topics are personalized based on things you're interested in and what is trending across Facebook overall." So it could be that people in
Metro Times
' Facebook circles are the ones who see the "Springwells Village" headline.
Watch a WDIV video about the potholes below: