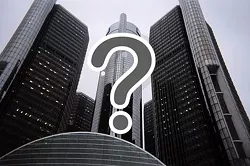 Ask the right questions
As I write these words, members of a group called Michigan Forward are battling to collect enough signatures to get a statewide vote next year on the emergency manager law.
If they succeed in getting it on the ballot, the law will be suspended till after the Nov. 6 election. Meanwhile, there's also intense debate over whether Detroit needs an emergency manager, or whether it can get itself out of the current mess.
To counter this, the Snyder administration is considering some kind of quarterback sneak under which they would pass a new, slightly tweaked emergency manager law if the current one is suspended. (Opponents are crying foul.)
Meanwhile, the Republicans who control our state Legislature have enthusiastically passed a law barring state employees from including their unmarried partners on their health benefits, one more in a series of "let's bash gays under the guise of saving tax dollars" moves.
That done, they are weighing the merits of dropping all limits on how many charter schools universities can create.
Pretty much everyone has an opinion on all of these issues. If you've been a frequent reader of this column, you likely have a good idea of mine.
But the fact is that I have changed my mind.
Changed my mind, that is, about where our focus needs to be. These are not the questions we should be asking, not until we have answered the one that really matters:
What kind of society do we really want?
When we've decided that, then, are we willing to do what it takes to make it become reality?
What we are doing now is driving along without a plan, lurching at this or that, sometimes worrying about quality, sometimes inequality, and sometimes about money.
Yet the bottom line is that if we don't know where we want to go, we aren't going to get there.
Frankly, I don't think most of us have a clue. We lunge at things we think we want (tax breaks for the rich, jobs for the rest of us) and react instinctively against things we don't like.
Yet we have no long-term plan.
What kind of society do we want? What kind of city, state, nation do we want? Have we even thought about this?
OK, Republicans: You want tax breaks for businesses and the rich, and want as little money as possible spent on welfare and education and other things for the poor.
Coming right up. Yet think about this: Who is going to buy your products if they can't make a living? How does having roads and bridges that are falling apart help your business?
Even more to the point: Every year, tens of thousands of kids are leaving our high schools — whether they graduate or not — totally lacking the basic skills they need to find jobs.
What's worse, they have little or no ability to get the higher education they need (not necessarily college). Thanks to our lawmakers, they also have lesser means to pay for getting these skills if they do know where to get them.
So, free market worshippers, how can you feel safe and secure with a growing mass of hundreds of thousands of unemployed and unemployable people in your midst?
OK, Democrats: You have blasted Gov. Rick Snyder's program of "reforms" and tax cuts. What is your alternative, other than hoping they piss people off enough they return your team to power?
Do you have the guts to seriously propose raising taxes on the rich instead? Do you have the guts to say to your special interest groups, "You have to make sacrifices too"?
Do you have the guts to say to the teachers unions that the product they are delivering isn't cutting it, for one thing, and for another, they can no longer automatically expect better benefits than most of the rest of society?
You want to get rid of the emergency manager law? Great. Then what do you do when Detroit and Pontiac and Flint go bankrupt instead? The fallout will damage the credit rating of every city in the state as well as the state itself, not to mention what it will do to the economy as a whole.
OK, Detroiters: You don't want an emergency manager. You say you can solve your problems on your own.
Prove it. The city has billions of dollars in unfunded liabilities, bad and irresponsible debts racked up by mayors and city councils long gone. How do you plan to deal with that? The city isn't paying its vendors on time now.
The city is literally falling apart, there's a large unionized city work force whose leaders don't seem to have a clue and are unable and unwilling to read a balance statement.
The current budget deficit is increasing by $400,000 a day, and the city will literally run out of cash entirely in the spring. There are barely 700,000 people left; most poor and nearly half functionally illiterate. The mayor himself estimates that the real unemployment rate is more than 40 percent.
Get real. How are you going to solve this? Lay off a few workers so you can stagger through to July?
What kind of society do we want?
Nobody wants to be told to go read a book, but I am about to tell you just that. Tony Judt was one of the modern age's most brilliant thinkers, a baby boomer and a British-born historian who tragically died of Lou Gehrig's disease last year.
He lived long enough, however, to finish an amazing short book about our condition today: Ill Fares the Land (Penguin Press, 2010). He shows how we got in this mess, through ideology, selfishness and a refusal to learn from the past. Like George Orwell, he started out as a left-winger.
But he went on to expose and skewer the errors of the left as well as the right. Struggling to finish this book when he was dying, he asks us to realize that we can build a better society.
However, we have to realize that we are all in this together, that we've wasted more than enough time and blood and destroyed lives on selfishness and crazy utopian schemes.
Six months before Barack Obama was born, a president of the United States told America that "if a free society cannot help the many who are poor, it cannot save the few who are rich."
That was John F. Kennedy, who continues to fascinate even though he has now been dead longer than he was alive. Currently, a new biography by Chris Matthews is climbing up the best-seller lists. Why do we still care about him?
Because he, and his brother Bobby, challenged us to be better than we are, to believe America could do anything. He told us he was challenging us to do all sorts of things, not because they are easy but because they are hard, because they "will serve to organize the best of our energies and skills."
He also liked to say that any problem that was man-made can be solved by man. Tony Judt would have added, "if we are willing to pay the price." We've forgotten both things.
Yes, we can fix Detroit, and educate our kids. Not without sacrifice, but for a fraction of what it would cost us to fight another worthless war like Iraq.
What kind of society do we want? Hopefully, one where everybody has a shot at success. We can create that, if that's what we want badly enough. In fact, in the final analysis — what other choice do we have?