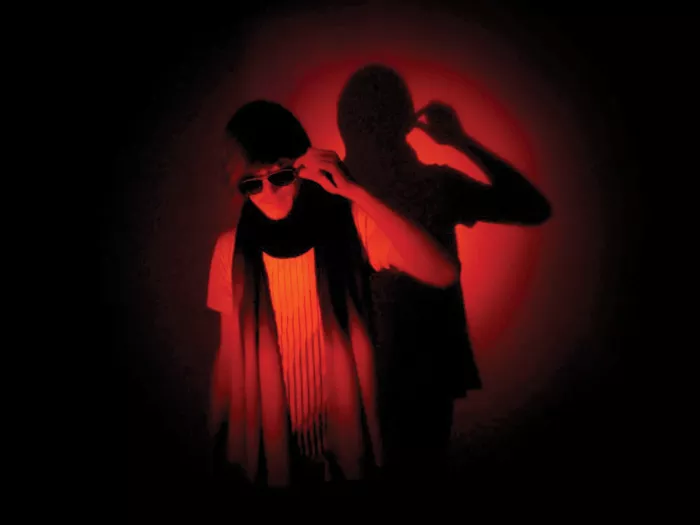 There are a lot of artists performing at the Movement Electronic Music Festival this weekend from all over the world. Many of them will be multi-talented. Maybe a good number of them play an instrument besides their decks and production tools. But there is likely only one man who comes from an Irish folk background, and that man is Detroit's own Asher Perkins.
Perkins grew up in a family of Irish folk musicians, seeing his parents playing music from an early age. "I always really wanted to be a part of it," he says. "Obviously I had to wait a few years because my hands weren't big enough to play anything, but by the time I was 5 years old my dad started telling me how to play some stuff. For whatever reason, I still can't really say why, but I decided that I really wanted to play the accordion. I grew up doing this. I always played dance music of various sorts, but it was older music, a couple of hundred years old."
It's a fascinating coupling of cultures — the very traditional, earthy nature of folk, rooted in the past as it is, and the ever-advancing, technological aspect of electronic music. But the two of them have found a home in the creative mind of Perkins. He still plays with his family band, Finvarra's Wren, though he admits he generally keeps the two worlds very separate. Usually.
"I did one set with my dad where I was basically doing live sampling of him as he played," Perkins says. "He was basically singing traditional Irish songs, and I would take loops of his vocals and guitar, and mix it into a beat, and then play accordion over that. We were going back and forth between straight, traditional Irish music and I would do a live remix of it, and then we both play over the remix. It was pretty cool, but it's different from my top priority right now."
It seems a shame that he isn't pursuing that a little more – there's nothing more exciting than when two musical worlds come crashing together, confusing some but enthralling others. Still, it's inevitable that Perkins' musical background will have some impact on his electronic work. For their part, Perkins' family couldn't be more supportive.
"I'm really fortunate to be able to say that too," he says. "Especially when I was a teenager, growing up, I had a lot of friends that were also trying to do rock music and things like that, and a lot of my friends' parents would be like, 'Would you turn that down?' My parents have always been extremely supportive with anything I wanted to do, especially with music and creativity. Earlier than that, when I was learning to play, it was something that I wanted to do, not something that they wanted me to do, which really helped give me a good foundation for it."
Perkins' style, his sub-subgenre, isn't easy to pin down, not even by the man himself. But he definitely plays on the minimalist side of techno. He's more about creating a mood, finding the right sound, than filling tracks with lush noise. His is an intricate art, and it's remarkably effective.
"When I first started doing it, I was really inspired by the minimal, stripped down side of techno," he says. "Very beat-driven. Also, a little bit psychedelic. You'll be listening to a loop that sounds like it's just a loop of the same thing for a few minutes, but there are slight changes that you might not pick up on consciously that keep you entertained and keep you wondering what's going to happen next. For me, it's all about subtleties and things like that. It also reminds me of the city of Detroit."
This weekend, Perkins will perform at Movement for the first time. For the enthusiastic, talkative young DJ, it's something of a dream come true. "This will be my 10th year in attendance, and it's very exciting for me," he says. "I grew up going to that festival, and a lot of my earliest experiences with techno were at Movement, or whatever it was called back then. I was always extremely inspired by seeing the DJs up on stage. To finally be a part of it, to play and everything, is very meaningful."
It's always a wonderful thing to see blossoming local talent performing at Movement, as people come in from all over the world to check out the best of what Detroit has to offer. Perkins will be out to impress, though he's keeping any plans close to his chest.
"I always try to keep a little bit of a clean slate as far as planning goes, so that I can sort of get that and assess the mood and the vibe, wherever I am, and go from there," Perkins says. "Musically, I don't really plan ahead too much. My main goal is to basically bring as much as my studio as I can on stage with me, so that I'm able to actually improvise, write new melodies or new rhythms, and just really assess the vibe and go from there. I suppose what I have planned is to try and be as spontaneous as possible. To create something that really captures the vibe."
Going forward, Perkins wants to set up his own record label in order to promote minimalist techno, something that he considers a lost art. "A few years ago, in maybe 2006 or so, there was this really good trend of minimalist techno that had a trend, very sexy and danceable at the same time," he says. "Over the years, I feel that's got less popular and gone away. I would really like it if it didn't go away. So I plan on launching an imprint to support that vibe within the next couple of years."
You have to admire an artist who has one foot in the past and another very much in the future. Asher Perkins has the balance just right.
Asher Perkins plays at 2 p.m. on Saturday, May 24, at Movement Festival's Made in Detroit Stage in Hart Plaza, Detroit.