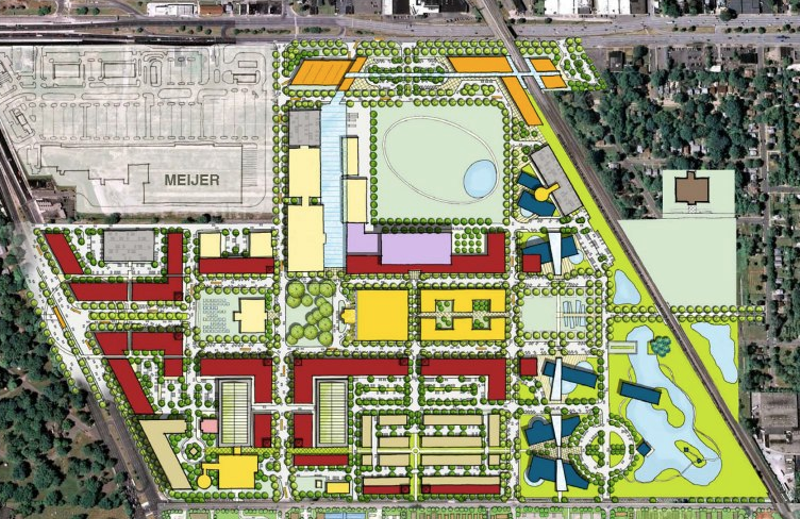 In 2013,
MT
news editor Curt Guyette wrote a series of stories covering the fate of the former site of the Michigan State Fair. After Gov. Jennifer Granholm canceled funding for the fair in 2009, the 157 acres of state-owned propertyhad sat in disuse, as the state was still on the hook for caring for the property. Almost everybody involved agreed something needed to be done.
In 2013, Kim Homan, the director of the Michigan Land Bank Fast Track Authority told
MT
, "This property has just been sitting here for a number of years." Noting that the fairgrounds had become home to "pheasants and foxes," the goal was to return "this very important property to productive use."
At least in theory, that dovetailed with the goal of a number of neighbors, including a few on the advisory committee.
As Guyette reported
, Greenacres residents Frank and Karen Hammer proposed a development that would have a multimodal transit center at its heart, to be used as a tool for redevelopment. But those desires never made it into the request for proposals: The RFP was issued before the committee could offer any input — in fact, before it could even meet.
Which is to say that
the fix appeared to be in for a favored developer
: According to the authority, only one qualified applicant submitted a proposal. That applicant was Magic Plus, LLC, a Lansing-based group that features as one of its principals former Michigan State and NBA basketball star Earvin "Magic" Johnson. That group had proposed a "mixed-use development" that would feature big-box retail and a movie theater along Eight Mile, townhomes and an assisted living complex for seniors and more.
If this sounds to you like an idea that comes straight out of the 1990s, you're not alone. In 2017, the transformative powers of transit are widely accepted, and big box chains, suburban-style shopping malls, and movie theaters are failing across the country.
On top of it all, those concerns about land that's just sitting there remain: According to the Hammers, Magic Plus LLC promised construction would begin on the project one year ago. Another charge is that the development group is "overdue on purchase obligations by two years." Meanwhile, the buildings that the plan called for restoring, such as the Coliseum, are "falling into neglect."
Given the alleged failure of the developer to make progress on its plans, the Hammers and others evidently feel the ball is back in their court. The Michigan State Fairgrounds Development Coalition is therefore organizing a community meeting next month to discuss the future of the site.
The meeting will take place 1-3 p.m. on Saturday, June 10, at St. John the Baptist Catholic Church, 2371 Woodstock St., Detroit; parking and entry in rear; for more information call Jeff Jones at 313-986-1726 or Karen Hammer at 313-863-3219.