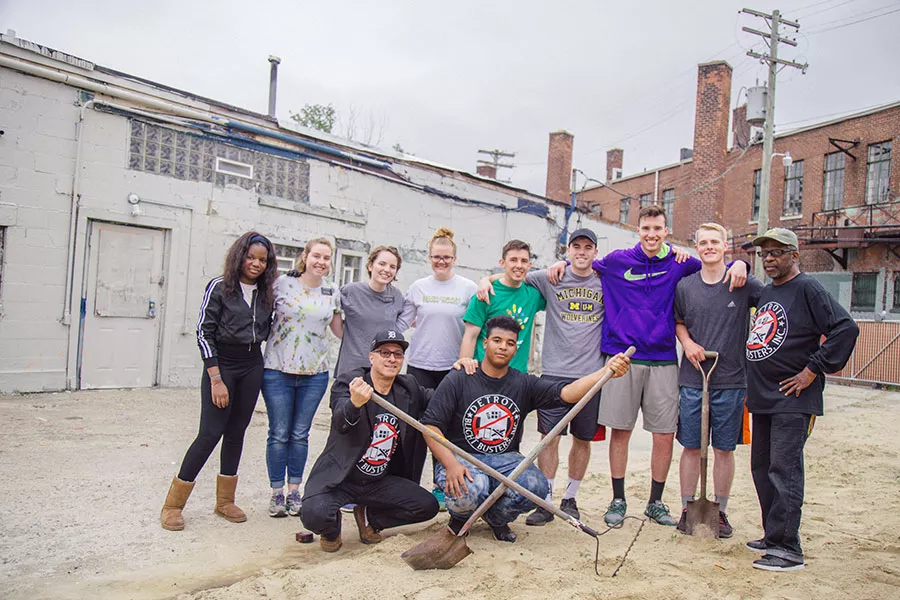 As far as anniversaries go, Motor City Blight Busters is enjoying a trifecta: The nonprofit's founder, John George, was born and raised in the Brightmoor neighborhood not far from his organization's Old Redford headquarters on June, 24, 1958. He founded Blight Busters 30 years ago in June, and bought the building that houses Artist Village — the sprawling campus that serves as a hub for the group as well as the community and includes a gallery, performance space, outdoor courtyards, and colorful murals — 15 years ago.
"Play it in the lotto, 6015," he says with a chuckle over coffee at Artist Village's Motor City Java House and Café. "Isn't that weird how it worked out?"
The neighborhood has come a long way since George boarded up his first house three decades ago. Now, what he refers to as Blight Busters' campus in Old Redford takes up five blocks, and the stretch of Lahser Road it sits on is positively bustling, with George repeatedly pausing our interview to individually greet visitors who stop in to the coffee shop. (Nearby neighbors include a Meijer grocery store that opened in 2015, the second in the city. The project came as a direct result of Meijer president Mark Murray meeting face to face with George; George surmises the store is "the largest investment in this community in probably a hundred years.") On the first Saturday in August, the neighborhood's Sidewalk Festival of the Arts, now in its sixth year, will host some 7,000 visitors.
"Our goal is simple," George says, wearing his typical uniform: a T-shirt with the Blight Busters Ghostbusters-esque logo featuring a crossed-out abandoned house, a black blazer, and a baseball hat emblazoned with the Tigers' old English D. "We want to save the world, starting with Detroit."
But as George celebrates three decades of blight busting, he's looking forward to a change in pace, and seems happy to cede that fight to Mayor Mike Duggan's demolition program. Instead, the organization's next chapter will focus on fixing up its campus.
But there are other factors, too. "My daughter is pregnant with our first grandchild, and I'm looking forward to slowing down a little bit," he says. "I'll be a Blight Buster till the day they stuff me in the ground. ... Don't get me wrong, we've saved this neighborhood basically, so I'm not going to say it's not important, but raising a grandchild is certainly intriguing and I want to give it my best shot."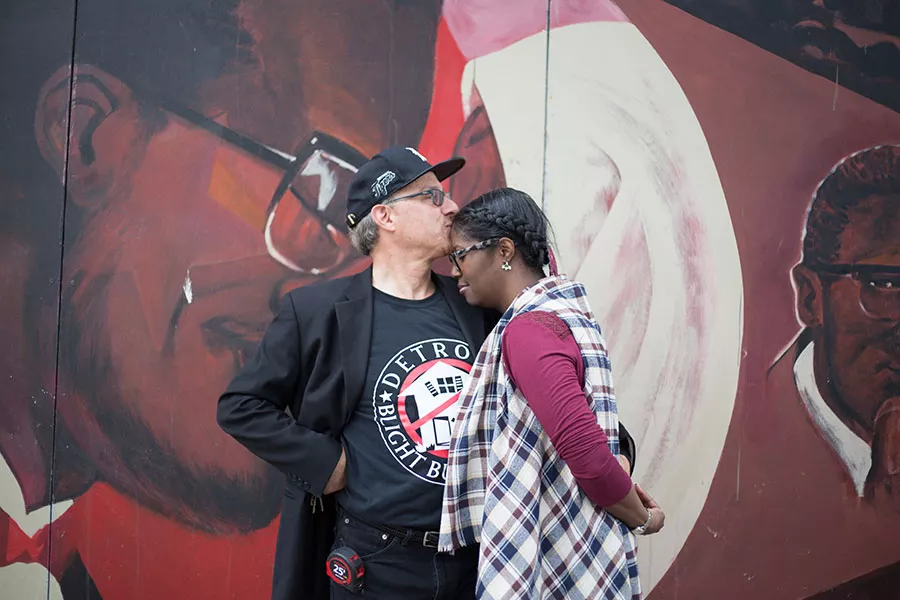 It takes a Village
George says he remembers visiting the building that is now Artist Village when he was a child, back when it housed Master's Candies. By the time he acquired the building, what is now the coffee shop was an abandoned beauty salon, and there was only one tenant left in the whole building — a shoe repair guy. "Everything else was in shambles," he says. "We had to bust everything out and start all over."
"The front door of the coffee shop was on the sidewalk, there were bars on the window," he says. "It was on the city's demolition list when we got it. We started on this side and worked our way over." George says the group must have spent "somewhere shy of $1 million" acquiring it, paying the back taxes, and doing all the repairs, and must have raised and spent some $20 million on projects in its 30-year history.
George has fond memories of growing up in the neighborhood in the '60s. "It was a great, solid neighborhood," he says. "We were raised very strict Catholics, we knew all our neighbors. On Christmas Eve we'd all go to midnight Mass, and there'd literally be 300 people in our house at 1 o'clock to about 5 in the morning, it was just crazy. ... The folks were just really good people, good hearts, honest people, hardworking people."
But George says by the late '60s and early '70s, "everything changed around me, and I just never left." By the '80s, he was working in his family's insurance business when he bought a duplex nearby. That's when a neighboring abandoned house turned into a crack house.
"I called the city, I called the mayor, I called the police, I didn't want to move," he says. "I didn't want my kids growing up around it."
George says one night, he was sitting at the edge of his bed contemplating doing what hundreds of thousands of Detroiters had done before him: move. Instead, he had another idea. The next day, he drove to the hardware store and bought plywood, nails, and paint.
"I was in the insurance business, I was driving a Lincoln," he says. "I didn't let people smoke in my fucking car, and I got fucking plywood on the roof."
He spent the next four hours cutting the grass and working on boarding up the house. That's when a car pulled up and two big guys walked out and asked him what he was doing.
"I said, 'Well I don't know about you, but I don't want to move and I don't want my kids living next to this, so you can help me or you can get the hell out of my way,'" George says. To his surprise, they said they wanted to help. "I said, 'great,' because they were too big to fight," he says. It turned out that the men — Felix B. Wright III and Albert E. Mack — were also fathers, and both had young kids. The three men spent another four hours boarding up the house together.
George says later that evening, he watched the drug dealers return; when they walked up to the house and noticed it had been boarded up they got back in their car and left.
"That was it, that's how this whole thing started," George says. "It was just me trying to protect my son, and my wife who was pregnant with my daughter. And we said, 'Well, that was pretty simple.'"
The three men did it again the next week, and the next, and the next. The project soon ballooned in size, recruiting tens of thousands of volunteers annually, from the community and beyond — with companies like the Big Three automakers, Comcast, Home Depot, and Quicken Loans providing bodies as team-building exercises.
'A lot of the mayors realized early on that what we were doing was for the better of community, so if we tore down a house or boarded up a house, I don't think they were exactly thrilled, but they didn't arrest me either.'

tweet this
"We've been doing what we had to do, to protect our children, to protect our women, to protect our property values, and have a city that people actually want to come to and not flee from," George says. At times, that has included doing things that are technically illegal — like tearing down at least a dozen abandoned houses to make farmland — "no permits, no ownership, no nothing," he says. "We just did it."
"A lot of the mayors realized early on that what we were doing was for the better of community, so if we tore down a house or boarded up a house, I don't think they were exactly thrilled, but they didn't arrest me either," George says.
But in recent years, Blight Busters has backed away from its DIY demolitions as the Duggan administration has ramped up its own demolition efforts — though the Duggan program is now under federal investigation for possible corruption, including bid-rigging and escalating costs.
"I just hope that when that boils over they can get back to aggressively fighting blight, because we know if you don't stop it, it's like a cancer and it spreads and it kills everything," George says. "You can't blame any one person or any one company or any one mayor or any one cop. Overall, we are all responsible for Detroit's demise. That's why it's going to take all of us to redouble our efforts — to build coffee shops, and community centers, and art galleries, and cafes, create that opportunity and create some homeowners, create some business owners, create some hope."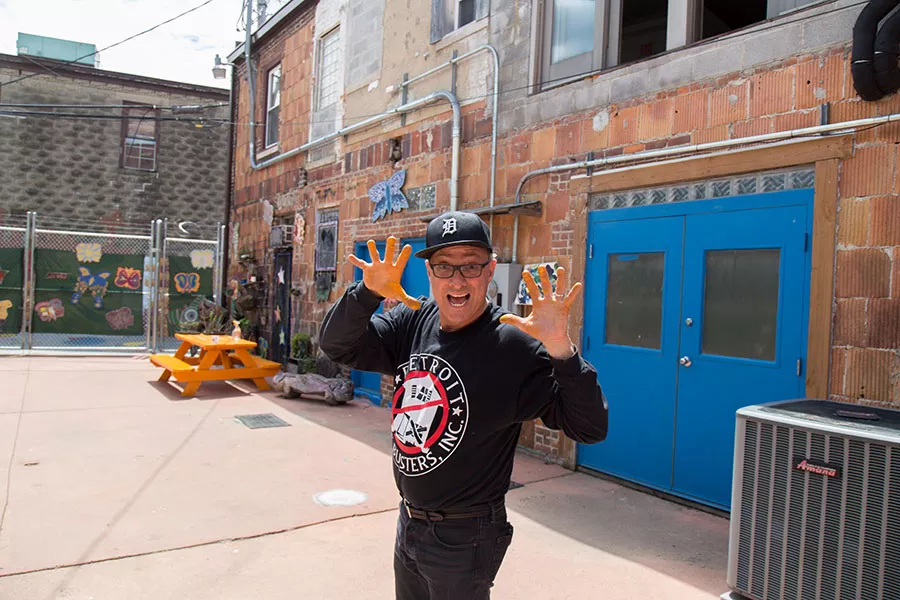 Growing pains
These days, George is working on a number of projects on the campus that coincide with the group's 30th anniversary. He's moved Blight Busters' administrative offices from the duplex down the street where he still lives with his wife, Alicia, to the space above the volunteer center in Artists Village. An Art Van-sponsored bed and breakfast is under construction. Other changes include an outdoor deck, plans to construct a large circus-tent-like collapsable roof for the courtyard outside, and nearby housing for war veterans. "It goes back to Blight Busters' core mission of bringing everybody together, almost like a gumbo," George says.
In keeping with the Ghostbusters theme, George drives a 1980s station wagon — the "Blightmobile" — which he uses to give a tour through the neighborhood. He shows off a mural dedicated to the musician Prince, which is the work of Chazz Miller, who co-founded Artist Village along with the Georges. "That guy is a maniac, I call him the 'Picasso of Detroit,'" George says. "He's incredible."
Driving by a nearby Masonic Temple, George gets wistful; Blight Busters had acquired the building for just a dollar and began the long process of rehabbing it, but lost it during the economic downturn a decade ago. "If I ever hit the lotto I promise you I'm buying this building back," he says. "On the third floor there's a 350-seat community theater space with a winding staircase, balconies, and columns that I never got to restore. I got halfway through the damn thing and I lost it. It was the one that got away."
As he drives down the neighborhood's streets, George points out the difference between houses the city boards up versus those done by Blight Busters — Blight Busters paints the plywood to approximately match the houses, and leaves a sticker with its logo on the door. "We're not in competition with the city," he says. "Every one they board up is one I ain't got to do."
George grimaces as we drive by a house that has fallen into disrepair. "Then you got idiots like this," he says. The tour continues past a boarded-up school. "This school we helped board up years ago, then the city boarded it up, then someone else boarded it up," he says. "And now the city issued an RFP, a request for proposal, and I think they got a couple bids back, but I haven't heard anything since."
George stops the Blightmobile just blocks from the Artist Village — it's an empty lot where the first crack house he boarded up used to be. "That demo happened last week, and there's one up here getting ready to happen," he says. He points to a house nearby. "We did that house years ago, and whoever we sold it to lost it," he says. Another lot that Blight Busters had previously cleaned has now been turned into a dump again. "We had this all cleaned up, but we'll get that in the spring," he says.
George sighs. It seems like it's always one step forward, two steps back. "People ask me all the time, 'What do you really think?'" he says. "I say running the Blight Busters has been an honor, a pleasure, and a real pain in the ass." But George doesn't sound one ounce defeated. "It's not a job," he says. "It's my life."
Stay on top of Detroit news and views. Sign up for our weekly issue newsletter delivered each Wednesday.