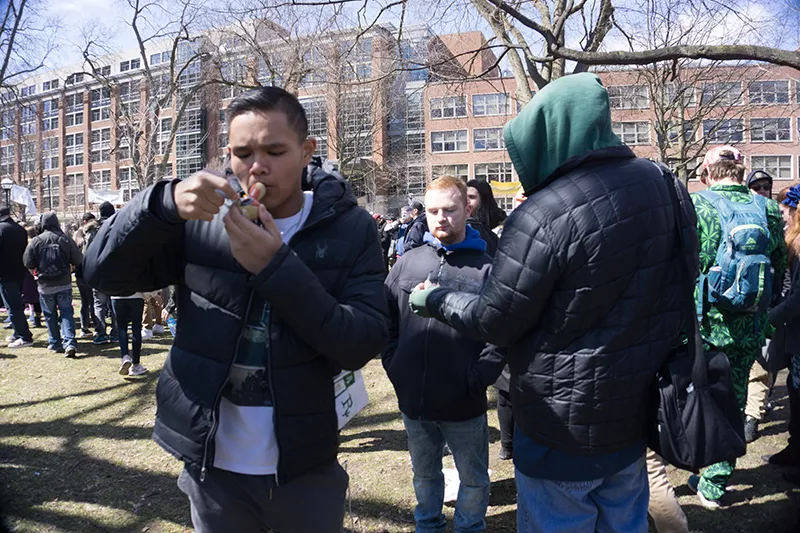 Activists, as they do every year, fired up so much marijuana it sent up plumes of the fragrant smoke. Some of the celebrants, such as John Sinclair, have been toking since the festival began. Many of the revelers, of course, are young — in fact, as photos show, there were more millennials than you could shake a selfie stick at.
And it wasn't just us covering it. This year, the bash drew
a well-written upbeat feature from the Detroit Free Press
, as well as extended coverage from
MLive
that included 11 videos. Even
The Detroit News
gave the Hash Bash coverage in the form of
a huge slideshow
. It might have been called "Laugh at the Hippie," and it actually offered the names and residences of many of the tokers. Yes, smoking weed is so mainstream now that you can have your picture of you smoking a freakin' Gran Corona-sized bomber in the newspaper along with your name and hometown. (I know, right? What's a
newspaper
, Dad?)
Better yet, another bit of marijuana coverage
in the Freep last week
was so glowing it was quickly repackaged into a report for the website
the Cannabist
,
U.S. News & World Report
, even
The Fort Bend Herald
. The story? Demand for budtenders in Michigan is expected to rise exponentially now that marijuana is "on the cusp of becoming a bona fide industry in Michigan."
Which is to say that, in Michigan,
the big money is now lined up behind marijuana
, sensing an opportunity for its own highs: profits. Where hippies sought THC, the investors seek ROI, and they're feeling increasingly confident now is the time to capitalize on medical marijuana, even complete legalization.
But it's worth noting that we wouldn't have gotten here without the activists who fought for decades to educate the public. For decades,
one of the only places where those activists could get a fair hearing
was in rags like
Metro Times
, alt-weeklies who supported reforms aimed at ending the War on Drugs.
Hey, we're glad other media are finally on the same page about marijuana. Seriously, it was a long time coming, and we look forward to the day Michigan marijuana lands in the business section like other industries taken seriously by the powers that be. When recreational legalization finally takes hold statewide and beyond, we hope to be presented with a chalice containing
the tears of Bill Schuette
. (Sorry, Billy:
A recent study
shows that 61 percent of Michiganders approve of legal marijuana, period.)
No doubt there will be some things that will make us longtime supporters of cannabis shake our collective heads. It might be that NASCAR decal sponsored by Blammos, the first marijuana cigarette endorsed by Kid Rock. It might be the inclusion of weed in something formerly square and family-friendly, like actors growing 19th century hemp at Greenfield Village or the marijuana-fried chicken at Frankenmuth's Bavarian Inn.
The Emperor Wears No Clothes
will be a dreary middle-school reading assignment, and
It's Just a Plant
will be just another dog-eared book in the Kindergarten library.
But even if all that comes to pass, we do hope weed businesspeople remember who courted them first, and reward them with their advertising dollar. Just a thought driven by a bit of enlightened self-interest!
Stay on top of Detroit news and views. Sign up for our weekly issue newsletter delivered each Wednesday.