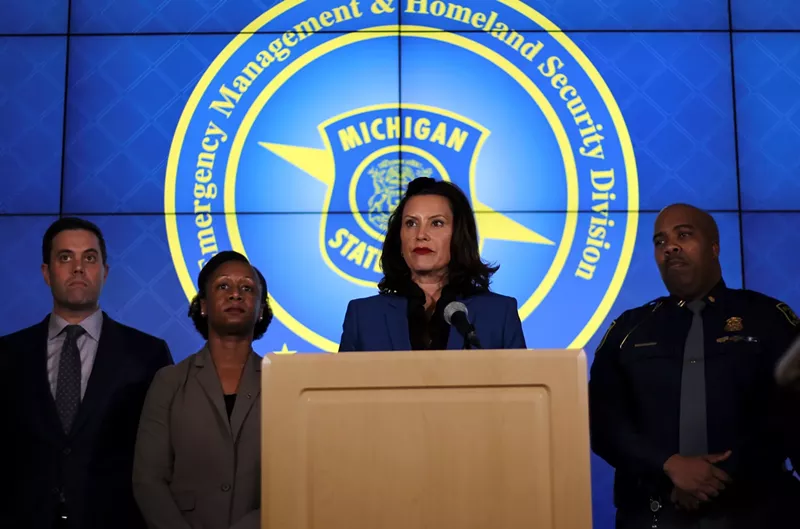 Updated at 1 p.m. on Friday, March 13:
On Friday, Gov. Gretchen Whitmer ordered an official ban on all large gatherings. Executive order 2020-5
prohibits all gatherings of people of 250 people or more
starting at 5 p.m. on Friday, March 13, and ending at 5 p.m. on Sunday, April 5. School is also canceled until April 5.
Originally posted at 8:22 p.m. on Wednesday, March 11:
After Michigan
confirmed two cases
of the COVID-19 coronavirus — the pandemic that has infected more than 115,800 people worldwide, including at least 1,000 in the U.S., and that President Donald Trump
initially downplayed
— Gov. Gretchen Whitmer held a press conference Wednesday outlining ways to prevent its spread.
Measures include recommending large gatherings of more than 100 people to be canceled or postponed, as well as recommending employees work from home if they are able. So far, Corktown
canceled its 62nd Annual St. Patrick's Day parade
, University of Michigan
closed its sporting events
to spectators, and Ann Arbor's Monroe Street Fair
was postponed until the fall
.
Whitmer also suggested Michiganders wash their hands often, cover their mouths when coughing or sneezing, and stay home if sick. The symptoms of COVID-19 are flu-like, including fever, cough, and difficulty breathing. Whitmer also reminded people to check in on friends and family.
"I urge all Michiganders to take these recommendations seriously and to share them with their friends, families, and coworkers," Whitmer said. "It's on all of us to be safe and be smart for ourselves, our loved ones, our coworkers, and the public at large. We are encouraging schools, universities, businesses, and other organizations to use their best judgment about what steps are most appropriate to keep people safe and slow the spread of the disease."
Michigan's colleges, including U of M, MSU, WSU, CMU, MTU, EMU, and WMU,
have all put a halt on classes
until further notice. On Monday, the City of Detroit went as far as to
restore water to households that could not afford to pay their water bills
so people could wash their hands.
As of Wednesday, the state has tested 120 people. Of those, 91 turned up negative, and another 28 are pending results. The state is actively monitoring an additional 150 people who have not been tested.
The two positive cases involve a woman from Oakland County who recently traveled internationally, and a man from Wayne County who traveled inside the country. Both have been quarantined, health officials said.
The coronavirus has killed more than 4,200 worldwide, including 37 in the U.S.
More information is available at
michigan.gov/coronavirus
and
cdc.gov/coronavirus
. The Michigan Department of Health and Human Services' recommendations can be found below.
Stay on top of Detroit news and views. Sign up for our weekly issue newsletter delivered each Wednesday.