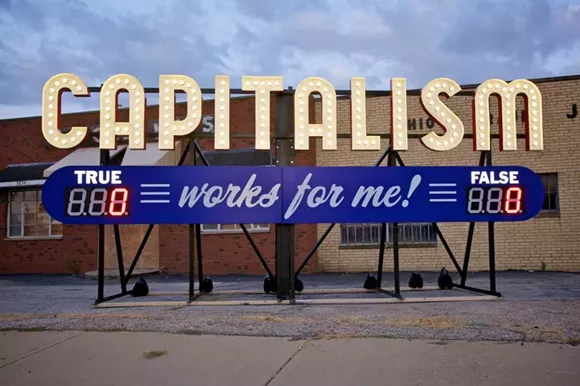 "Capitalism works for me!" This is the declaration of New York-based artist
Steve Lambert's ArtPrize entry
— an interactive billboard that features a "True" and "False" scoreboard that keeps track of viewers' votes.
But capitalism doesn't work for Lambert, or at least the kind that ArtPrize founder Rick DeVos's family is engaged in. After finding out that he was a jury pick and on the shortlist for public vote as well, Lambert
announced
that if he wins he will give away all of his winnings.
Lambert's problems with ArtPrize are numerous. In a
blog post
, he criticized the DeVos's ties to Amway, the private military outfit Blackwater, Focus on the Family, Acton Institute, Heritage Foundation, the American Enterprise Institute, and the campaigns of Rick Santorum and Newt Gingrich, among other grievances.
Lambert's biggest beef is that "the DeVos family has, for generations, been on the wrong side of the fight for civil rights for LGBT people," he says. For that reason, Lambert has pledged to give any award money he wins to the LGBT Fund of Grand Rapids.
The artist says that he did not enter ArtPrize with the hope of winning — the billboard, which he made previously, was curated into a group show.
We'll find out if Lambert wins starting at
7:45 p.m. tonight
.