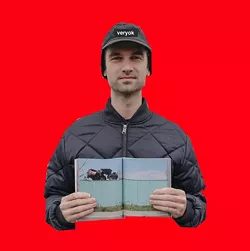 Detroit's thriving art scene can seem daunting to the average visitor, but thankfully, Nick Jaskey is here to lead the way.

Jaskey, an established Detroit-based photographer and artist, is teaming up with Vans for a walking photo tour throughout the city Saturday, Sept. 29 starting at noon. Attendees naught need to worry about wearing out their shoes during the walk as everyone who registers for the event will receive a free pair of Vans Ultrarange shoes. Those who attend, though, are encouraged to bring their own camera or rent a Fuji Polaroid to capture the unheralded, spontaneous art that can be found at every turn in the city including some likely encounters with Jaskey's own championed red, minimalistic installations.

Jaskey has spent the last seventeen years snapping the art that exists outside the walls of Detroit's museums and galleries. In 2017, he compiled the best of his photographs into a photobook titled Signs of Life.

"A big theme in this book is just working with what you've got," Jaskey told Metro Times last year. "When I first started shooting these photos, it was just stuff that spoke to me. It wasn't until years later that I realized I'm in a very particular environment at a very particular time."

Vans Vision Walk Detroit takes place from noon-3:30 p.m. on Saturday, Sept. 29 at 250 W. Larned St.; Event is free and first come first served, each RSVP will receive a free pair of Vans Ultrarange shoes a framed photo and free food. RSVP here.


Lucas Maiman is a Metro Times fall editorial intern.

Stay on top of Detroit news and views. Sign up for our weekly issue newsletter delivered each Wednesday.