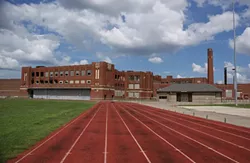 Monday marks the first day of Teacher Appreciation Week. But you won't find too many Detroit Public School teachers basking in the warm glow of PTA-sponsored pancake breakfasts or gift baskets with scented lotions, tea candles, and baked goods. Monday saw the closing of 94 DPS schools, as teachers participated in sick-outs connected to the future of the district.
So, what prompted the district to erupt in protest after a few sleepy months? The answer is two-pronged: A lack of payment, but also a frustration with the legislation being pushed by Lansing. As we're about to explain, these two issues are uniquely intertwined.
Let's start with the money part. On Saturday afternoon DPS teachers received the below email from Detroit Federation of Teachers President Ivy Bailey, saying that
$48.7 million that Lansing approved
for DPS to stay open through June is not going to teacher pay. This means those who elected to have their salary spread over 26 pay periods, are basically out of luck.
Sisters and Brothers,

When it first came to our attention in March that DPS would not have enough cash to make payroll through the end of the school year, we asked and were told that the $48.7 million in supplemental funding requested by the district administration would include money necessary to pay school employees who elected to have their pay spread over 26 pay periods for the year.

We just received information that this is not the case and we are outraged.

The district has enough cash to make payroll through June 30, 2016 for all employees, but after that point, the district will not be able to continue paying employees unless our advocacy to secure the funds through legislation is successful.
When Judge Steven Rhodes informed me of this today, I insisted that we meet on Monday with DPS leadership and financial officials to develop a solution to this problem.

We will be reaching out to all of our members who are on a 26-check pay program in the coming days.

We are continuing our fight, together with our community, to secure a solution to the debt crisis facing Detroit Public Schools before June 30.

In solidarity, Ivy Bailey
Detroit Federation of Teachers

The hubbub about getting that extra funding (note: this is
not
the
big DPS legislation
, which is still being debated) was prompted by the fact that Judge Steven Rhodes — former DPS Emergency Manager Darnell Earley's replacement — announced in March that DPS would be unable to pay its staff starting in May if "rescue" legislation wasn't passed. The idea that these newly acquired funds (nearly $50 million) aren't going towards teacher payment after June 30 has many teachers frustrated.
"I just learned that I will not be paid for work that I have already done because the district is out of money,'" Emma Howland-Bolton, a 5th grade teacher at Clippert Academy, writes in a blog post responding to Bailey's letter.
This is in some ways the first reason for the sick-outs. But it of course gets more complicated. As Howland-Bolton goes on to explain in her reaction to Bailey email, the second reason for the sick-out has to do with the pressure teachers now feel — because they aren't being paid — to support the Lansing legislation.
"My union has informed me that the only way to remedy this is to push legislators to vote for the passage of legislation that will destroy public education in Detroit," Howland-Bolton continues. "Legislation that, if passed, prioritizes paying off a debt to the state (incurred entirely by state-appointed emergency managers — remember our district had a budget surplus when the state took over) over educating kids. I will not advocate for the passage of such legislation. I work for DPS, and it's a shame, and it's not right, but I'm used to not getting paid."
While the funding issue is real, there appears to be a double paradox. The teachers have been told — by Judge Rhodes originally, but now by their union representation, i.e. Bailey — that the only way to get paid is to push for Lansing to pass the DPS legislation, which includes a $715 million loan. But what if the teachers
don't
agree with the Lansing legislation?
This sentiment was reiterated by fellow DPS teacher Sarah Jardine, who wrote a response to Bailey as well. "We are being threatened by our district that, if Lansing doesn't pass the very legislation that threatens democracy in Detroit, we won't be getting paid."
As we've
previously written
, no matter what legislation currently on the table is passed — House, Senate, a mixture of the two — DPS will still be in survival mode, because the legislation does nothing to address the reasons why the district got into the situation it's in to begin with: Competition. As long as competition remains, the charter cap is off, and the district hemorrhages students, it will be impossible for the district to ever truly stabilize.
These are facts that make Detroit teachers wary of the Lansing legislation — along with provisions that hinder local control. Yet, the short-term pay issue means many teachers feel pressed to push in favor of the legislation — no matter what it looks like. As the blog "
SAVE MICHIGAN'S PUBLIC SCHOOLS
" suggests, it almost appears as though teachers are being blackmailed to support Lansing's legislation.
This reality is the second reason why teachers are protesting. And if they are not in favor the legislation, it looks like it may be working.
Snyder says teacher sickout doesn't help his efforts to persuade Legislature to OK $720M restructuring plan #mileg

— David Eggert (@DavidEggert00) May 2, 2016
One thing we know for sure: You can expect to see a swirl of
negative pushback
(ahem,
Detroit News e
ditorial board) about the teachers being
egotistical, misguided, and selfish
. When you do,
re-read this
.