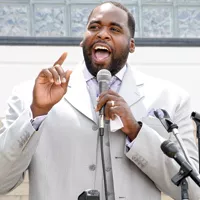 Kwame will get his day in court.
A panel of judges at the Sixth Circuit Court of Appeals has agreed to hear arguments for former Detroit Mayor Kwame Kilpatrick and his pal, contractor Bobby Ferguson, on Jan. 13 at 1:30 p.m. Lawyers for each defendant will get 20 minutes to make their case; the United States Attorney's Office will get 40 minutes.
Kilpatrick was convicted, and later sentenced, on 24 counts for crimes ranging from bribery to extortion to tax crimes. He was sentenced to 28 years in prison.
But as the
Detroit Free Press
reports
, Kilpatrick in September argued he did not received a fair trial, and his lawyer worked for a firm who was suing the former mayor. The judge on the case declined Kilpatrick's request to have the attorney withdrawn from what eventually was a five-month trial.
If you're interested in understanding the lead-up to Kilpatrick's eventual resignation,
MT
put forth a lengthy plea in 2008, asking the mayor to Just Go. Check that out
here
.