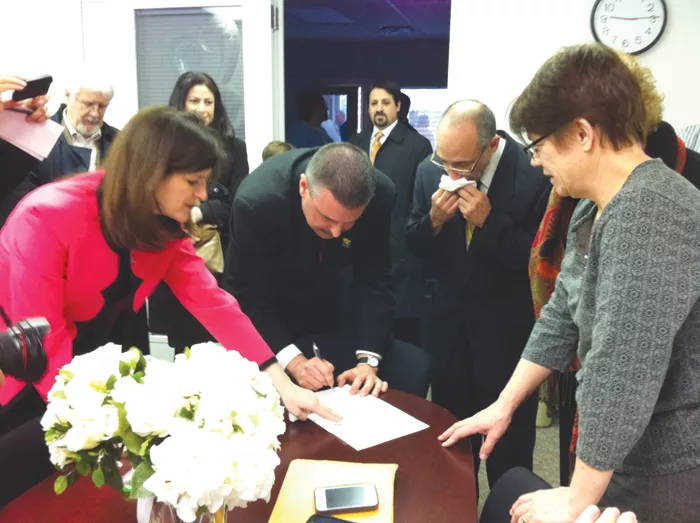 We were on site at Oakland County Circuit Court Saturday to witness a number of the first legal same-sex marriages in the state. The momentous occasion followed a historic ruling from U.S. District Judge Bernard Friedman, who shot down Michigan's constitutional ban on same-sex marriage Friday.
Unfortunately, the celebration didn't last long, as the U.S. Sixth Circuit Court of Appeals temporarily granted Michigan Attorney General Bill Schuette's request to halt same-sex marriages until Wednesday at the earliest.
Schuette and Gov. Rick Snyder's office said the attorney general was dutifully upholding the state's constitution, that he was upholding the will of the people who voted to ban same-sex marriage in 2004. Of course, if we ask Schuette about the "will of the people" when it comes to Michigan's Medical Marihuana Act, overwhelmingly approved by 63 percent of voters in 2008 to allow medical marijuana to be used for medicinal purposes, it's likely our top legal aficionado's argument would become even cloudier.
That's because, as we've previously noted in this column's space, defending the will of the people is not entirely Schuette's reasoning for defending the marriage ban — he's been a longtime defender of legislation that keeps gays and lesbians from enjoying the same treatment as every other American.
So, in that sense, it makes sense that Bill is wasting additional taxpayer dollars to defend the ban, even though it has been found unconstitutional by Friedman.
As always, thanks, Bill. We'll be on the lookout for the final tab on this ordeal.